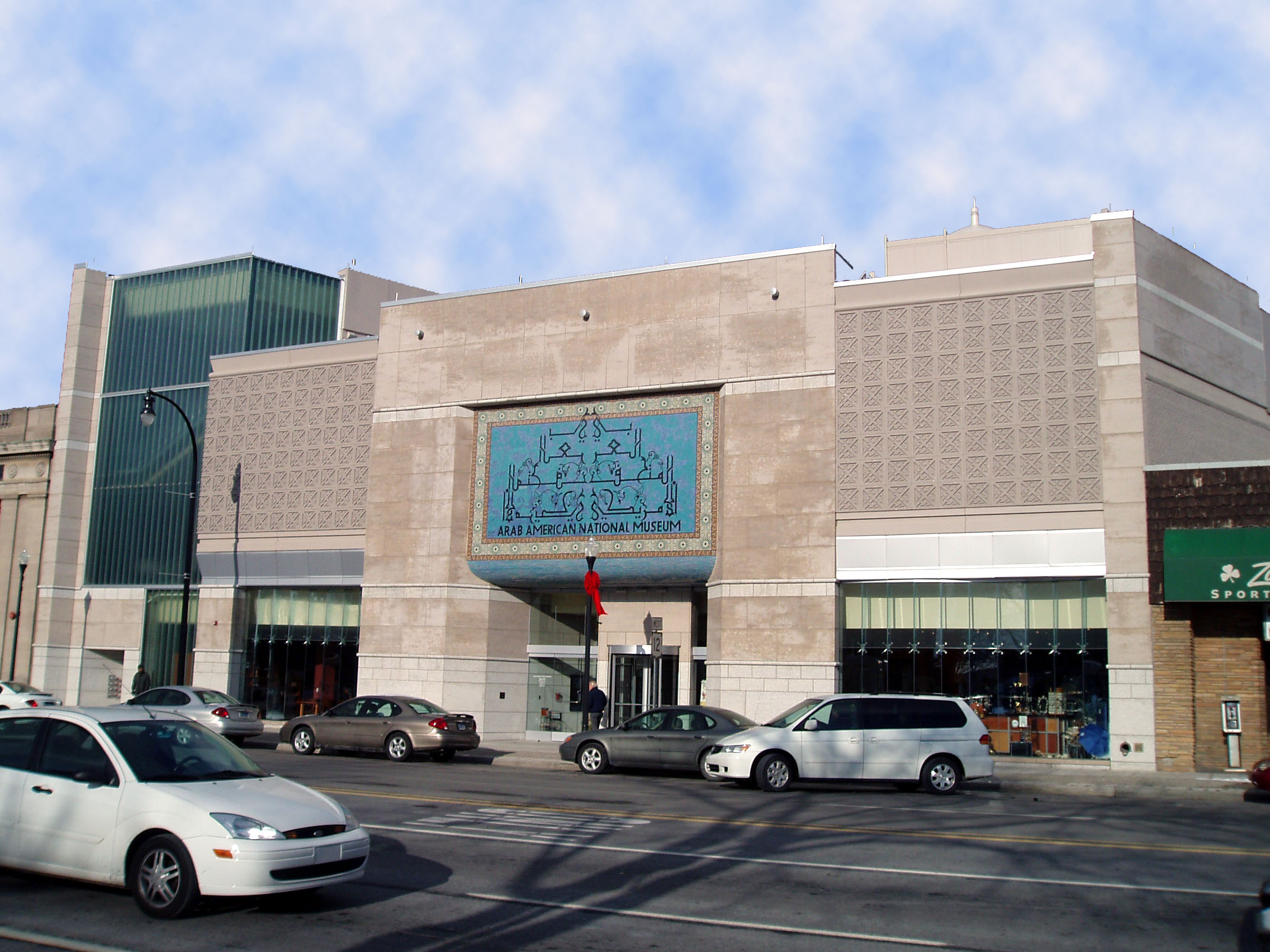 Arab American National Museum
13624 Michigan near the corner of Schaefer in Dearborn
This museum celebrates the contributions of Arabs to the world and the accomplishments of Arab Americans. This is an interesting and very competently designed museum. Within its attractive rooms, you will find interesting displays providing information that will be new to many visitors. The first floor is devoted to a display concerning the numerous contributions made by Arabs, across the centuries, to mathematics, science, to the decorative arts and to architecture. The second floor displays the contributions of Arab immigrants to the United States. This museum includes a library, a collection of arts and items representing cultural artifacts such as musical instruments and folk arts. It also presents a book award annually to an author who has written an important book about Arab-Americans or their culture.

I believe that this is a new building opened in 2005 with 38,500 square feet of floor space. The museum has been, I think, quite successful. In 2013, the museum announced that they would expand by purchasing two nearby vacant building, the former Zamboni Room Bar at 13,620 Michigan Avenue in Dearborn and the former Dynamic Mortgage Building at 13,614 Michigan.

For purposes of this museum, the array of Arabic countries includes: Algeria, Bahrain, the Cosmos Islands, Djibouti, Egypt, Iraq, Jordan, Kuwait, Lebanon, Libya, Mauritania, Morocco, Oman, Palestine, Qatar, Saudi Arabia, Somalia, Sudan, Syria, Tunisia, the United Arab Emirates and Yemen. The Census Bureau's 2012 American Community Survey reported a population of just over four million for the six county Detroit metropolitan area. About 162,000 residents of this metropolis reported an Arabic first ancestry; another 15,000 reported an Arabic second but not first ancestry. Thus, about 4 percent of the area's residents report an Arabic in ancestry.

Architect: Unknown to me
Date of opening: May 5, 2005
Website: www.arabamericanmuseum.org
Use in 2014: Museum honoring the contribution of the Arabic population of the United States.
State of Michigan Registry of Historic Places: Not listed
National Registry of Historic Sites: Not listed
Photograph: Ren Farley, December 5, 2005
Description prepared: February, 2014
Return to Entertainment & Culture

Return to Homepage