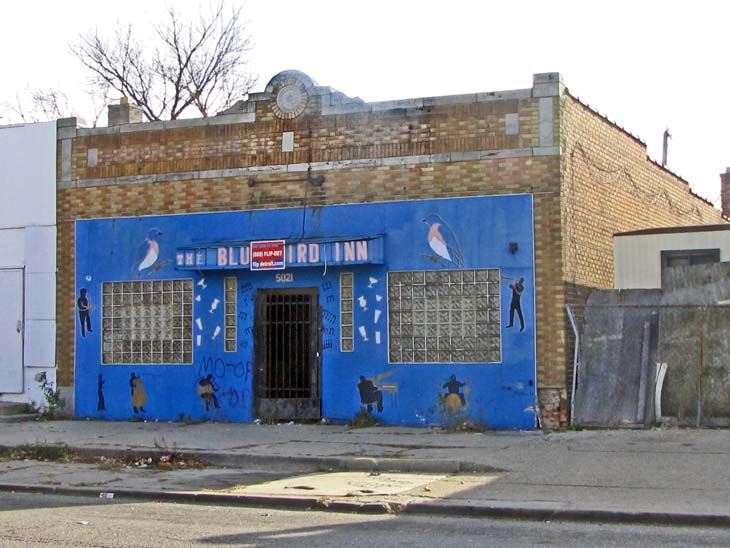 The Blue Bird Inn
5021 Tireman
This is an extremely important location in the history of American music and a significant shrine to the innovative artistry of Detroit's musicians.  A West Side black community established about the time of World War I grew rapidly as southern migrants came to work in the city's defense industries.  St. Cyprian's is not too far away from this site at 28th and Milford.  This was the city's second black Episcopal church and is located here since African Americans were not welcomed in other nearby Episcopalian churches.  Tireman became an unofficial Jim Crow line marking the northern limit of the west side black community in the 1920s.  Blacks were welcome to live south of Tireman but not to the north of this Jim Crow dividing line.  When Orsel and Minnie McGhee purchased a home on Seabalt—about two blocks from The Blue Bird Inn, but on the "white" side of Tireman, they initiated litigation that the National Association for the Advancement of Colored People carried to the Supreme Court where they obtained the favorable ruling that courts could not enforce restrictive covenants.

Detroit's manufacturing firms hired African-Americans in large numbers.  To be sure, there were Jim Crow practices within many factories and very, very few African Americans were allowed to enter the skilled crafts or got managerial jobs.  But the blue-collar job paid relatively well. No federal agency gathered many data about earnings in the 1920s, but it is quite possible that Detroit's black community was more affluent than those in other cities in that decade, thanks to auto industry employment.  As the black population grew, Detroit became a center for the development of jazz, a topic described thoroughly in Lars Bjorn's Before Motown book.  Jazz clubs sprung up wherever there was a substantial black population. Their businesses may have improved after the Twenty-fiirst Amendment became law on December 5, 1933, allowing Americans to once again legally purchase alcoholic refreshments.  In truth, prohibition did little to slow down drinking in Detroit.  Many of the jazz clubs, of course, were along Hastings Street and its Paradise Valley neighborhood.  There was a sufficient population in this west side area that the Blue Bird opened in the late 1930s as a neighborhood bar, but one that featured music. The jazz scene probably became more lively in the 1940s for several reasons.  Not only was there an affluent population thanks to defense industry jobs, but Jim Crow barriers weakened as black and white musicians increasingly played together and black clubs became what were then called Black and Tan clubs in Detroit, that is clubs that welcomed many white patrons.

A major change occurred in autumn 1948 when the management of the Blue Bird decided that it would specialize in the presentation of modern jazz.  From that date, until the early 1970s, it was a Mecca for local and national musicians who were developing the modern jazz we know today.  The drummer Elvin Jones was among the first very well recognized players to appear at The Blue Bird.  Charlie Parker made his appearance at The Blue Bird within a year of its switch to modern jazz.  Many, perhaps most,of the nation's most acclaimed jazz musicians played at the Blue Bird in the late 1950s and early 1960s. This was the city's leading venue for jazz in a very prosperous era.

You might argue that Miles Davis is a seminal figure in American music because of his links to the Blue Bird.  Davis was born in Alton, Illinois in 1926.  His father was a prosperous East St. Louis dentist with a ranch in Arkansas. His mother was an accomplished pianist.  After Miles graduated from high school, his parents sent him to the Julliard School in New York, presumably hoping he would become a classical musician.  Miles had already developed a very strong interest in jazz and so, after studying at Julliard for a short time, he dropped out to join the jazz community in New York.  There are speculations that Miles did not doubt his ability to become an accomplished horn player, but he realized that the symphony orchestras of that era were very unlikely to hire a black musician to play classical music.

By the early 1950s, he was recognized in New York as an extremely promising young player.  However, his colleagues realized that he was developing a heroin habit and feared that it would destroy him.  There is an often repeated story that his New York colleagues encouraged Miles Davis to move to Detroit since, they assumed, drugs in Detroit were of much lower quality than those in Gotham City and therefore easier to kick.  Miles Davis, in his autobiography, tells the story differently.  He claims that he realized his dependence on heroin and moved back to his parents' home in St. Louis where he just quit.  After going "cold turkey," he decided to spend time in Detroit so he moved there in the fall of 1953 and took a room at a hotel located at the intersection of West Grand Boulevard and Grand River.  Very quickly he was recruited to play at The Blue Bird Inn; perhaps by Buddy DuBois, a part owner who operated the venue. Miles remained in Motown for about five months, and according to his autobiography, did give up the use of drugs while a resident of this city.  He wrote that the drugs in Detroit were very weak compared to those he got on the East Coast and that his colleagues described Detroit drugs as being as tame as chocolate bars.  Miles Davis wrote that he received great help from the Detroit boxer Sugar Ray Robinson whom, I assume, was a regular patron of The Blue Bird Inn.  In his book about jazz in Detroit, Lars Bjorn documents that Miles Davis spent several months in Detroit in 1953-54 and again for several months in 1954-55.  Bjorn reports that Miles Davis apparently mixed story from those two long stays playing at the Blue Bird in the Motor City.
 
Buddy DuBois was shot to death in 1956 in front of the home of his girlfriend, a murder that remains unsolved.  Clarence Eddins, a west side business man who apparently made his fortune in the numbers business, was a part owner of the Blue Bird Inn and took over.  He closed the bar briefly in 1957 for remodeling and to accomodate it to seat a larger number of patrons.  The following years were a particularly creative span for the Blue Bird.  Eddins booked Detroit and national talent, including Miles Davis, John Coltrane, Horace Silver, and Art Blakey. Thad Jones, Yusef Lateef,  Sonny Stitt, Cannonball Adderley and a variety of other distinguished modern jazz artists.

There are at least two pieces of modern jazz that identify this landmark: trumpeter Thad Jones' "5021," and Tommy Flannigan's "Beyond the Bluebird."

It is very challenging to know how to stimulate creativity.  We cannot fully explain why Detroit became the motor capital of the World between about 1901 when R. E. Olds assembled many vehicles on his East Jefferson Avenue plant and the mid teens when Henry Ford perfected the efficient productive line in his Highland Park plant.  We know some of the reasons, including the engineering and entrepreneurial innovations of Henry Leland.  Presumably, the Blue Bird Inn fostered creativity in the field of jazz by bringing together innovative players who would learn from one another, by providing audiences that gave jazz musicians a way to earn a living in an era when factory jobs were readily available and by providing national attention to new developments, attention that led to recording contracts in the years just before Barry Gordy created Motown Music. 

The popularity of this jazz venue declined in the 1970s.  Prosperous blacks on the west side moved to more attractive neighborhoods in the city as they became available.   For a long time, occasional "reunion" gigs were held here.   This is one of many sites in Detroit that merits both a state and federal historical marker.
The Detroit Sound Conservqancy is a private, non-profit organization founded in 2012 to celebrate the musical heritage of the Motor City through education, promotion and preservation. In 2016, this organization obtained permission from the owner of this building to removed the hallowed stage of the Blue Bird Inn. They did so with the intent of making it portable. Presumably, it may be sited in other venues so that today's musicians may perform on the same stage that once welcomed Miles Davis, Thad Jones and John Coltraine. UNESCO, every two years, organizes a celebration of creative design. The Biennale Internationale Design in 2017 was held in Saint-Etienne, France. The city of Detroit was a major feature of the program with numerous lectures, films and other presesntations focused on the formerly French city we know as Motown. The stage from the Blue Bird Inn was transported to Satine-Etienne and installed fore the Diennale Internationale
Design. I believe this was the first such installation but I am not sure. The website of the Detroit Sound Conservancy mentions to possible restoration of this site.
Architect: Unknown to me
Architectural style:  Vernacular street front store
Year of Construction: Not known to me
Website reporting Lars Bjorn's description of the Blue Bird Inn: http://www.ipl.org/div/detjazz/Bebop.html
Book about history of jazz in Detroit with many comments about The Blue Bird Inn
Before Motown: A History of Jazz in Detroit: 1920-1960. Lars Bjorn with Jim Gallert
(Ann Arbor: University of Michigan Press, 2004)
Miles Davis Autobiography: Miles: The Autobiography (New York, Simon & Schuster, 1989)
Website of the Detroit Sound Conservancy:http://detroitsoundconservancy.org/
Website of Biennale Internationale Design Saint-Etienne 2017:http://www.biennale-design.com/saint-etienne/2017/fr/home/
Use in 2017:  Vacant building awaiting restoration.
City of Detroit Designated Historic District: Not listed
State of Michigan Registry of Historic Sites: Not listed
National Register of Historic Places: Not listed
Picture: Ren Farley; November 20, 2010
Description updated: May, 2017

Return to Commercial Buildings

Return to Home Page