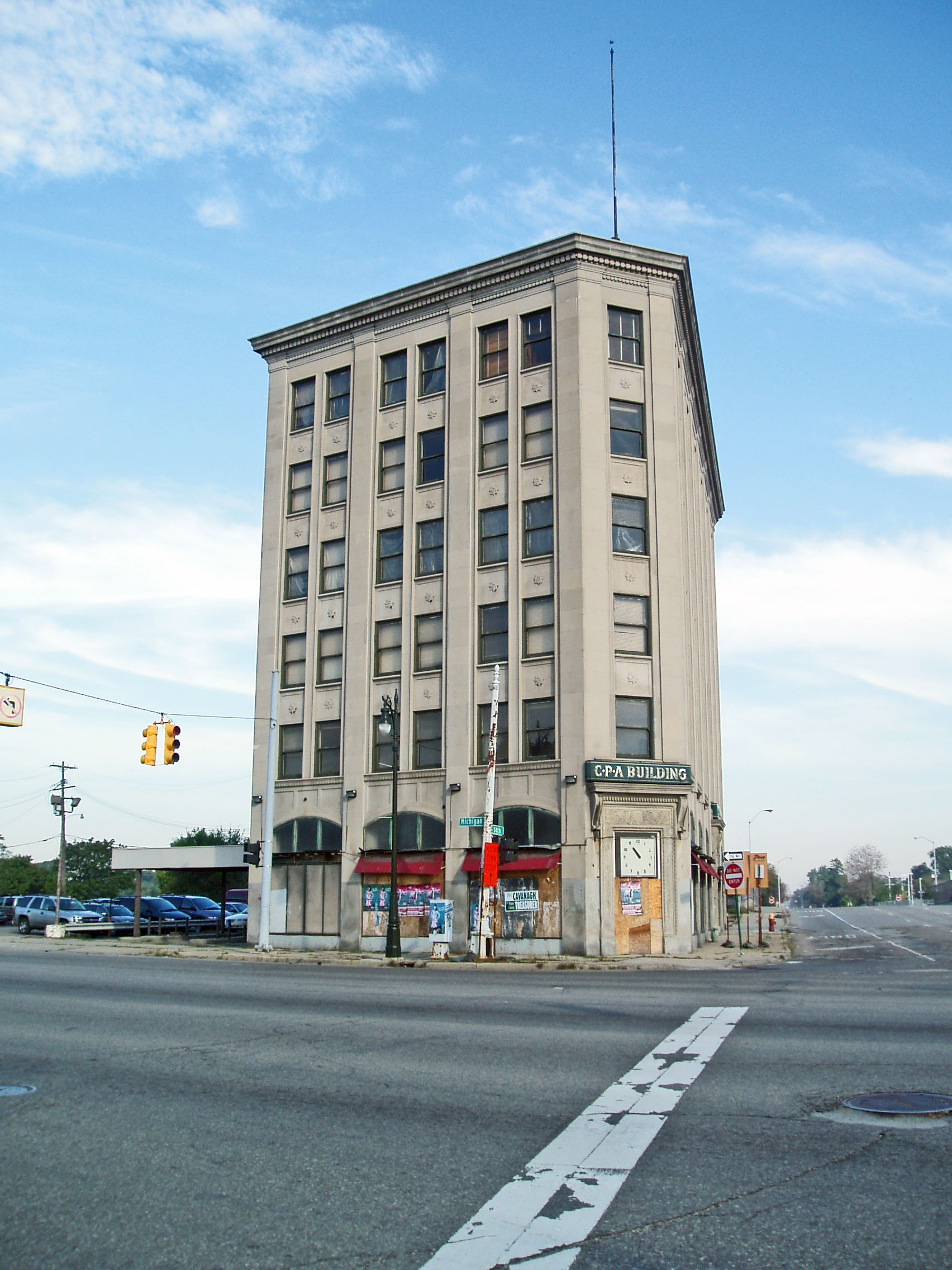 Conductor's Protective Association Building/
Protective Association Society
2238 Michigan Avenue at 14th Street facing Roosevelt Park

This is an attractive building. If the Michigan Central Station at the other end of Roosevelt Park were restored to its original glory, it would be reasonable to assume that this building might be renovated also.
I do not know much about this attractive and currnetly unused building. It was built in 1923 for the Conductor's Protective Association (CPA), an insurance firm chartered in Michigan in 1910. Railroading has always been a cyclical and seasonal industry with periods of full employment and other spans when many rail workers are laid off. Before the 1930s, there were few state and no federal programs that collected money from workers when they were employed and then paid them unemployment benefits where they did not have work. I think that the Conductors Protective Assurance firm may have sold such unemployment insurance to rail workers beginning early in the last century. It would not surprise me to learn that the CPA also sold life and health insurance to rail workers. That organization, I believe, evolved into the Locomotive Engineers and Conductors Mutual Protective Association. I believe that their primary product is still job interruption insurance for rail workers. Their offices are now located in Southfield.
I do not know when the CPA moved away from this appealing and very modern looking building. I believe that some parts of it were used early in the Twenty-first century as a dormitory for Mormon missionaries who worked in Detroit. Subsequently, I believe the Mormons built their own dormitories for their missionaries. A Washington, D. C. real estate broker, I believe, put this structure on the market in 2002. Eleven years later it was purchased for $900,000 but that firm did not invest in renovating the structure.
In 2014, it was sold to a New York property firm, Sequoia Property Partners, purchased the firm, presumably with hopes of either making it into a successful commercial property or flipping it. However, that same year it was designated a blighted building by the city's Building Safety Engineering and Environmental Department. The owners did not invest in the attractive structure and, in 2016, that city department determined that the building was so dangerous that it should be immediately repaired or demolished. If the owners were not going to rehab the structure, they could demolish it themselves or have the city demolish it and be billed for the cost. In the late summer of 2016, the owners asked the city for a permit to raze the structure.
The story gets interesting here. Historic preservations detested the idea of removing this buildings, especially since there are signs of economic revival in Corktown and along Michigan Avenue. They asked the city's board that designates City of Detroit Local Historic Districts to create an historic district that would include only this building. They did so and, on November 22, 2016; Detroit's Common Council approved a temporary designation of this building as a City of Detroit Designated Historic District. This does not guarentee that the structure will survive. An owner could request a permit to demolish an officially listed historic building but the granting agencies are, typically, reluctant to approve such demolitions. It is quite possible that the owners will again consider investing in this building.
Architect: Alvin E. Harley
Date of Construction: 1923
City of Detroit Designated Historic District: Temporty listing approved by Common Council; November 22, 2016
State of Michigan Registry of Historic Places: Not listed
National Register of Historic Sites: Not listed
For information about the architect and the buildings he and his many collaborators designed, please see:
http://history.harleyellisdevereaux.com/pdf/HEDev_History.pdf
Website for the Locomotive Engineers and Conductors Mutual Protective Association: https://www.lecmpa.org/LECMPA.html
Use in 2016: Attractive empty building awaiting redevelopment
Photograph: Ren Farley; September 20, 2008
Description updated: November, 2016
Return to Commercial Buildings