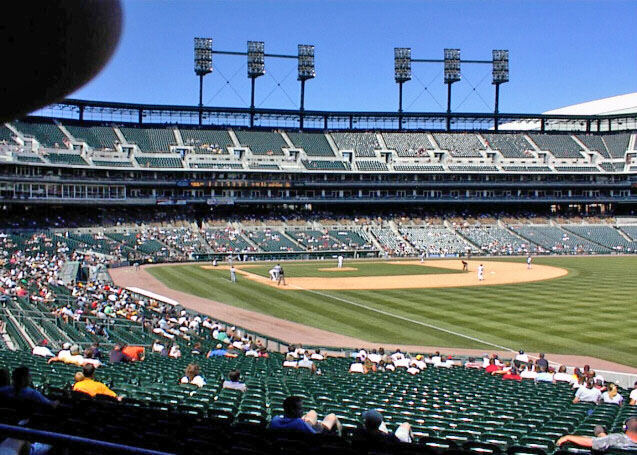 Comerica Park
2100 Woodward in Downtown Detroit

This is a beautiful structure. In the first half of the Twentieth Century, baseball became the nation's most popular sport for three reasons: Babe Ruth popularized the home run, making the game more appealing to a large audience; an urban middle class emerged with money to spend on recreation and, finally, many immigrants adopted baseball as their sport as they assimilated. The early 20th century baseball parks were built by team owners in urban neighborhoods that had good streetcar or subway connections. Those parks became old and, after 1965, many cities spent tax dollars to build new parks. For the most part, these stadia are architecturally neutral, but functional, buildings surrounded by vast acres of parking lots.
From 1893 through 1999, the Detroit Tigers played professional baseball on the former west side hay market at Michigan and Trumbell. Tiger Stadium, nee Navin Field, dating from 1910, was enthusiastically esteemed by baseball aficionados but, by the 1980s, team owner Thomas Monahan of Domino's pizza fame, argued that the old park greatly limited revenue flow. By the 1990s, a new approach became popular: building architecturally interesting baseball parks near the city's center and articulated with the traditional downtown. But there was also another important development. The nation had a taxpayer's revolt in the 1970s and 1980s and urban residents increasing challenged the idea of spending their tax dollars for a stadium that would provide a venue for very highly-paid athletes, provide more profits for rich owners, but create few new jobs.
Comerica Park, opened in April, 2000 is an attractive stadium rooted in the city's 20th century history. Albert Kahn's Detroit Athletic Club dominates above the outfield. Many of the city 1920s-era skyscrapers are also visible. The park was built with no regular taxpayer's dollars. The total cost of the stadium and surrounding facilities was 300 million. Public financing provided 38 percent of this through a new 2 percent tax on car rentals and a 1 percent tax on hotel rooms. Some of the casino tax revenue was also devoted to this public financing. The owner of the team, Michael Illich of Little Caesar's pizza fame, financed 62 percent of the stadium's cost. The seating capacity is 40,000.
Architects: HOK Sport and SHG, Inc.
Builders: Huber, Hunt and Nichols
Turner Construction
White Construction
Owner: Detroit-Wayne County Stadium Authority