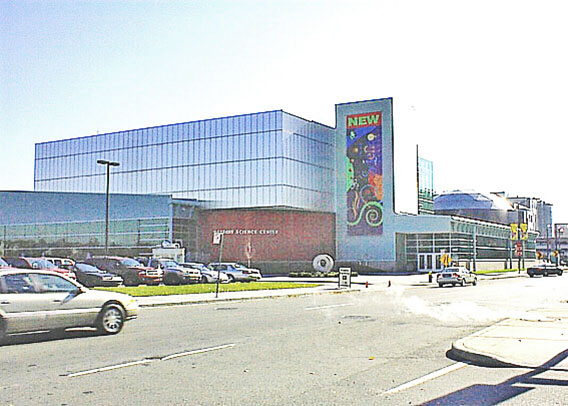 Michigan Science Center/Detroit Science Center
5020 John R at East Warren in Detroit's Cultural Center Area
Dexter Ferry is the Detroit resident who originated and popularized the idea for a Detroit Science Museum and was instrumental in its development beginning in the early 1970s.  The original component of the buildings you see pictured here were designed by William Kessler and completed in 1978.  Dexter Ferry, a Grosse Pointe resident, was the grandson of a similarly named man who founded, in Detroit, the D. M. Ferry Company, a firm which became the largest seed company in the world. 

The museum operated in those quarters until 1990 when it lost state funding and closed.  Fortunately, it was able to reopen the next year and continued in operation until 1999 when it once again closed.  This time it was because of a major expansion and renovation.  When it reopened in 2001, it was the tenth largest science museum in the United States.  The expansion included the Digital Dome Planetarium that is now the Desalt Systèms Planetarium.  Seven years later another addition was completed: the 4D Toyota Engineering Theater.  The Michigan Science Center is also home to the Chrysler IMAX dome theater.

The Detroit Science Center ran out of monies and closed in September 2011.  Within a year, a new leadership took over, was able to locate support and the facility opened as the Michigan Science Center on December 26, 2012.  The museum places great emphasis upon encouraging young people to explore science and consider career options in science and engineering.

In 2008, the Thompson Educational Foundation established a Science and Math-oriented Middle School in a building at 5100 John R. adjoining the Detroit Science Center.  That school continues to operate and is affiliated with similarly science oriented schools in Detroit at the elementary and secondary levels.
Architect for the original building: William Kessler
Date of completion: 1978
Architect for the renovation and expansion: Neumann and Associates
Date of reopening: 2001
Use in 2014: Science museum
Website: http://www.mi-sci.org/
City of Detroit Designated Historic District: Not listed
State of Michigan Registry of Historic Sites: Not listed
National Register of Historic Places: Not listed
Photograph: Ren Farley
Description prepared: February, 2014