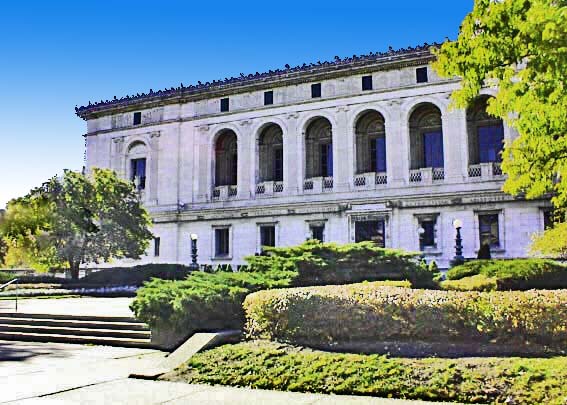 Detroit Public Library
5201 Woodward between Putnam and Kirby in Detroit's Cultural Center
If you drew up a list of the ten most impressive buildings of public art works in Detroit, which ones would you include? Perhaps you would select Rodin's The Thinker and the Detroit Institute of Art, likely the Fisher Building and one or two of Marshall Frederick's sculptures, such as his leaping gazelle on Belle Isle. Quite likely you would also list the Detroit Public Library. Indeed, it might be at the top of your list.
Edward Bennett's 1915 plan for the city called for a center for arts and letters with a beautiful art gallery and library to be built facing each other across Woodward. In 1915, a competition was held to select an architect for a new library. Cass Gilbert, an MIT trained architect formerly with the famous New York firm of McKim, Mead and White but then on his own, won the competition preceding by a couple of years his winning the competition to design the James Scott Fountain found at the south end of Belle Isle. Gilbert was among the nation's most accomplished architects having already designed the Woolworth Building in New York, the Minnesota State Capitol and the library in St. Louis, He also designed capitol buildings for Arkansas and West Virgina but he most recognized accomplishment is the Supreme Court Bulding in Washington, DC.
Gilbert wanted this building to symbolize the cultural life of the community so he created an environment reflecting scholarship and refinement. He selected an Italian Renaissance style with a series of terraces leading to the impressive main doors. The first floor exterior displays molded openings and flat-headed windows. Notice how these windows differ from those on the second floor. Above the second floor, you find a frieze with small square windows and bas-relief panels representing the signs of the zodiac. You may be impressed by the immense effort that Cass Gilbert and his designers devoted to the exterior design of this library. Detroit has a public library comparable in architectural style to those in New York and Chicago.
The interior received equally careful attention. The central hall is lined with Doric columns with impressive staircases linked to this great hall. Climb the stairs and you arrive at a barrel-vaulted hall with a ceiling done in reds, gold, blue and green. There are several arrays of murals inside the building and a fireplace in the children's reading room finished with a great array of Pewabic tiles.
Architect: Cass Gilbert
Architectural Style: Italian Renaissance
Date of Completion: 1921. The wings of the library were added and opened in 1963
Basic Material: White Marble
Murals: Edwin H. Blashfield's shows artists, writers and musicians
Gari Melcher's illustrates historical events and allegorical topics from the early settling of the city, including Cadillac's arrival and Pontiac's uprising during the city's British era.
Painted Glass windows: Frederick J. Wiley
Cass Avenue Entrance Mosaic: Millard Sheets' mosaic was added in 1963 and portrays knowledge and library science.
Website: http://www.detroit.lib.mi.us/
Michigan Registry of Historic Sites: P25056. This designation is for the three buildings that now comprise the Cultural Center Historic District.
National Registry of Historic Sites: Listed November 21, 1983
Photo: Ren Farley, November 2002
Use in 2002: Detroit Public Library
Description updated: Febuary, 2014
Return to Entertainment & Culture
Return to Commemorative Designations in Wayne County