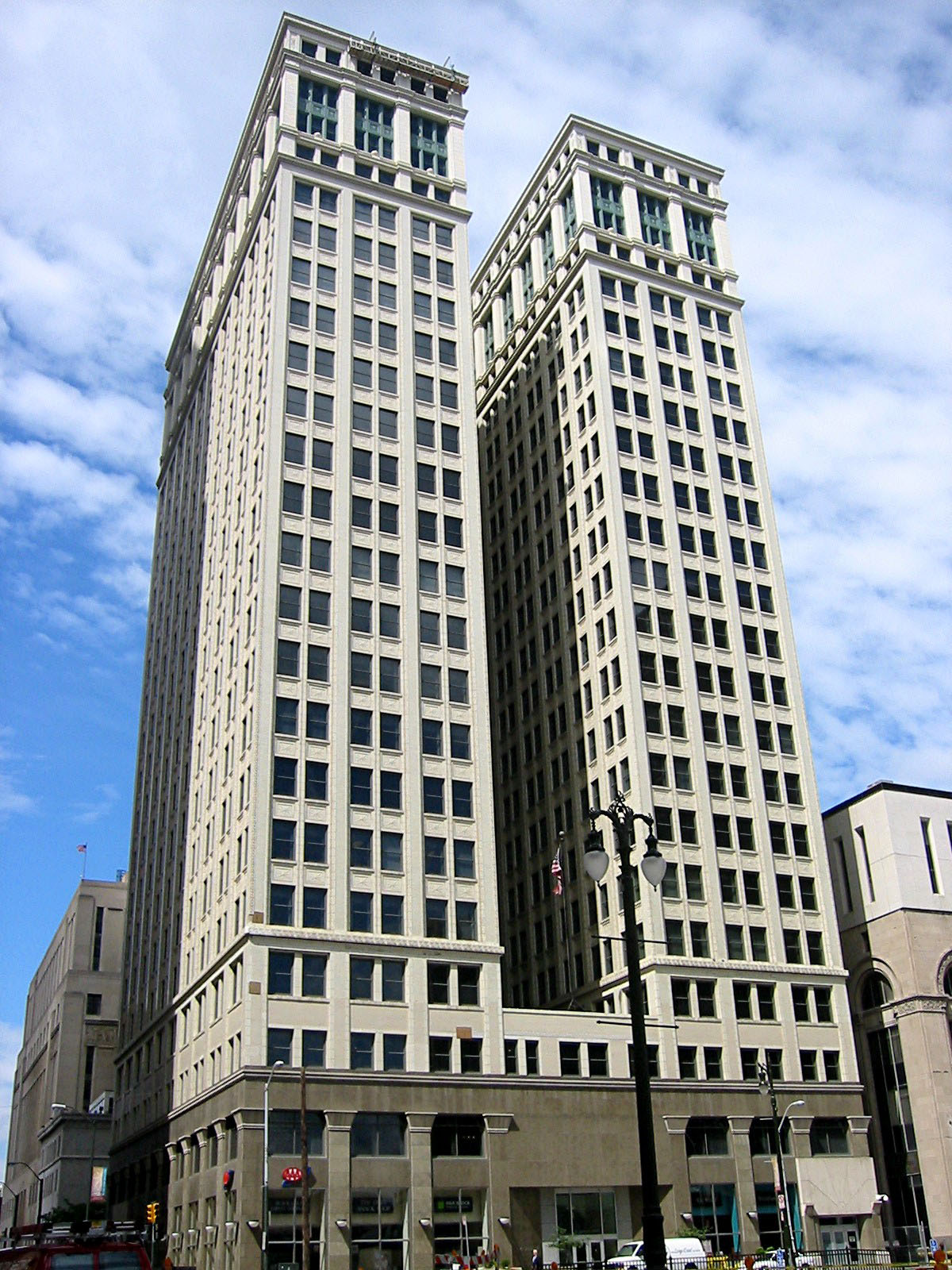 Dime Building/Chrysler House
719 Griswold Street in downtown Detroit

Daniel Hudson Burnham, born in New York state in 1846, moved to Chicago with his parents at age eight. He was a serious student, so he applied to Yale and Harvard. Both colleges rejected him so he moved West and unsuccessfully sought political office. He returned to Chicago and began working as an apprentice draftsman for an architectural firm in the early 1870s. This was a fortunate time to be an architect in Chicago since Mrs. O'Leary's cow ignited the fire that destroyed most of the city in 1871. Burnham went to work with William LeBaron Jenney who played a key role in the development of skyscrapers since he helped to design steel-faced buildings that evolved into the modern skyscraper. Jenney served briefly as a professor of architecture at the University of Michigan in Ann Arbor and he designed the impressive Deke Shant that still stands in downtown Ann Arbor. However, he insisted upon living in Chicago while commuting to Ann Arbor on the Michigan Central. Apparently, the University did not appreciate that arrangement and did not encoaurge him to remain on the faculty.
By 1873, Burnham began a partnership with John Root, one that was both financially productive and extremely innovative. They not only designed massive and elegant homes for Chicago's prosperous families, but then went on to design larger and larger multi-story buildings using iron and steel so that external walls could bear weight. After John Root's death in 1891, Burnham headed his own firm and, for twenty years, his company was, quite likely, the most productive and innovative architectural business in the country. Root and Burnham designed a 20-story building that opened in Chicago in 1893, arguably the nation's first skyscraper.

Burnham also became famous as a city planner. Indeed, his reputation as a planner rivals or exceeds his reputation as an architect. He played an important role in not only the design of the impressive buildings of the 1893 Chicago Exposition, but the entire grounds. The City Beautiful movement—one that Burnham promoted—developed from that 1893 worlds fair. Detroit's Cultural Center on Woodward is a direct outcome of that movement. To improve the quality of life in his city and make it attractive, Philip Breitmeyer—a florist who served as mayor in 1909 and 1910—appointed a commission to plan an impressive Detroit. Daniel Burnham served on that commission, but I believe that Charles Blessing was the key designer who proposed what we now see at the Cultural Center.

The Dime Bank wanted an appropriate building for their facilities. The first floor was to serve as a banking floor where patrons would make their deposits and withdrawals. The higher levels in this 23-story building provided the many offices the bank needed for business, undoubtedly growing as the vehicle industry boomed in Detroit. The bank, presumably, derived revenue from renting many offices to other firms doing business in downtown Detroit. Burnham designed the attractive lobby that you see with its skylight and numerous decorations. Electric elevators for tall buildings were first successfully installed in the 1890s, so they were still a new invention when Burnham designed this Dime Building. He added impressive decorations to the doors of his elevators. That is, when this building was designed, even elevator doors were presumed to be places to display artistic accomplishments. I do not know if the warm green and cream colors now used for the lobby were the hues that Burnham selected or a recent innovation.

Air conditioning was unavailable in 1910 and electric lights were, apparently, less efficient than the ones we have today. This motivated Burnham to incorporate a design that provided a window for ventilation and light in every office. You will notice the light well as soon as you enter the lobby of the Dime Building. This one faces Griswold and clearly illustrates this typical feature of Burnham's Chicago style skyscrapers. Just to the east on Griswold, you will see the Ford Building that Burnham designed for its 1909 opening. In that one, Burnham's light well is invisible from Griswold.

Daniel Burnham died in 1912, about one year before this building opened. Many feared that if the efforts of the Detroit Renaissance group to build the Renaissance Center were successful, firms would move their office from other downtown office building into the Ren Center leaving the other structures vacant. The market for offices in downtown Detroit has had some substantial downturns, but many of the classic office buildings from the pre-Depression era in the city's financial district, including the Dime Building, the Guardian, the Buhl, the Ford and the Penobscot, have been refurbished and upgraded. In 2002, a forty million dollar refurbishing of this building was completed.
This structure was orginally known as the Dime Savings Bank Building. Later it was named the Dime Bank Building. For severeal years after World War II, Commonwealth Bank had their headquarters in this structure so they renamed it the Commonwealth Building. After they moved away, it was known as Griswold Place. After the most recent remodling, its name was returned to the Dime Building.
Dan Gilbert founded the Quicken Loan firm and located its headquarters in Livonia. The firm became a successful nationwide lender. In 2009, Gilbert announced his intention to relocate the firms offices to downtown Detroit. By early 2011, he had moved about 1,700 employees to the new Compuware Building on Campus Martius. He also purchased the Madison Theater Building on Grand Circus Park and the modern style Chase Tower building on Campus Martius. He has announced his hope to purchase Albert Kahn's huge First National Bank Building, also located on Campus Martius. In June, 2011; Dan Gilbert announced that he or his firm has purchased the Dime Building from its owners, the Wells-Fargo Bank. He has also announced his intention to relocate about two thousand more Quicken Loan employees to downtown Detroit. Quite possibly, some of them may find themselves working in this lovely office building that Daniel Bunham designed in the early years of the last century. It has been very well maintained. Dan Gilbert, in April, 2012, successfully rented space in this building to the Chrysler Corporation, a firm with headquarters in Auburn Hills but now one with a presence in downtown Detroit. Apparently 70 or so Chrysler employees are working in the top two floors of this structure which has been renamed once again. This time it is called Chrysler House.


Architect: Daniel Burnham and Company
Architectural Style: Burnham style Chicago skyscraper of the first generation
with classical details
Date of Completion: 1913
Architects for the Renovation: Barton Malow Design
Date of the Renovation: 2002
Use in 2014: Office Building
City of Detroit: Local Historic District: Not listed
Michigan Register of Historic Sites: Not listed
National Register of Historic Sites: This building is included in the Detroit Historic Financial District, listed on the
National Register on December 24, 2011
Photograph: Andrew Chandler; July, 2004
Description updated: January, 2014

Return to Commercial Buildings