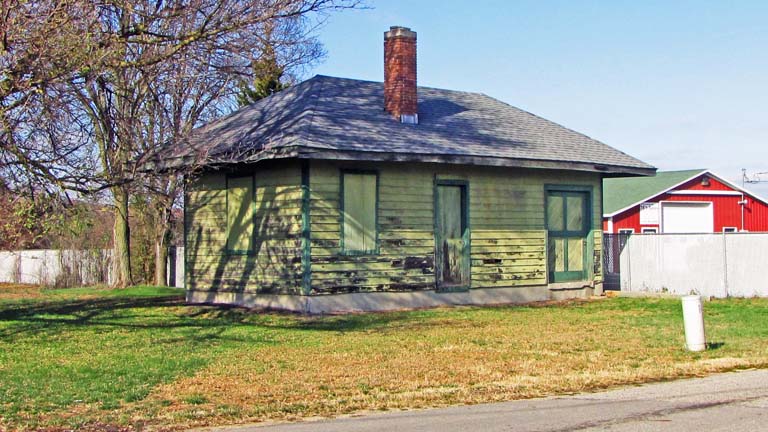 Dorr Depot, Lake Shore and Michigan Southern Railroad
4200 block of Park Street just north of 142nd Street in
downtown Dorr, Michigan

The Lake Shore and Michigan Southern Railroad was a descendent of the rail line that Michigan's first governor, Stevens T. Mason, proposed in the late 1830s—a line that would have stretched from the port of Monroe on Lake Erie to a port on Lake Michigan; that is, across the southernmost counties.  Construction on that line proceeded very slowly because of a lack of capital, but by the late 1850s, a Michigan Southern Railroad had been constructed starting in Toledo, going north into Michigan's southern tier counties and then dipping south to Elkhart, Indiana where connections were made to a rail line to Chicago.

Through a series of mergers, acquisitions, new constructions and the widening of narrow gauge lines, the Lake Shore and Michigan Southern Railroad, by the summer of 1869, owned a main line from Buffalo to Toledo where two main lines extended to Chicago: one through northern Indiana and the other through southern Michigan and then Indiana.  By 1877 Cornelius Vanderbilt controlled this railroad and used it as a major component of his effort to dominate transportation from the Midwest to the east coast.  He assembled the New York Central Railroad system, and in 1915, the Lake Shore and Michigan Southern disappeared into the New York Central.  He also controlled the Michigan Central Railroad, but that line maintained some independence until it fully became a part of the New York Central in the late 1902s.

In the years just after the Civil War, Michigan's railroads built many branch lines to reach the growing centers of manufacturing.  The Kalamazoo, Allegan and Grand Rapids railroad was chartered in 1867 to construct a branch line from the Lake Shore and Michigan Southern main line at White Pigeon to Grand Rapids.  This line passed through Dorr and was completed in the summer of 1869.  That same year that the Lake Shore and Michigan Southern leased and then subsequently purchased the Kalamazoo, Allegan and Grand Rapids. 

Passenger service in 1910 consisted of two round trips each day on trains that journeyed from Elkhart Indiana to Grand Rapids.  You could depart from the humble depot pictured above at 8 AM, change trains in Elkhart and arrive in Chicago at 4 PM or depart from Dorr at 2 PM and enjoy a late dinner in a fine Chicago restaurant after your 9 PM arrival.  Return trains from Chicago—with a change in Elkhart—arrived in Dorr at 9 AM and
5 PM.

This settlement, Dorr Township in Allegan County, is named for Thomas Wilson Dorr, who may merit a footnote in the history of the country and a chapter in a history of Rhode Island.  When the British colonies became states, they continued to use the charters they received from the Crown.  Rhode Island's charter dated from 1663 and limited suffrage to white males who owned considerable property.  By 1830 or so, five-eighths of the adult men in Rhode Island could not vote since they had insufficient property holdings.  In the 1830s, the Irish and Roman Catholic population of Rhode Island grew rapidly, but few could vote since they were workingmen.  Several attempts were made to change Rhode Island's constitution but those who held power wanted to retain the requirement that men must have substantial property holdings to vote.  A prosperous white Protestant elite governed a state where many Catholics and the Irish could not vote.

Thomas Wilson Dorr tried to change the state's constitution but, apparently, he realized that using standard methods would be futile.  In 1841, he organized a People's Convention that drafted a new constitution that would allow all adult white men to vote.  Elected officials in Rhode Island government rejected Dorr's claim that he represented the population of Rhode Island.  Dorr and his supporters organized a state wide election in 1842 to allow voters to adopt their more liberal constitution that would shift who ruled the state.  Governor Samuel Ward King feared a militant insurrection and asked for federal troops.  President Tyler sent an observer to the Ocean State but then concluded that federal armed forces were not needed.  Both King and Dorr claimed to be heading the state government, a matter that was eventually litigated to the Supreme Court.

In May, 1842 Dorr's supporters attempted to occupy the state arsenal in Providence but they were repulsed with bloodshed.  Governor King ordered that Dorr be arrested but Dorr fled from Rhode Island.  Door, in this era of the Jacksonian Revolution, had laid the groundwork for change.  In 1843, Rhode Island adopted a new constitution that permitted adult men—both black and white—to vote contingent upon their paying a poll tax.

Dorr was eventually captured, found guilty of treason against Rhode Island and sentenced to life at hard labor.  His health deteriorated and he served only two years of his life sentence.  In the early 1850s, his civil rights were returned to him, and shortly, before his death, his conviction was overturned.  To some observers, Thomas Wilson Dorr was a heroic leader of a working class rebellion fighting against a powerful, elitist state government that was unwilling to grant suffrage to any but the prosperous.  His accomplishments are commemorated in this township in western Michigan with its modest railroad depot and 7400 residents according to the Census Bureau's 2010 enumeration.

The New York Central and Pennsylvania Railroads merged, in 1968, to form the Penn Central Railroad.  This was a disastrous merger and the firm, by 1970, was in bankruptcy.  Given their importance to the nation's commerce, the government could not allow major railroads to cease all services.  The federal government bailed out the Penn Central but numerous changes were in federal laws made it easy for railroads to abandon little used branch lines and exit for the passenger business.  The line through Dorr was pulled up in 1976.
Architect:  Probably none, Likely constructed by railroad work crews
Date of construction: About 1916
Architectural style:  Downscale railroad vernacular
Use in 2012:  Apparently an abandoned building but it may be used for storage. Rails in front of depot:  Removed in 1970s
Michigan Registry of Historic Sites: Not listed
National Register of Historic Places: Not listed
Photograph:  Ren Farley; November 5, 2012
Description prepared: December 2013
Return to Transportation

Return to Homepage