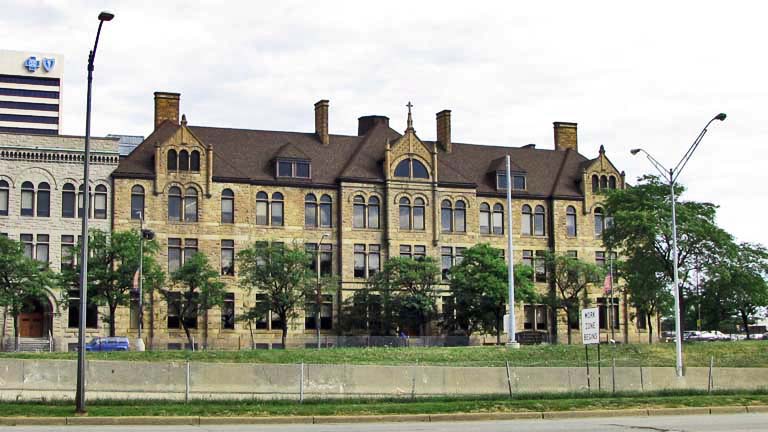 Dowling Hall
The University of Detroit
651 East Jefferson in downtown Detroit just northeast of
Sts. Peter and Paul Church
If you drive through New England, the Midwest, or the South east of the Mississippi, you can seldom travel more than 30 miles without finding a college founded more than a century ago by a Christian church. As soon as their resources permitted, northern European Christians established educational institutions, so we have hundreds of small and dozens of larger colleges and universities founded in the 19th century by Lutherans, Methodists, Congregationalists, Catholics or the Anabaptist sects. The University of Michigan was established by Father Gabriel Richard who recruited a young Presbyterian minister from the Princeton Theological Seminary to be its first leader. The college was not, for the most part, created to train the clergy. Rather, their founder fully accepted the ideal of the Enlightenment, believed strongly in intellectual pursuits, so the colleges offered training in the languages, arts, sciences and humanities.
In 1877, Bishop Borgess of the Catholic diocese assigned Sts. Peter and Paul Church to the Jesuit order of priests with the understanding that they would establish a college. They founded Detroit College and, just about a dozen years later, had the resources to recruit one of the city's leading architects, Gordon Lloyd, to design the massive Richardson Romanesque Revival building that you see on East Jefferson. This was one of the last buildings he designed.
The Census of 1890 counted just 206,000 residents in Detroit. Similar to every other federal census, it omitted a question about religion. Although Catholics were numerous in the city, they were not a majority. At this time, just a tiny fraction of teenagers completed secondary school so the number of potential students for Detroit College was small. Nevertheless, the Catholic leadership had the dedication to higher education and the funds to erect this huge but attractive Romanesque structure.
Architect: Gordon W. Lloyd
Date of Completion: 1891
Use in 2002: Its use is the same as it was when it was built.
Detroit College became the University of Detroit and moved in 1927 to Six Mile and McNichols in northwest Detroit. For some years, Dowling Hall served as the University of Detroit High School but now is the downtown campus of the University of Detroit
Historical Register: This building is not on the State of Michigan Historical Register nor is it listed on the National Register of Historic Places.
Photo: R. Farley, August 2002