Detroit Dry Dock Company/Globe Trading Building/
Outdoor Resource Center of Michigan Department
of Natural Resources

1801 to 1803 Atwater at Orleans and 1900 Atwater in
the Rivertown Neighborhood of Detroit between the
Renaissance Center and Belle Isle

Captain Stephen R. Kirby sailed on the Great Lakes in the 1840s and then began building ships in Cleveland. Learning of the Gold Rush in California, he constructed a ship on Cleveland's Cuyahoga River to sail to California; the Eureka. I presume he disassembled his ship on the Atlantic shore of the Panama isthmus and then put it back together on the Pacific shore, but I do not know.

Captain Kirby did not find the riches of King Cereous in California, and by 1852, he was building boats in Saginaw. Indeed, his firm developed into a leading Great Lakes ship builder. During the Civil War, the federal government ordered many ships, including the first iron clad vessels. New York was a center for shipbuilding and continued in that role until after World War II. Cooper Institute—where Abraham Lincoln came to national prominence with his first New York speech about preserving the Union on February 27, 1860—was a center for instruction in naval engineering at that time. Jesse Hoyt, a New York shipbuilder, convinced Stephen Kirby in 1864 to send his teenage son, Frank, to Cooper Institute where he could obtain formal training in naval engineering and work in the massive Brooklyn ship yards.

In 1870, Frank Kirby returned to Saginaw and became the lead designer in his father's firm. Shortly thereafter, the Kirby's firm purchased a large shipyard in Wyandotte, and then established the Detroit Dry Dock Company near the corner of Atwater and Orleans in Detroit. By 1877, the firm was designing and building some of the Great Lakes' largest ships in its yards in both Detroit and Wyandotte.

This company was an innovator in building large steam engines needed to propel the increasingly massive ships that toted iron ore from the Mesabi Range to Chicago, Conneaut, Buffalo and, eventually, River Rouge. These engines were m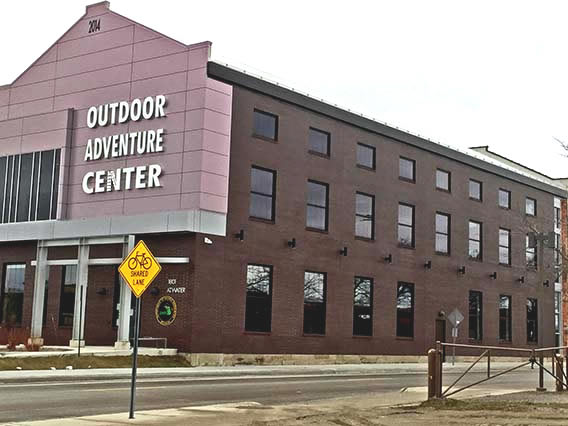 uch larger than the steam engines used by the railroads. In 1892, Detroit Dry Dock erected the building you see. Actually, there are six buildings in this complex built between 1892 and 1919. I cannot easily distinguish them. The oldest remaining building is a machine shop designed and built by a Connecticut firm, Berlin Iron Bridge. Eric Hill and John Gallagher, leading contemporary Detroit architectural historians, argue in their American Institute of Architects Guide to Detroit Architecture that this structure "is the most important surviving Nineteenth-Century industrial building in Detroit" since it was one of the first large factory buildings to use a steel frame structure to create a huge interior space for the construction of massive engines. They recommend that it be designated a National Historic Landmark. Until the creation of Milliken State Park in the early Twentieth First century, there was a slip directly across Atwater. so it must have been straightforward for Detroit Dry Dock to place the engines they built into ships constructed nearby.

Henry Ford served as apprentice machinist at Detroit Dry Dock from 1880 to 1882. Indeed, Henry Ford apparently first became familiar with combustion engines while employed at Detroit Dry Dock. This building also has a remote connection to the enjoyable summer afternoons that some of us spend at Comerica Park. By 1899, the American Shipbuilding Company, centered in Cleveland, became a huge industrial conglomerate by purchasing a half a dozen or more prosperous Great Lakes shipbuilders, including Detroit Dry Dock. Their business thrived for years and successor companies prospered during World War II filling defense contracts. The Steinbrenner family amassed great wealth in this ship building firm, funds that allowed George Steinbrenner to purchase a baseball team. Rumors report that Mr. Steinbrenner sought to buy a large share of the Cleveland Indians around 1970, but his prospective partners blocked such a sale, perhaps because of ethnicity or his religion. Mr. Steinbrenner went on to purchase the New York Yankees and his son continues to run the team.

Frank Kirby also prospered after American Shipbuilding purchased his family's firm in 1899. He was one of the leading designers of ships for a number of decades. Two of the vessels he built—the Columbian and the Ste. Claire for the Detroit to Boblo run—are National Historical Landmarks. The last two vessels to be outfitted at this Atwater Street yard in 1924 were the Greater Detroit and the Greater Buffalo, vessels that sailed for many years from Detroit to Buffalo and Cleveland for the famous D. and C. line; that is, the Detroit and Cleveland Steamship Line.

Professor Thomas Klug, director of the Institute for Detroit Studies at Marygrove College, prepared documentation about this building and the firms that occupied it for the Historical American Engineering Record. This comprehensive and extremely informative historical report is available at: http://www.marygrove.edu/ids/. If you are interested in the history of this building, please see his scholarly report. In the 1950s and 1960s, Detroit Edison used the structure. By the late 1960s, it was used by Globe Trading Company, a wholesaler dealer of machinery and equipment. You will sometimes see Globe Trading as the name of this building. After Mayor Archer, in the early 1990s, made the arrangements for the building of three large gambling casinos in Detroit, plans were developed to locate them along the riverfront between the Renaissance Center and Belle Isle. Those plans never came to fruition, but no investments were made in the older buildings located in this area so long as there was a possibility of their being razed for casinos.

In October, 2006, the Urban Development Corporation announced they would invest $15 million in the building to create 45 condominiums, as well as retail space at the Orleans Street level. These were to be market rate condos of 900 to 2,000 square feet with intended sales prices of $200,000 to $400,000. Apparently, they were unable to locate the capital necessary for that renovation. In June, 2013; the State of Michigan's Department of Natural Resources announced that they would spend $13 million to renovate this building. It was designed to serve as an outdoor adventure and discovery center. The inside contains a very impressive and large display of Michigan's wildlife and resources. Is is linked to nearby Rivard Plaza located on the Detroit River and with the riverfront William G. Milliken State Park and Harbor. The is part of a much large program that seeks to renovate the Detroit waterfront from the Rennaisance Center to the MacArthur Bridge.
The Outdoor Adventure Center was designed to bring "Up North" down to Detroit. As the website for this structure states:
"Experience exciting outdoor adventures with hands-on activities, exhibits and simulators -- walk behind and touch a waterfall, step into a fishing boat and reel in a big fish, hit the trail on a mountain bike or snowmobile, and much more. At the Outdoor Adventure Center, you'll learn about how the Department of Natural Resources manages state parks, forests, wildlife and fish as you climb the roots and explore the canopy of a massive bur oak tree, hop aboard a real airplane, and see what's swimming in our aquarium." In my opinion, this is a great use of an historic building and an important component of the redeveloping Detroit River waterfront.

Architect for the oldest building: Berlin Iron Bridge Company
Architectural style: Innovative use of structural steel to create a large industrial workspace
Architects for recent remodeling: Hobbs and Black Associates, Ann Arbor
Date of Construction: 1892 for the oldest of the six buildings. The others were erected between 1902 and 1919
Use in 2017: Michigan Department of Natural Resources Outdoor Adventure Center
Website:http://www.michigan.gov/oac
Photos: Ren Farley; February 2004 and January, 2016
City of Detroit Local Historic District: Not Listed
State of Michigan Registry of Historic Sites: Not Listed
National Register of Historic Places: # 83004859, Listed 1993 There was an increase in the area of the listing, #09000680 on
September 3, 2009.
Description revised: June, 2017
Return to City of Detroit Historic Designations
Return to Federal Register of Historic Districts