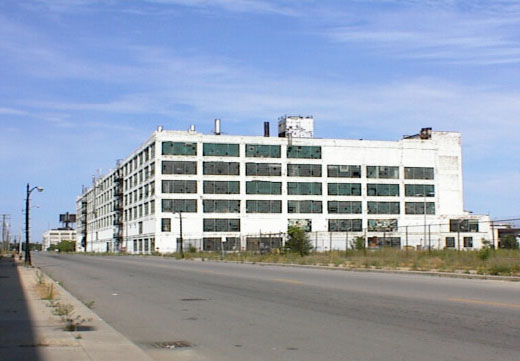 Fisher Body Plant Number 21
700 Piquette Avenue between Hastings and Saint Antoine in
the Milwaukee Junction Area of Detroit
The early era of the world's automobile industry was centered in this neighborhood of Detroit, largely because of access to rail lines. The Ford Piquette Avenue plant, 461 Piquette at the corner of Beaubien is very close to this Fisher Body plant as was the large Studebaker plant at 201-285 Piquette, a plant that burned to the ground in June, 2005. Cadillac's Amsterdam Avenue plant and dozens of other factories including four other Fisher Body plants are a short jog away on the west side of Woodward in the New Amsterdam Historic Distcrict. They were concentrated here because of the junction of the Grand Truck rail line going toward Grand Haven where freight cars were shipped by ferry to Milwaukee and the Michigan Central belt line that connect to the Michigan Central main line to Chicago and points West.
This plant is historically interesting since it illustrates the development of Albert Kahn's skills. It is a six-story building constructed of reinforced concrete with glass wall construction. Please compare this building to the nearby Ford Piquette plant completed just 15 years earlier and designed by Field, Hinchman and Smithy. The Ford plant resembles a New England textile mill and its brick walls have few windows to admit any light; indeed, it must have been very dark inside. But Fisher Body #21 is extremely different, reflecting the contributions of Albert Kahn to industrial architecture. One other major difference distinguishes these building. The Ford Piquette Avenue plant had heavy oak floors, floors that we at danger of burning when soaked with grease and oil. Kahn's building has reinforced concrete floors that not only were able to support the tremendous weight of many ton presses but were at no risk of burning. The Ford Building is, however, a National Historic Landmark since it is where Henry Ford began to develop his production line strategy, the place where he first turned out cars profitably and where he designed the Model T.
This building also reminds us of the origins of the great fortune that the Fisher Brothers amassed building bodies, primarily for General Motors cars. This building was used by General Motors until 1984. I beleve that firm continues to own the building but it has not be used in a quarter century or more.

Architect: Albert Kahn
Date of Completion: 1919
Use in 2010: Empty Building awaiting reuse
City of Detroit Designated Historic District: Not listed
State of Michigan Registry of Historic Sites: Not listed
National Registry of Historic Places: This building is with the Piquette Avenue National Industrial Historic District listed in February, 2002. This district is bounded by
Woodward on the West, the Grand Trunk Railroad tracks on the North, Hastings Street on the South and Harper on the East.
Photograph: Ren Farley, 2002
Description updated: May, 2010.

Return to Industrial Buildings