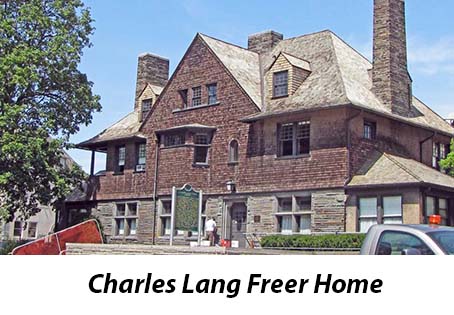 Charles Lang Freer Home
Merrill-Palmer Institute of Human Development and Family Life
Wayne State University
71 East Ferry Street in Detroit's Cultural Center and the
East Ferry Historic District

Henry Ford was, perhaps, the most accomplished but puzzling and difficult-to-understand man who capitalized upon opportunities in Detroit to not only become extremely wealthy, but make a lasting contribution to the nation through his philanthropic endeavors. If you were compiling a list of such Detroit individuals, Charles Lang Freer might rank close to Henry Ford with regard to wealth, idiosyncrasies and contributions to our nation.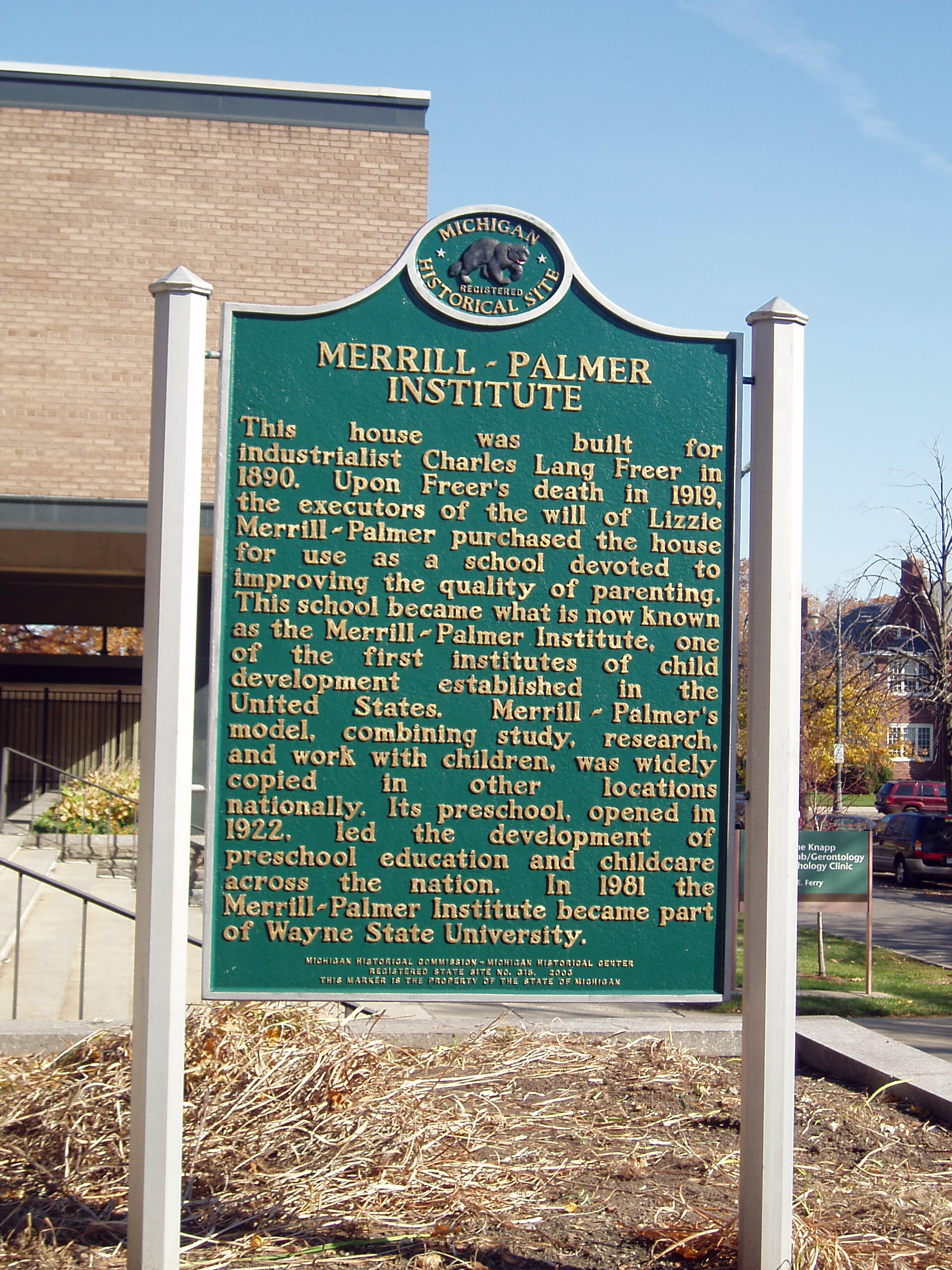 Freer was born in Kingston, New York in 1854 or 1856 to a modest family. Instead of finishing high school, he went to work as a clerk for a business in the city of his birth. Fortunately for him, the building also housed the offices of a local railroad managed by Frank J. Hecker. Hecker saw promise in Freer and hired him as a bookkeeper for the railroad. In the 1870s, a group of Detroit investors sought to build a railroad—called the Eel River Railroad—near Logansport, Indiana and hired Hecker as their manager. I believe these Detroit investors intended to finance a line that would extend from Detroit to Logansport and then on to Illinois and, perhaps, St. Louis. In the early and middledecades of the Nineteenth Century, most railroads were short lines connecting two small cities since they lacked capital, but by the mid-1870s, investors such as Russell Sage and Jay Gould saw the advantages of buying local railroads as cheaply as possible and then weaving them into major interstate lines such as the New York Central. Hecker recruited Charles Lang Freer to work with him on the Eel River line, but in 1878, the Wabash Railroad purchased the road. Detroit investors were pleased with the work of Hecker and Freer and encouraged them to move to Detroit when the Eel River line was merged out of existence. Using some of their own funds and capital raised in Detroit, Hecker and Freer founded the Peninsular Car Company to build rail cars. By the mid 1880s, Frank Hecker and Charles Freer were extremely prosperous.

Michigan's white pine, the iron foundries in Detroit and the skills of capitalists such as Hecker and Freer made Detroit the center of the rail car industry in that era. One of the large competing firms in the city was the Michigan Car Company run by James McMillan. In 1892, Hecker and Freer's Peninsular Car Company merged with Michigan Car Company to become the Michigan-Peninsular Car Company. Seven years later, this firm and 12 other rail car manufacturers merged to form American Car and Foundry, a company that continues to build rail cars under the name ACF Industries. Alas, they now have no factory in Detroit.

Apparently Charles Freer was diagnosed in the 1880s or 1890s as suffering from neurasthenia. This was a century before the invention of Prozac, Celexa or Zoloft. A common treatment for rich sufferers at that time was to encourage them to think less about the competitive industrial world and to concentrate upon the bucolic or the arts. Freer apparently selected art as his cure so, by 1886, he began using his wealth to collect American masters, including the impressionist painters of that era. Early in his extensive collective career, he met and then helped to popularize the works of James Whistler. Indeed, he was Whistler's major patron. He moved on to purchase a tremendous collection of Nineteenth Century American works, including many paintings by Homes, Melchers, Ryder and Sergeant. He then purchased great paintings from Europe. His artistic advisors—especially Whistler—apparently told him that he could not purchase enough of them to develop a collection exceeding that found in the great galleries of European metropolises. They suggested to Freer that he become this nation's leading collector of great Asian art.

In 1899, when he was about 44, Freer began to disengage from the rail car business by gradually selling his stocks and bonds while using the proceeds to purchase art works. Indeed, he devoted the remaining two decades of his life to collecting art. He traveled several times to Japan, Korea and China seeking the best art, then bringing it back to Detroit. By the early years of the Twentieth Century, perhaps no gallery in the United States had a collection comparable to Freer's. Freer ranks among the nation's greatest individual art collector.

There is no reliable way to answer the question of which home in the city of Detroit is the most beautiful, striking or impressive. I doubt that anyone can propose two side-by-side homes as consequential and impressive as those of the car-building business partners, Colonel Hecker with his French Renaissance style chateau at East Ferry and Woodward designed by Louis Kemper and Charles Lang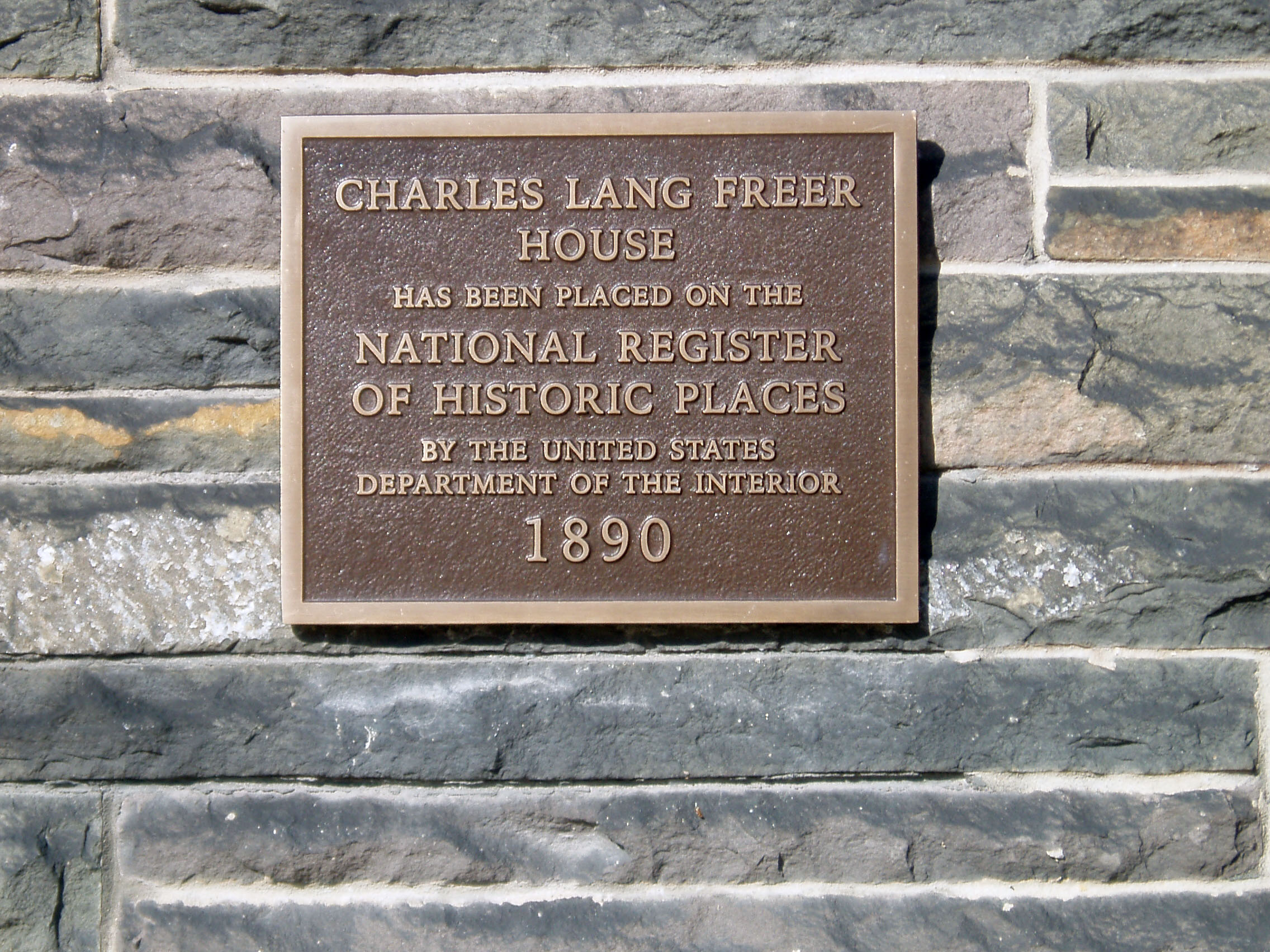 Freer's next-door home. By the late 1880s, Freer had traveled to the locations where the nation's rich spent their summers in the days before air conditioning. One of their favorite spots was Newport, Rhode Island. When visiting there, Freer was impressed by the shingle style summer cottages of the elite. In truth they were massive homes. Freer was an extremely systematic man, so he investigated carefully and determined that architect Wilson Eyre of Philadelphia was the most accomplished designers of such homes. In 1890, Freer contracted with Eyre to design the home that you see in the picture above. It was completed in 1892. The Freer residence remains one of the most distinguished homes in the city, worthy of a detour if you are traveling from the Big Apple to San Francisco or Peking. You will see Eyre's very careful stone work on the first floor using coursed hard blue limestone from New York State. Over the last century, the blue limestone had pretty much turned black, thanks to the city's industrial activities. Despite this, there is a very warm and graceful feeling emanating from this home. Note the prominent use of shingles—darkly stained Michigan oak shakes that are extremely closely spaced. These shingles might overemphasize the horizontal along East Ferry were it not for the protrusion with its traditional windows. The triangular third-story gable is appealing and varied windows and the dormers interrupt the roof. Two tall chimneys guard the west and east ends of Freer's home. There are stucco porches at the ends of the first floor. In the original design, there were open air porches, apparently done in something other than stucco. Freer had landscapers use Asian flora for the grounds, but subsequent remodeling pretty much destroyed the original landscaping and setting for this home. William's Freer's brother—Frederick Freer—built a Queen Anne style home to the immediate east of the shingle style house you see, but this was torn down so that the Merrill Palmer Institute could construct the building that is now located there.

Eyre designed this residence to assist Freer in displaying his immense collection of art. In 1906, an art gallery was added above the stable with Eyre as the architect. In the early 1900s, Freer's James Whistler received a commission from Frederick Leyland in London to design a Peacock Room for his home. Leyland was not happy with Whistler's design and, after his death in 1904, his widow sold the Peacock Room to Charles Lang Freer. Freer had Wilson Eyre design a suitable room so Whistler's Peacock Room was moved from London to East Ferry Street in Detroit.

Freer was extremely proud of his art works and apparently knew that he had one of the nation's most outstanding collections. It probably was the largest private collection in the country since it contained more than 30,000 pieces. Freer kept most or all of his art in the home you see. He was a private man and, apparently, invited only a few people to view his collection. Only rarely did he allow his art works to be publically displayed. Apparently, art galleries found him difficult to work with since he was reluctant to have them display his art and, when they did so, he specified exactly how it was to be shown. Realizing the value of his collection and the potential for theft, Freer had tactfully designed iron grating for many of the windows in his home, grating that remains to this day.

Why did he not leave his art to the city of Detroit or to a Michigan institution? There is no concise answer. Apparently in the 1890s, Freer proposed that the city build a magnificent art gallery, but received little encouragement from his fellow Detroit millionaires. Freer helped lead a group of prominent Detroit residents in a commemoration of the city's bicentennial. They commissioned one of the nation's leading architects, Sanford White, to design a magnificent monument for the south end of Belle Isle where the James Scott Fountain now stands. White proposed a massive bicentennial monument that looked much like the Washington Monument located south of the Ellipse on the National Mall. Freer found that other Detroit entrepreneurs were unwilling to part with the monies needed for this monument so it was never built.

Fortunately, we can see the structure that White designed for Detroit's bi-centennial. White's design—with few changes—was used for the Commodore Oliver Hazard Perry Victory and International Peace Memorial then erected on Put-In-Bay, Ohio. This commemorates Commodore Perry's defeat of British ships in the Battle of Lake Erie on September 10, 1813, a victory for the United States that hastened the truce that ended the War of 1812.

As early as 1905, Freer decided that he should give his art works to a nation's capitol. James McMillan, the owner of the Michigan Car Company that merged with Freer's firm in 1892, was active in the state's Republican Party. Indeed, the Michigan legislature appointed him to the US Senate in 1889 and he represented the state in Washington until his death in 1902. McMillan and Freer became friends. In the Senate, McMillan championed the idea of making Washington into a beautiful capital city worthy of a major nation. McMillan was inspired, perhaps, by the city-beautiful movement. At the time, Washington was an unattractive, dirty city and Pierre L'Enfant's elegant plans for a glorious capitol rivaling Paris had been forgotten. The Mall between the Capitol Building and the present location of the Lincoln Memorial was crossed by many rail lines and housed small unattractive buildings. The Department of Agriculture had plans to put modest gardens in that area, but little came of those intentions. McMillan had more ambitious plans and used his power to get rid of the rail lines and eyesores. His aide, Charles Moore from Ypsilanti, was his spokesperson and assisted in creating a modern, beautiful Washington with elegant governmental building. At some point, Freer proposed donating funds for an attractive building on the Mall that would house the art that he would give to the nation upon his death.

It is not easy to make donations to the federal government. The Smithsonian was, by this time, a major institution displaying important artifacts from the nation's history. Freer approached the Smithsonian and proposed building an art gallery for his collection. Samuel P. Langley more or less turned down this idea. Langley knew little about art, but from a bureaucratic perspective, he feared that the Smithsonian would be burdened with the upkeep of the gallery that Freer would donate. In addition, Freer specified that only his art might be displayed in his building and mandated that it be displayed in a manner consistent with his wishes and the wishes of the artists. Using political connections, Freer apparently approached President Theodore Roosevelt with his offer to give what was, arguably, the nation's most sophisticated art collection to the government along with a building to house it. The President apparently treated this in a normal bureaucratic manner and turned the matter over to assistants. Perhaps to move the process along, Charles Lang Freer commissioned Gari Melchers to paint a portrait of President Roosevelt. This is a very flattering study showing a powerful and competent President Roosevelt with a large crop in his left hand. Indeed, it looks much like the Big Stick that President Roosevelt mentioned in his often repeated axiom: speak softly but carry a big stick. It is now displayed in the Freer Gallery.

Fortunately, for Charles Lang Freer, President Roosevelt's wife—Edith—was something of an art collector and visited east coast galleries from time to time. The art world knew of Freer's fabulous offer and the unwillingness of the federal government to accept it. Mrs. Roosevelt informed her husband of the importance of Freer's collection and his desire to fund a magnificent structure to display it. This moved the President to action. Roosevelt wrote several tactful but terse letters that more or less mandated that the Smithsonian accept Freer's gifts on Freer's terms. This moved the Smithsonian to action.

In 1916, construction began on the Italianate building designed by Charles A. Platt that we know as the Freer Gallery. Freer originally presumed that $500,000 would be sufficient for the construction of the building, but the cost escalated to one million. Freer paid that sum. Building was delayed by World War I and the galley was not formally opened until 1923. Freer died in 1919 and left much of his collection to the federal government. Some components of Freer's collection may have been given to other galleries but Freer did not establish a foundation. He had no spouse or children. Despite their substantial contributions to our nation, there are, so far as I know, no authoritative biographies of Charles Lang Freer or Senator James McMillan.

In 1918, Detroit resident, Lizzie Pitts Merrill Palmer donated three million dollars to establish a school for motherhood training. I believe her intent was to provide specific training to poor women so that they could be competent mothers. The nonprofit Merrill-Palmer Institute was founded and, in 1923, purchased the Freer Home to serve as their headquarters. Over the years, the Merrill-Palmer Institute developed into an advanced school dedicated to studying human development and improving family life. By the post-World War II period, I believe they offered formal collegiate training to certify elementary and secondary school teachers. The institute continued to use the endowment for their programs, but began to run short of money in the 1970s. In 1981 Wayne State University subsumed the Merrill Palmer Institute and took control of the marvelous Charles Lang Freer home. More recently, the Skillman Foundation donated funds so that the organization may now be known as the Merrill Palmer Skillman Institute. I believe they support psychological research about early childhood development and the Freer home is used as their office space.

When you next visit the impressive Freer Galley with its collection of Asian art in Washington, remember the Michigan pine forests, the iron foundries of Detroit and the artistic interests of a depressed but dedicated entrepreneur who made such a tremendous gift to the people of this country.
Architect: Wilson Eyre, Jr.
Date of Construction: 1887
City of Detroit Local Historic District: Listed February 17, 1981.
State of Michigan Registry of Historic Sites: P 25121, Listed November 6, 1970
State of Michigan Marker: Erected: October 5, 2003
National Register of Historic Sites: # 71000426, Listed April 16, 1971
Support organization: Friends of the Freer House, 71 East Ferry, Detroit
Book: The Charles L. Freer Residence: The Original Gallery of Art, by Thomas W. Brunk. (I do not know the publisher but this book is sold by the Friends of the Freer House organization.
Use in 2007: Merrill Palmer Skillman Institute of Wayne State University
Web site for Merrill Palmer Institute: www.mpi.wayne.edu/
Photo: Ren Farley, 2003
Description: Revised April, 2007