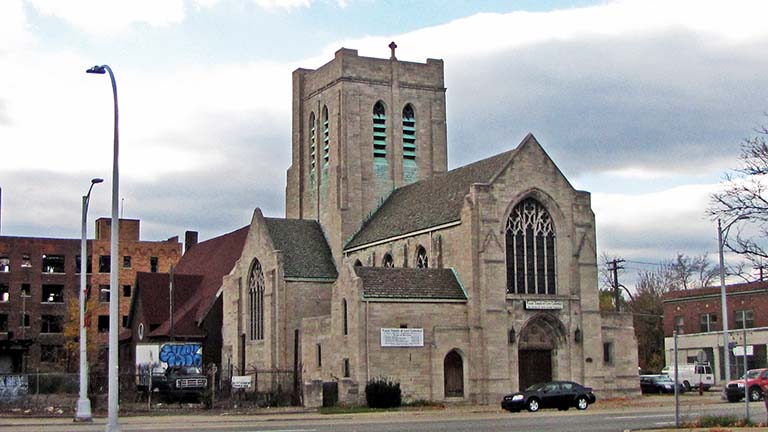 Grace Evangelical Lutheran Church/Prayer Temple of
Love Cathedral
12375 Woodward in Highland Park
There was a great fluoresce of church building in Highland Park between 1912 and 1929 when the Great Depression halted new construction in the United States.  This is explained by the unusually rapid growth of Highland Park as a very large and prosperous suburb of Detroit.

Highland Park, located on a ridge six miles northwest of the Detroit's riverfront, is surrounded by the city of Detroit except for a short stretch of its border which it shares with Hamtramck.  It is now basically a small impoverished, almost all African American enclave within Detroit.  It was once a large, prosperous city with several upscale neighborhoods.   Judge Augustus Woodward thought the higher land would make an ideal site for a settlement so he bought the area in 1818 and platted the village of Woodward whose main street, I presume, would have been Woodward Avenue.  He failed to attract settlers.  In 1836, Judge Benjamin F. Witherell, the son of James Witherell who was appointed by President Thomas Jefferson to serve as the third federal judge in Michigan territory, also tried to develop a settlement here but was not successful than Woodward.

As Detroit became an industrial metropolis after the Civil War, a few settlers came to the area.  They were in sufficient numbers such that Highland Park became a chartered village in 1889. In 1907, Henry Ford purchased 160 acres, and in 1909, began building the huge vehicle plant that still stands along Woodward.  In 1914, he developed the assembly line at his Highland Park factory and, within a few years, he was able to turn out 9,000 Model T's each workday.  Detroit annexed many contiguous areas in the first two decades of the last century.  Ford wanted to preserve some independence from the powerful city of Detroit so Highland Park was chartered as a city in 1918.  Real estate developer William Stevens also played a role in the independence movement that established the city of Highland Park.

This location has one of the most unusual demographic trajectories of any place in the country.  In 1910, there were only 4,000 residents but blue- and white-collar employees moved close to the Ford plant in that decade and several other Highland Park vehicle plants that would eventually become part of the Chrysler Corporation.  Indeed, until 1990 Highland Park was the headquarters site for Chrysler.  In 1920, Highland Park's population soared to 47,000.  Growth continued in the booming 1920s and Highland Park reached its peak population in 1930: 53,000.  It has consistently lost population since then, although much more rapidly following World War II.  The Census Bureau estimated Highland Park had 11,000 residents in 2012.   I suspect that among cities that once exceeded fifty thousand, Highland Park has lost the highest percentage of its residents. Very much linked to the population decline and the exodus of employment is the fact that Highland Park's insolvent government was taken over by the state in 2001.  They gained their freedom from state control about eight years later, but continuing financial problems put the city on the cusp of state control once again in 2013.  When the Highland Park school system ran out of money, the state took over the schools in 2012 and continues to operate them.

Highland Park is no longer the city that could fund the elegant McGregor Library or attract upscale residents for its two historic districts: the Highland Heights-Stevens and the Medbury-Grove Lawn subdivisions.  In late 2013, the Census Bureau released information from their recent surveys of Highland Park.  Forty seven percent of the residents and 61 percent of the children lived in poverty.

The church pictured above was a home to a congregation that began as a Lutheran mission sited to serve the members of that faith moving to Highland Park shortly after 1900. It was originally named Detroit Immanuel Evangelical Lutheran. They first worshiped in a frame Gothic chapel that had been constructed for Highland Park Presbyterian at Cortland and Woodward.  That congregation needed to remove the frame chapel so that they could construct the church that sill graces that corner.  Apparently, the Lutherans purchased the land along Woodward, secured the frame Gothic chapel and moved it to their property.  In the mid-1920s, they had sufficient funds to construct the church you see pictured on this page.  They selected a Milwaukee architect, Adam Fichter, who, so far as I know designed no other structure in the Detroit area.  I believe the congregation changed its name to Grace Evangelical when the new church was dedicated.  This is a neo-Gothic limestone church with a gabled nave.  Shallow buttresses are visible near the entrance.  Above the entrance, you see the traceried Gothic window, one of many such windows to be found in Detroit.  To the rear is a square tower with a louvered belfry.  I believe that the frame Gothic chapel remained on this property for some years after the massive gray church was complete. Accompanying the church is a hip roof two story brick parsonage that may have been constructed before the church.  I am not sure but I think this may have been the last church constructed in Highland Park.

The Lutheran congregation completed their use of this church in 1979.  By 2013, it was the cathedral of the Prayer Temple of Love congregation.

Architect: J. Adam Fichter from Milwaukee
Architectural Style:  Late Gothic Revival
Date of Construction: 1929 and 1930
Use in 2013: Prayer Temple of Love
State of Michigan Registry of Historic Sites: Listed P25,318
National Register of Historic Places: Listed August 3, 1982 as a component of the Religious Structures of Woodward Avenue Thematic Resource
Photograph:  Ren Farley; November 9, 2013
Description prepared: December, 2013
Return to Religious Sites

Return to Religious Structures of Woodward Avenue Thematic Resource

Return to Homepage