Grand Circus Park Historic District
At the North End of Downtown Detroit
Very few cities are planned. Typically, a few early settlers locate at a spot that has a transportation advantage or is close to a resource that may be extracted from the ground. If there is economic success, more settlers arrive and build their homes and facilities nearby in a haphazard manner long before any local government is established to do city planning. That was the case for Detroit in the Eighteenth Century, although the threat of Indian violence kept the French settlers close to the fort or the river. The Nineteenth Century was different.

Detroit was a small village in the remote wilderness when, in spring 1805, Thomas Jefferson appointed William Hull to serve as governor of the territory and Augustus Woodward as the first federal judge. Woodward arrived in Detroit in late June 1805. Unfortunately, almost all of the wooden structures that comprised the small hamlet of Detroit had burned to the ground on June 11, 1805 in a fire that started in the bakery run by John Harvey and quickly spread by wind. Presumably, the total settlement included fewer than one thousand residents. The first federal census in 1820 counted 2,200. The leading Detroit figure in 1805, Father Gabriel Richard, did what he could to obtain support from the French settlers who lived on the other side of the Detroit River and along the shores of the River Raisin.

Woodward saw an opportunity. Thomas Jefferson knew about the emergence in France of city planning designed to produce beautiful and well-ordered settlements. A location on the banks of the Potomac River between Virginia and Maryland had been selected as the capitol of the new nation but there were few settlers there. Jefferson saw the development of major nation and believed that it should have a distinguished capitol. He recruited a Frenchman, Pierre L'Enfant, who had served as a military engineer in the Revolutionary Army, from France to lay out the city of Washington. Rather than using a grid plan, L'Enfant proposed a kind of spoke and hub plan that still challenges people when they first drive there. Woodward, who was appointed by Jefferson, borrowed from him the ideas of L'Enfant to plan a city. Detroit was flattened by fire so, Woodward could capitalize upon the hub and spoke plan of L'Enfant, a plan that produced an interesting array of irregular blocks but also created lots of intersecting spaces that could be used for parks or for public meeting spaces.

Woodward produced the design that is reproduced here. Not surprisingly, the residents of Detroit were, apparently, not very enthusiastic about this type of city planning. They wanted to hang on to their property and reestablished whatever buildings they had. Nevertheless, Woodward overcame the opposition and was able to lay out his plan along the riverfront and as far inland as Grand Circus Park. I have read that Woodward's attempt to extend his city planning more extensively met strong objection from land owners and were never implemented.

Similar to many others in his cohort of civic leaders, Woodward took inspiration from the Greeks and Romans. He named one of the major areas in his plan Campus Martius after an open space in classical Rome. To the other major space in his plan for Detroit, Woodward gave the name Grand Circus Park because that name was used for circular areas in Rome where games and public spectacles were held. By about 1808 or so, streets were laid out according to Woodward's plan.

Grand Circus Park, however, was a remote area by Detroit standards in the early 1800s. Animals probably grazed there. The current Grand Circus Par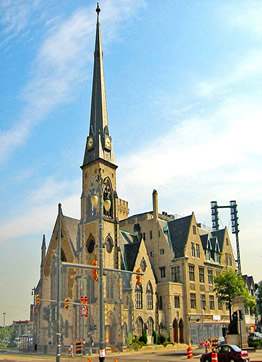 k Historic District consists of the 4.6-acre park in the shape of a half circle and all the buildings located on Adams, Witherall and Park that face Grand Circus Park. Three additional buildings that had been listed on historic registers are also included in this district: the Broderick Tower, the Whitney Building and the Women's Exchange Building.

The first structure to be built on Grand Circus Park was a home constructed in 1840 for Fire Department chief engineer H. H. LeRoy. A few other buildings may have been erected near that Grand Circus Park shortly thereafter. However, the city's government first made investments to creat
e a real park in 1853. By 1860 water lines reached the park and the first fountain was put in place. Apparently, there was a problem with stray farm animals grazing in Grand Circus Park so it was fenced and closed except on Sundays. A change occurred in 1866 when it was opened to the public, apparently every day.

The area around the park began to develop when Central Methodist Church was built in 1867. Shortly thereafter, low-rise buildings for com
mercial and residential use were constructed. At that time, it was very common for a merchant to operate a store on the street level and live above his establishment. Most or all of those first generation buildings were replaced in the early Twentieth Century with the larger buildings that now face Grand Circus Park.

In 1896, the first electric lights were installed in Grand Circus Park and it assumed the status of a small park in a densely settled city. Parks are marvelous sites for statues and memorials invoking the memory of significant local individuals or important events. The following sculptures are to be found in Grand Circus Park:

1904 Mayor Hazen Pingree Statue. Designed by Rudolph Schwartz

1912 William Cotter Maybury Monument. Designed by Adolph Alexander Weinman
1921 Roger Alexander Alger Fountain. Designed by Daniel Chester French
1929 Thomas Alva Edison Fountain. I do not know who designed this fountain, but it was dedicated by President Herbert Hoover in October, 1929
1999 Millennium Bell (Pictured above). Designed by Christopher Turner and Matthew Steven Black
Unknown date: Obelisk honoring Judge Augustus Woodward for his plan for Detroit

Among the presently standing buildings included in the Grand Circus Park Historic District are the following:

Central Methodist Church, 1867, 23 East Adams. Designed by Gordon Lloyd.
Fine Arts Building, 1905, 44-58 West Adams. Designed by Albert Kahn. Only the façade survives
David Whitney Building,1914, 1553 Woodward. Designed by David Burnham
Kales Building, 1914, 76 West Adams. Designed by Albert Kahn and built as the Kresge Building
Women's Exchange Building, 1915, 1526 Broadway. Designed by Smith, Hinchman and Grylls
Fife Shoe Building, 1918, 10 West Adams. Designed by Smith, Hinchman and Grylls
Capitol Theater, 1921, 1526 Broadway. Designed by C. Howard Crane and remodeled into the Detroit Opera House
Park Avenue Building, 1922, 2001 Park. Designed by Albert Kahn.
Broderick Tower,1926, 10 Witherill. Designed by Louis and Paul Kamper and constructed as the Eaton Tower.

Two hotels that no longer stand are worthy of mention. The Tuller Hotel was built in 1906 on Grand Circus Park at the intersection of Adams Avenue West, Bagley and Park Avenue. It was a leading hotel when it opened but, by the 1920s, became outdated since newer hotels provided much more space in the room, provided a bath with every room and were more completely fireproofed. It was used until the 1970s, fell into dereliction and was razed in 1992. If downtown Detroit continues to prosper its footprint may be put into more lucrative use than its current use as a parking lot.

The Statler Hotel opened in 1915 at the intersection of Washington Boulevard and Grand Circus Park. It was meant to anchor one end of the elegant shopping and commercial area that the Book Brothers developed along Washington Boulevard. The Statler was an attractive Georgian style building with 18 stories and 800 rooms designed by architect George B. Post. It was one of the city's leading hotels for more than forty years. In 1954, it was purchased by the Hilton chain and was then known as the Statler-Hilton or the Detroit Hilton. Commercial activity declined in the 1960s with the rise of the suburban ring. The Hilton chain pulled out of this hotel in 1975. It remained open for only one more year. Mayor Coleman Young convinced the Republican Party to hold their 1980 convention in downtown Detroit, the convention at which they select Ronald Reagan as their candidate. Mayor Young wished to make downtown Detroit look prosperous and busy. The city decorated and refurbished the first floor of the idle Statler Hilton Hotel for the summer of 1980. Various entrepreneurs discussed reusing the hotel but nothing ever came of their plans. Detroit leaders want to improve the looks of the city's downtown for Superbowl XL that was held in Detroit on February 6, 2006 so the hotel was razed late in 2005.

Prosperity is slowly returning to the Grand Circus Park neighborhood. There are probably more people living in buildings that face the park in 2013 than ever before. The Fife Shoe Building and the former Kresge's headquarters building that is now known as the Kales Building have been successfully renovated for residential use. After many years of planning and work, the David Broderick building was converted to residential uses and, by late 2012, all or almost all of the impressively refurbished units had been rented. Work continued in 2013 to renew Daniel Burnham's David Whitney Building. It will include commercial space on the lowest floors, a boutique hotel for those who visit downtown Detroit and residential units on the upper floors. However, the spaces once occupied by the Tuller and Statler hotels remain empty.

City of Detroit Designated Local Historic District: Listed 2002
State of Michigan Registry of Historic Sites: P25,129 Listed 1983
National Register of Historic Places: Listed February 28, 1983
Use in 2013: Well-maintained public park
Description prepared: February, 2013

Return to Historic Districts

Return to Parks and Recreation