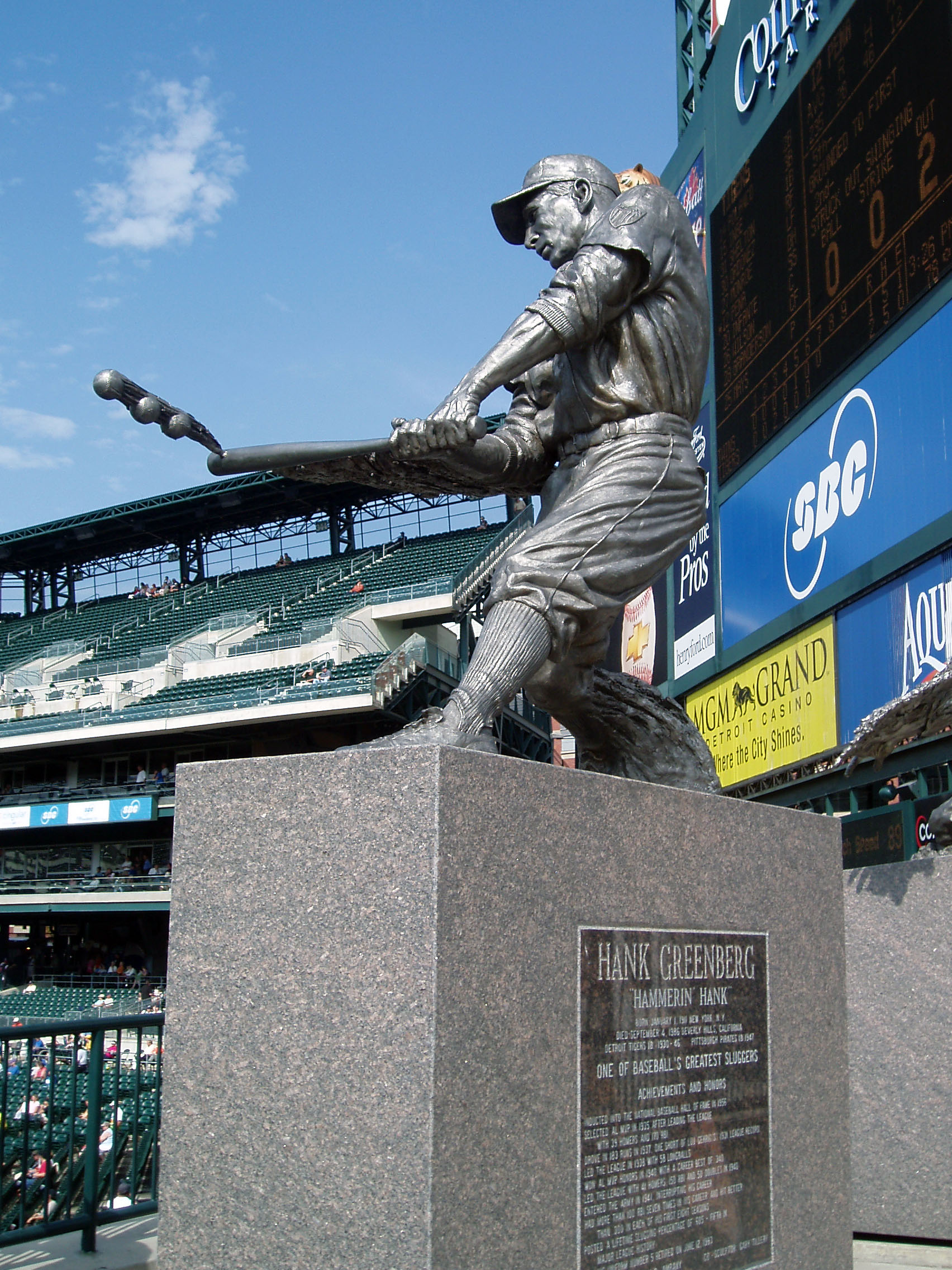 Statue of Hank Greenberg
Located in the walkway above left field in Comerica Park in
Downtown Detroit and visible from Adams between Witherell and Brush

Detroit, in the late 1930s, had the distinction of being the home to the first African-American to become a national sports hero—Joe Louis—and home to the first Jewish national sports hero: Hank Greenberg. In this nation there is, unfortunately, a long history of disparaging racial and religious minorities along with the assumption that such groups are not or cannot become real Americans. Slavery and the Jim Crow policies that maintained a racial hierarchy are very well known. When the Irish arrived in great numbers after 1848, they were assumed to be unassimilatable because of their intellectual deficiencies and their adherence to the Catholic faith. Until after the Civil War, the state of North Carolina prohibited Jews from voting, reflecting the popular anti-Semitism of that era. And Detroit was something of a center for anti-Semitism since Henry Ford, at the end of World War I, published and helped to popularize "The Protocol of the Elders of Zion," a European anti-Semitic volume that described a Jewish plot to dominate the world. Many also contended that the 1930s speeches of the nation's most popular radio preacher—Father Charles Coughlin of Royal Oak—were laced with anti-Semitism.

Depictions of racial and ethnic minorities often portray such individuals as unable and unwilling to adapt to traditional American values, the political system and the nation's culture. One effective way to dispel that stereotype is to excel at the nation's most popular sports. Boxing, in the Twentieth Century, was much more popular than at present and figures such as Jack Dempsey were national heroes. Along came Joe Louis to dominate the sport and win the World's Heavyweight championship in 1938, making him a national sport's hero.

Hyman Greenberg was born in New York City in 1911. His parents were Romanian immigrants who prospered in the textile business. Originally a resident of lower Manhattan, his family moved north to the Bronx. He attended James Madison High School where he excelled as the first baseman on the baseball team. Then, as now, major league scouts followed high school baseball closely and, by the time he was completing high school, Greenberg was recognized as a potential star because of his ability to hit consistently and, more importantly, with great power. At this time, players were not drafted by major league teams so an athlete could sign with whatever team he wished. The Yankees, who played their home games close by in the Bronx, assumed they would easily sign Greenberg but the Tigers had a very competent scout who met frequently with Greenberg's family. They wanted him to attend college. The Tiger's scout pointed out that the Yankees had Lou Gehrig playing first base for them and that Gehrig—known as the Iron Horse—would likely be the Yankees first baseman for years and years to come. The scout suggested that Greenberg put off signing with the Yankees and attend college. Greenberg enrolled at New York University but, after one year, the Tigers signed him for a bonus of $9,000, which is about $127,000 in 2016 dollars.

Greenberg played briefly for the Tigers in the 1930 season but spent three seasons in the minor leagues playing for Tiger's affiliates in Hartford, Evansville and Beaumont. In 1933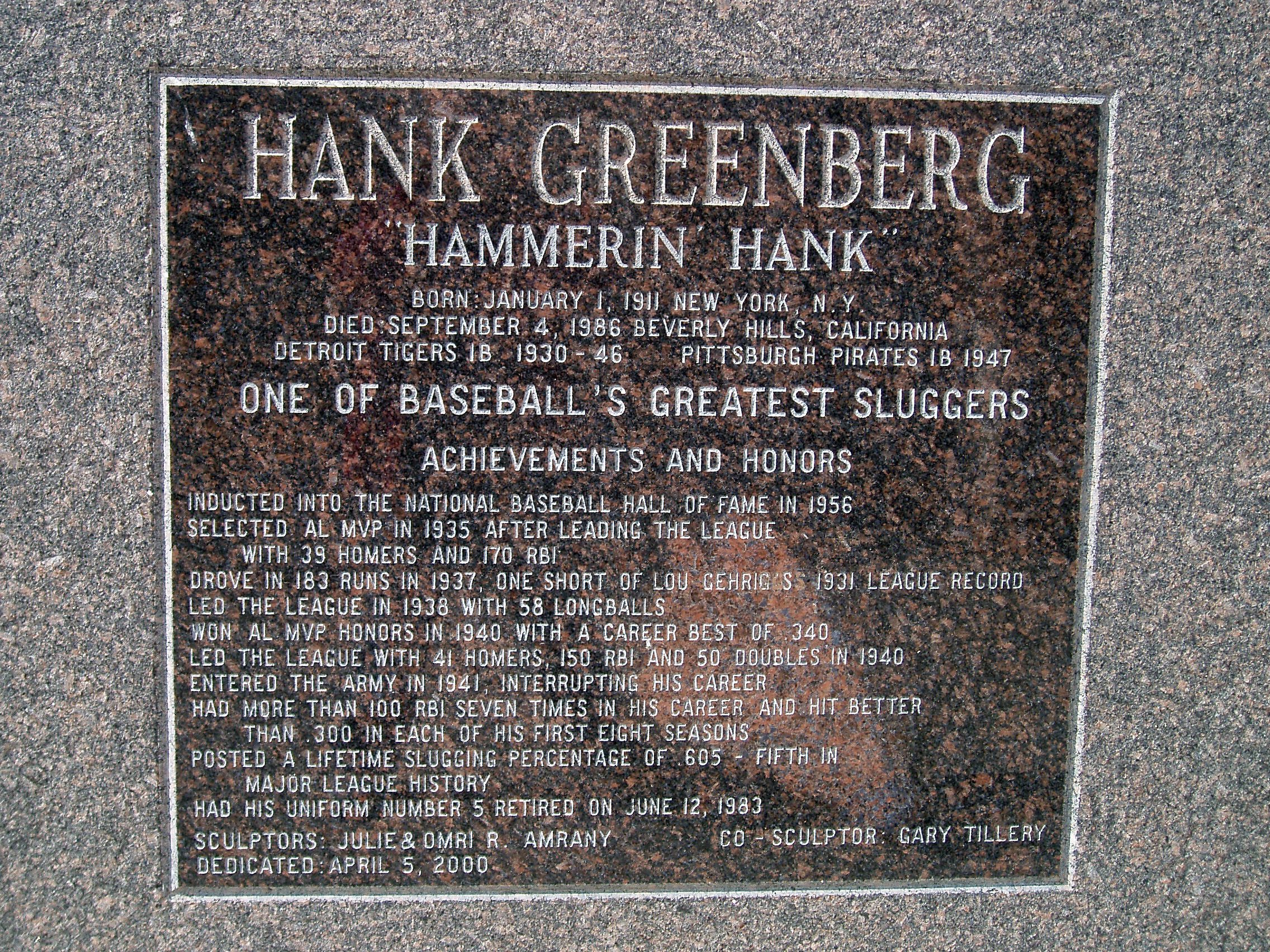 , he began his outstanding career at the corner of Michigan and Trumbull. There had been a few Jewish players in the major leagues before Greenberg, but their accomplishments were easy to overlook. Greenberg quickly became the dominant power hitter in the major leagues. In his second full season with the Tigers, Greenberg drove in 139 runs then, five years later, he accomplished 184 runs batted in. Babe Ruth's career ended in 1935 so Hank Greenberg immediately replaced him as baseball's leading home run hitter. Indeed, Greenberg's runs batted in totals exceeded those of Ruth. Only two players, Hack Wilson and Lou Gehrig have driven in more runs in a season than Hank Greenberg. In 1938, it appeared that Greenberg would hit more than Ruth's record 60 homes runs in a season and become the all-time leader in homers in a season. Alas, Greenberg did not have much luck on final last week-end of the season and ended that year with 58 home runs.

Greenberg never sought to hide his religion. Indeed, it was widely discussed. In 1934, for the first time since 1908, the Tigers had a great opportunity to win the American League pennant and get into the World Series. Greenberg, at first, announced that he would not play in the Tigers games scheduled for September 10, 1934—Rosh Hashanah—or September 19—Yom Kippur. This was an era in which baseball was extremely popular. The sports pages were full of comments about Greenberg's decision. Some in Detroit argued that Greenberg had an obligation to play since the game on September 10 would be extremely important to the Tigers' chances of getting to the World Series. Other praised him for honoring his religious traditions. The newspapers sought out—and found—rabbis whose interpretation of scripture led them to conclude that playing baseball on holy days was permissible. On the morning of Rosh Hashanah, Greenberg attended services at Congregation Shaarey Zedek on West Chicago just across the street from Sacred Heart Seminary. After much thought and consultation with his own rabbi, Greenberg decided to play that afternoon for the Tigers on Rosh Hashanah. He had a great day at bat aiding the Tigers in their quest. But, with considerable support from his team mates and much praise from the press, he did not play baseball on Yom Kipper that season. Greenberg had a marvelous season in 1934 with 26 home runs and 139 driven in but the Tigers lost the World Series to the St. Louis Cardinals in seven exciting games. The following year, Greenberg hit 36 home runs and knocked in 138 runs leading the Tigers to the American League championship and a defeat of the Chicago Cubs in a six game World Series.

Hank Greenberg and Joe Louis were two of the nation's best known athletes in the years leading up to World War II. Both of them played some role in knocking down the stereotypes that once greatly limited opportunities for African Americans and Jews.

Greenberg lost four baseball seasons to military service during World War II. He returned latein the 1945 season and helped lead the Tigers to the American League championship and a victory, once again, over the Chicago Cubs in the World Series. After the 1946 season, the Tigers sold Greenberg to the Pittsburgh Pirates where he signed a record contract for $85,000—about $1.1 million in 2016 dollars. Greenberg retired after that 1947 season. He joined owner Bill Veeck and went into white-collar management of the Cleveland Indians and, later, the Chicago White Sox. Similar to Ty Cobb, Greenberg apparently made a number of strategic financial investments after completing his outstanding career. He was elected to the baseball Hall of Fame in 1956.
.
I gave a tour of Detroit once with a passenger who said his father served in the same military unit as did Hank Greenberg. The soldiers' pay was not much but he said that on paydays, Hank Greenberg would buy meals or pay for a party for the unit. On another tour, one of the passengers was one of Bill Veeck's sons. He also had praise for Hank Greenberg.
Sculptors: Julie Amrany, Omni Amrany and Low Cella
Date of Dedication: 2000
Use in 2017: Public Art honoring the baseball tradition in Detroit
City of Detroit Local Historic District: Not Listed
State of Michigan Registry of Historic Sites: Not Listed
National Register of Historic Places: Not Listed
Photograph: Ren Farley; September 14, 2005
Description updated: January, 2018
Return to Public Art and Sculpture