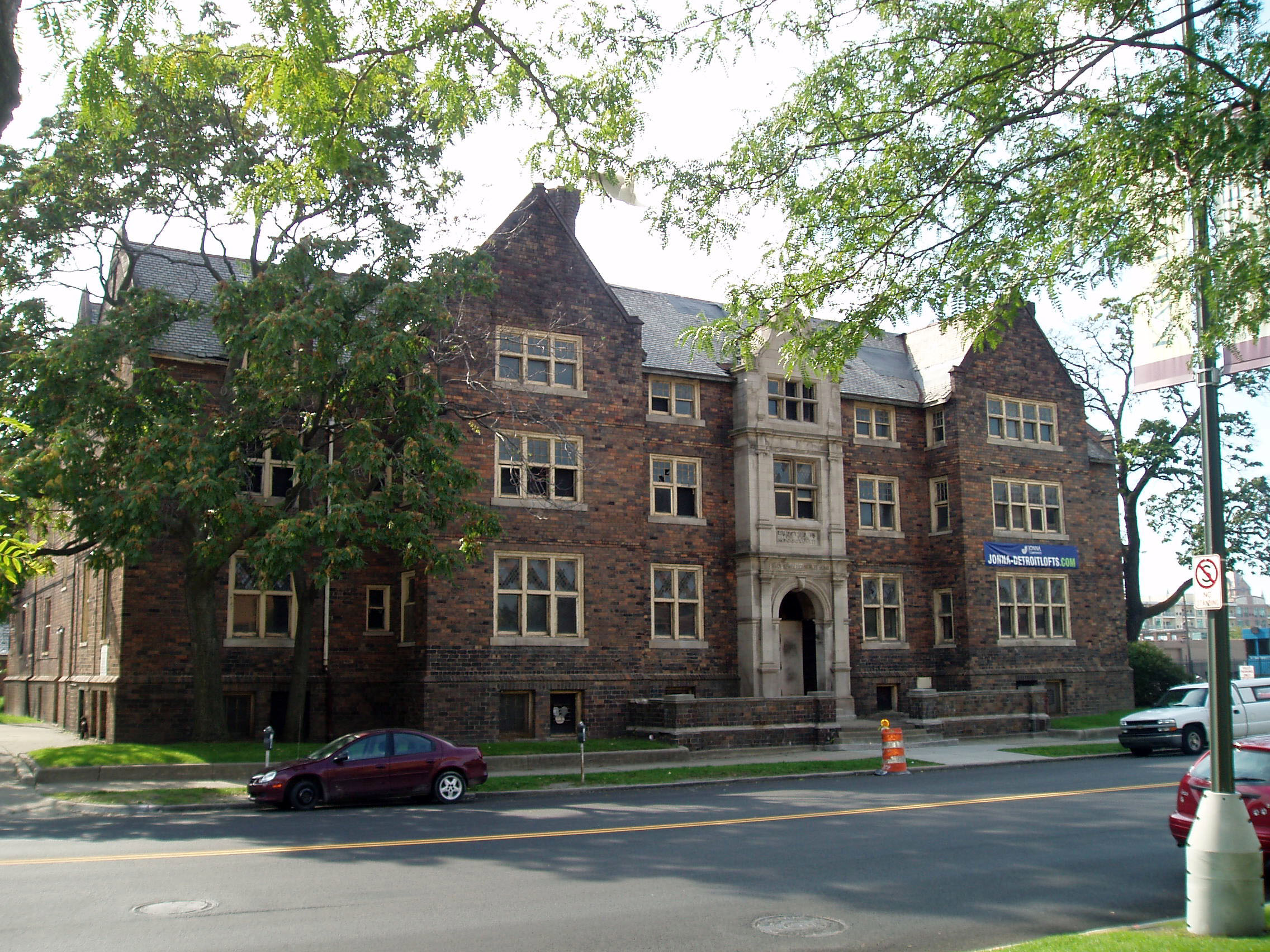 Helen Newberry Nurses Home
100 East Willis at John R.
In the later years of the Nineteenth Century, nursing became a profession. For the first time, candidates had to complete formal training in science and medicine, typically training offered by large hospitals. Grace Hospital was founded in 1888 on property across John R from the building you see. Their property adjoined that of Harper Hospital. In 1889, Eugenie Hibbard established the Grace Hospital School of Nursing. This was among the earliest formal nursing programs created in the United States.
Late in the Nineteenth and early in the Twentieth Century, there was concern about the living arrangements of young single women in large cities. Many assumed that cities were dangerous places where the virtues of women might be compromised by scurrilous men. Quite a few dormitories and dormitory-like facilities were established in Detroit and other cities for unmarried women. Helen Hardy Newberry donated funds that assisted in the construction of the impressive building that continues to carries her name.
Helen Newberry was the second wife and—by the time she made her donation for this structure—the widow of John Stoughton Newberry who was one of the most prosperous of the Detroit's early entrepreneurs. Born close to the Canadian border in Watertown, New York, John Newberry and his parents migrated west to Michigan while he was young. He lived in Detroit and Ann Arbor and graduated from a school in Romeo. He then matriculated at the University of Michigan and earned a diploma in 1847. For several years he worked as a civil engineer for various railroads, but then became interested in a career as a barrister. He read law, and in 1853, was admitted to the Michigan bar. In the early 1860s, he entered the rail car manufacturing business. Detroit became a center for that industry since its factories produced the iron and steel needed to build rail cars, while the great white pine forests of the upper sections of the Lower Peninsula supplied the requisite lumber. At an early date in the 1860s, Newberry turned his attention and his investments to the Michigan Car Company, one of the largest rail car firms of the late Nineteenth Century. In 1862, President Lincoln appointed him a captain in the Calvary and he served for two years in Civil War. He resigned his military appointment in 1864 and returned to his entrepreneurial endeavors in Detroit. John Newberry was one of the founders of the Detroit Car Wheel Company—a successful firm that produced steel wheels for rail cars. He also invested in railroads, especially in Michigan. He was active in Michigan's Republican Party and was elected to represent Detroit in Congress for one term beginning in 1881.
John Newberry died in 1887 and left an estate that permitted his widow and his daughters to fund a variety of institutions and facilities that still bear his surname. This list includes the Helen Newberry Home for Nurses in Detroit, the Helen Newberry Residence Hall for Women on the campus of the University of Michigan and the Newberry-Joy Hospital in Newberry, Michigan in the Upper Peninsula. That small town in Luce County carries Newberry's name because he was one of the leading investors in the railroad that connected that location to the rest of the world, a rail line that became known as the Duluth, South Shore and Atlantic Railroad and is now part of the Canadian National system.
An accomplished but contentious architect was chosen to design the Helen Newberry Nurses Home: Elijah E. Myers. He is the only architect who designed three state capitol buildings in the United States; those for Colorado, Michigan and Texas. These buildings—and many of the other court houses and city halls that he designed late in the Nineteenth Century—were in the Neo Classical or the Victorian Gothic style. He moved to Michigan while designing the capitol in Lansing and then lived in Detroit.
Myers, apparently, was a combative architect who often accused others of stealing his ideas and designs. Frequently he went to court. In 1886, Myers was fired while working on the Texas state capitol in Austin, and shortly thereafter, he was fired once again while designing the Colorado state capitol in Denver. Elijah Myers claimed that he should also be credited with the Indiana capitol in Indianapolis since, he argued, the design for that building was stolen from him. The Indiana government had a competition in which architects were asked to submit designs for the capitol. Myers apparently submitted his design, but the plans of architect Edwin May were accepted. Myers then sued, asserting that May's plans were really his. Apparently he lost since Edwin May is credited with designing the Indiana capitol. The National Register of Historic Sites also credits Myers with designing the capitol for Utah. There is a longer story about that state's capitol. In 1888, the territorial legislature in Utah sought to build an impressive capitol that might be used should the territory become a state. A Capitol Commission was established and they selected Elijah Myers to design the building. The next year he submitted his plans calling for an expenditure of one million dollars. His plans were never used. Utah became engaged in a controversy about its suitability for statehood. Congress passed an Enabling Act pertaining to statehood for Utah, but the controversy raged until Utah territory adopted a law calling for monogamy. Utah became a state in 1896, but did not take up the issue of a new capitol building until 1907. I read that Myers also drew up plans for the Missouri state capitol in Columbia, but I can find no documentation; plans that were never used.
Myers designed about a dozen town halls, a dozen or so hospitals, a number of large schools and the president's home in East Lansing for what formerly was Michigan Agricultural College. He also designed the massive Harper Hospital Building on John R that was razed in 1970. I believe that Helen Newberry Nurses Homes is the only Elijah Myers building still standing in Detroit. The Jonna Company is converting this building into lofts. They are also converting the Garfield Building at Woodward near Warren and two historic buildings in the New Amsterdam Historic Districts into loft
The renovation of this building was completed in 2011 and residents began moving into 28 apartment units in early 2012. I believe that most of them are one bedroom unitsd but some provide two bedrooms. A major effort was made to preserve the original quality of this elegant building. The leaded windows on the ground floor were retained, the lobby with its extensive wood paneling was restored and many of the original bricks were removed, refurbished and then reused in the reconstruction. The expansion of employment at the Detroit Medical Center and at Henry Ford will create a demand for more residences in or near downtown Detroit. This is another example of the successful renovation and repurposing of an attractive an historically meritorious building near downtown Detroit.
Architect: Elijah E. Myers
Date of Construction: 1898
City of Detroit Designated Historic District: Not listed
State of Michigan Registry of Historic Places; Not listed
National Register of Historic Sites: Listed August 7, 2008. I have also seen 2014 as the date of this listing.
Use in 2015: Apartments.
Website for developer: www.jonna-Detroitlofts.com
Photograph: Ren Farley; September 20, 2008
Description uopdated: May, 2015
Return to Apartments, Condos and Housing Developments