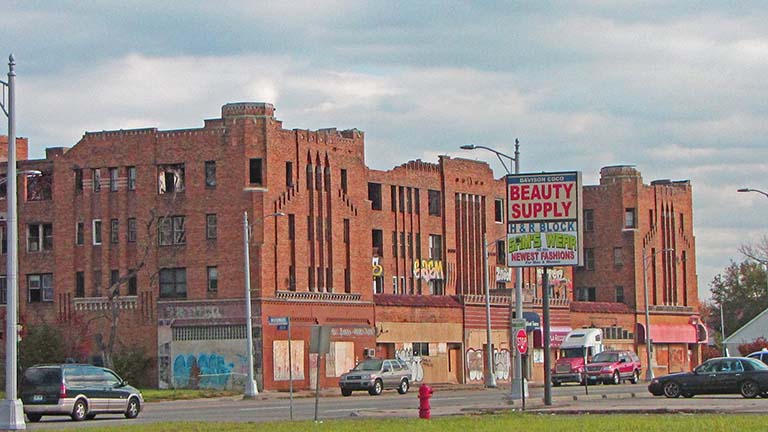 Highland Towers Apartments
12850 Woodward in Highland Park
There were several unsuccessful attempts in the mid Nineteenth Century to establish a settlement in the area north of Detroit now known as Highland Park.  With the growth of industries in Detroit after the Civil War, the population began growing beyond Grand Boulevard that encircled the densely settled area.   Indeed, when designed by the State legislature Grand Boulevard was meant to enclose an urban area but, they assumed, the other side would remain rural.  That did not happen. In 1889, the village of Highland Park was chartered.  In 1907, Henry Ford purchased 160 acres and, shortly thereafter, began building the huge vehicle plant that still stands.  In 1914, he developed the assembly line at his Highland Park factory and, within a few years, he was able to turn out 9,000 Model T's each workday.  Detroit annexed many contiguous areas in the first two decades of the last century.  Ford wanted to preserve some independence from the powerful city of Detroit so Highland Park was chartered as a city in 1918.

This location has one of the most unusual demographic trajectories of any place in the country.  In 1910, there were only 4,000 but blue and white collar employees moved close to the Ford plant in that decade and several other Highland Park vehicle plants that would eventually become part of the Chrysler Corporation.  In 1920, Highland Park's population soared to 47,000.  Growth continued in the booming 1920s and Highland Park reached its peak population in 1930: 53,000.  It has consistently lost population since then, although much more rapidly after World War II.  The Census Bureau estimated a population of 11,000 in 2012.   I suspect that among cities that once exceeded fifty thousand, Highland Park has lost the most residents.

At the time of its rapid growth, Highland Park attracted highly paid managers and administrators who worked at the nearby auto plants.  As a result there are two registered historic districts in the city:  Medbury's Grove Lawn which once included 272 single-family homes and the Highland Heights-Stevens Subdivision which once included 422 single family homes.  In each of them, you will find architect-designed residences with notable features.  Some of them are still in good condition but many are not.

Compared to New York, Chicago and Philadelphia; relatively few apartment buildings were constructed in the Detroit.  Land was quite available in the city so single-family homes were constructed, many of them those inexpensive workingman's homes but also many homes for the middle managers and executives of the manufacturing firms.  Some apartment buildings were constructed, especially in the mid to late 1920s when it seemed likely that Detroit's population and prosperity would continually increase.  Highland Towers was among the most elegant. This building was designed, I believe in the late 1920s and completed in 1932.  Presumably, the investors did not know that they were erecting a very beautiful and costly structure at the beginning of a devastating Depression.  The Art Deco exterior styling is impressive.  At one time, I believe there was an impressive stained glass window above the entrance.    I have seen only a few pictures of the interior but they suggest the architects spared no expense to make the building attractive to its occupants.

The architects, F. W. Wiedmaier and John B. Guy designed three very different apartment buildings in this area, each of them distinct but every one of them had Spanish Revival and Art Deco elements.  All of these buildings were listed on National or State historic registers.  The tall Sante Fe Apartment building (1925) was located on Merrick Street in an area that became part of Wayne State University's campus.  It was listed on the National Register in 1986 but was torn down by that school to make room for the Yousif B. Ghafari Building.  The La Vogue Apartments at 225 Merton fared much better than the other two.  It is located within the Palmer Park Apartment Buildings Historic District.  It sat vacant for some years, but then two developers from Indian Village, Mark Leipsitz and Kathy Makino Leipsitz purchased eight troubled but architecturally meritorious apartment buildings near Palmer Park and began restoring them.  La Vogue was among the first to be completed so at least one of the Spanish Revival buildings of Wiedmaier and Guy is being used as designed.

The Ford Motor company began to switch production away from the Highland Park plant in the 1950s and the exodus to the suburbs greatly reduced the city's population.  The Highland Towers Apartment was destroyed by fire in September, 2010.  I believe that it was somewhat occupied until that fire.  I have not read about any plans to either tear the building down or rebuilt it.

In the years after 2010, there appears to be a modest increase in employment in downtown and Midtown Detroit.  Apparently, there are also some population gains in those locations.  Detroit once had an excellent streetcar system that allowed people to live in the attractive homes of Highland Park and work downtown or in a factory in a different part of Detroit.  Within a few years, an efficient, modern light rail system will connect Campus Martius to the New Center.  If that light rail line is extended to Eight Mile Road, the architectural significant homes in Highland Park's two historic districts many once again have value in the real estate market.

Date of opening: 1932
Architect: F. W. Wiedmaier and John B. Gay
Architectural style: Art Deco and Spanish Revival
Use in 2013: Empty building awaiting demolishment or reconstruction.
State of Michigan Registry of Historic Sites:  This building is within the Highland Heights-Stevens Subdivision Historic District. P25,320
National Register of Historic Places:  Not listed
Photograph:  Ren Farley; November 9, 2013
Description prepared: November, 2013