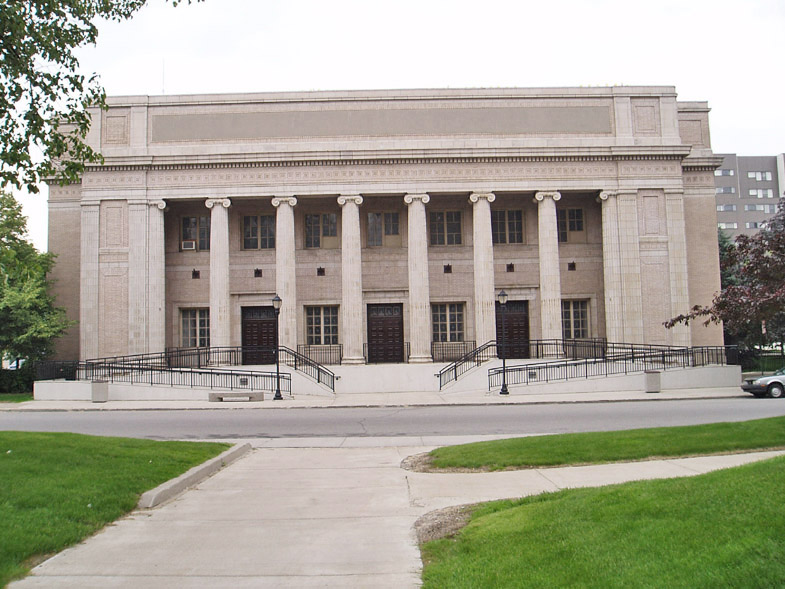 Hilberry Theater/
First Church of Christ Scientist
4743 Cass Avenue in the Cass Corridor on the Wayne State campus near
Detroit's Cultural Center on the campus of Wayne State University
By 2015, there were many signs of a revival of activities in Detroit's Cultural Center and the once troubled Cass Corridor. Late that year, Wayne State University announced that a philantropist had provided the monies needed to renovate the building you see to serve as a center for the teaching and performance of jazz.
In 1885, a chapter of Christian Scientists was founded in Detroit. They met in a variety of locations until 1917 when the magnificent classical building that you see was completed. Apparently, many Christian Science congregations preferred a classical Romanesque style building rather than the Gothic style that was popular, at that time, with many Catholic and Protestant congregations. You will notice the impressive array of eight imposing columns facing Hancock, the attractive stairs and doorways. The auditorium was designed to seat 1,500 of the faithful.
In 1961, the Christian Science congregation sold this building to Wayne State University. The school extensively remodeled the interior to create an elliptical theater seating about 500. It was rebuilt to serve as home to a new repertory company, one that opened in 1964. This is Wayne State University's graduate repertory company. Undergraduates audition for admission to a three-year program that involves classwork during the days, theatrical performances some evenings and week-ends and leads to a master's degree in fine arts. The building was named for Clarence Hilberry. He earned his undergraduate degree at Oberlin and than a doctorate at the University of Chicago and then became a Shakespeare scholar. He joined the Wayne facultly in 1930, rose through the ranks and was appointed the fourth president of Wayne in 1952. He had a strong interest in the performing arts.
Into the 1950s, the prosperous city of Detroit's Board of Education funded and opereated Wayne as a major college. There were several major cities in the Midwest in which the local board of education created a college to train teachers or took over a formerlly private college. However, as the suburbs grew rapidly after World War II and the tax base in cities such as Akron, Toledo and Detroit declined, these cities and the boards of education turned their colleges over to state control. Hilberry was at the helm of Wayne when it became a state university in the 1950s with a status in Michigan's consitution similar to that of the University of Michigan and Michigan State. No longer do the rate payers in the Detroit school district fund Wayne.
Herman Carhartt, in the 1880s, realized that railroad operating employees needed very tough clothing. in 1889, he founded a firm in Detroit to design and sell clothing that would serve the needs of engineers, firemen, breakmen and gandy dancers. His firm prospered and contiuues to be a major supplier of tough clothes for workers. It is a privately owned company now headquartered in Dearborn with manufacturing facilities in the United States and several foreign nations.
In the early 1900s, many Detroit residents with capital and many lacking funds, decided that there was a fortunate to be made in the vehicle industry, following the lead of Henry Ford. Herman Carhartt apparently could not pass up the opportunity so he established an auto firm even though he had amassed his fortune by selling clothes to railroad workers. He produced cars for the 1911 and 1912 model years and targeted an up-scale market. For 1911, he offered two four cylinder models, one rated at 25 horsepower and the other at 35 horsepower. For the 1912 model year, he added a 50 horsepower model. All of the engines were assembled by Continental. Carhartt's vehicles were listed at $2250 to $3500. These were expensive cars. I believe that Ford's most expensive model listed at $1200 while the lowest priced Packard - perhaps the nations most prestigeous car at that time - listed at $3200. Carhartt sought to sell his cars with a showroom in New York. Alas, similar to most other start-up car firms, Carhartt had little success. By about the end of 1911, he shut down his auto firm fearing that he would lose his wealth. Probably no more than 50 Carhartt's were assembled and none are know to survive. I believe he used a plant on the east side at East Jefferson and Baldwin but I have also seen citations to his assembling cars in a plant on Michigan at Tenth.
It was fortunate that Herman Carhartt stuck to overalls. His grand daughter, Gretched Carhartt Valade, was born in 1925 and is the heir to the Carhartt fortunate. She is a very active philantropist with a strong interest in jazz. She had endowed the annual Detroit Area International Jazz Festival with funds exceeded ten million. She owns the Dirty Dog Cafe in Grosse Pointe which is one of the area's leading musical venues and owns Mack Avenue Records which is one of the nation's leading jazz labels. In 2015, she announced that she would donate $1.5 million to Wayne for an endowed chair in jazz studies, $1 million to endow scholarships for music students and about $5 million to renovate Hilberry Theater. Who knew that the idea of selling tough clothes to railroad workers would eventually lead to the revitalization of Midtown Detroit and a strengthening of the city's long tradition of contributing to jazz.
Architects: Field, Hinchman and Smith
Date of Construction: 1916
Architectural Style: Neoclassical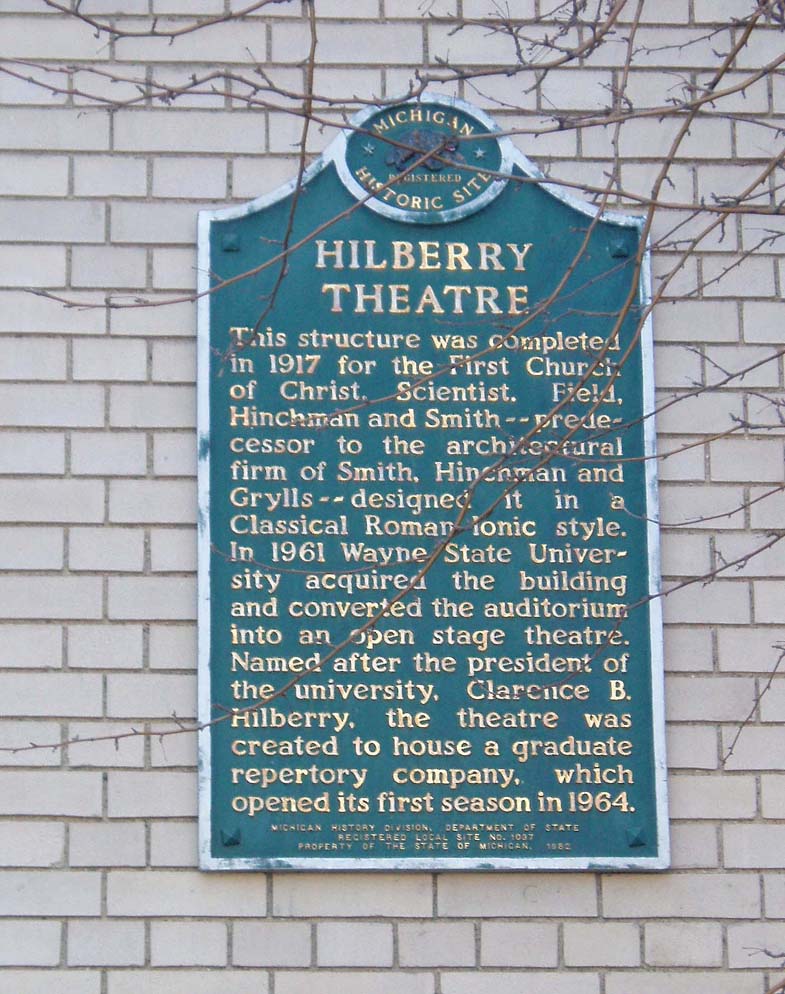 City of Detroit Local Historic District: Not listed
State of Michigan Registry of Historic Sites: P25097, Listed October 22, 1982
State of Michigan Historical Marker: Placed: September 8, 1982.
National Register of Historic Sites: Not liste
Website for Dirty Dog Cafe: http://www.dirtydogjazz.com/
Website for Mack Avenue Records:http://www.mackavenue.com/
Website for Wayne State University: https://wayne.edu/
Use in 2015: Wayne State University's Hilberry Theater
Description updated: December, 2015
Photograph: Ren Farley, June 2004
Return to Education

Return to Religious Sites
Return to Entertainment & Culture