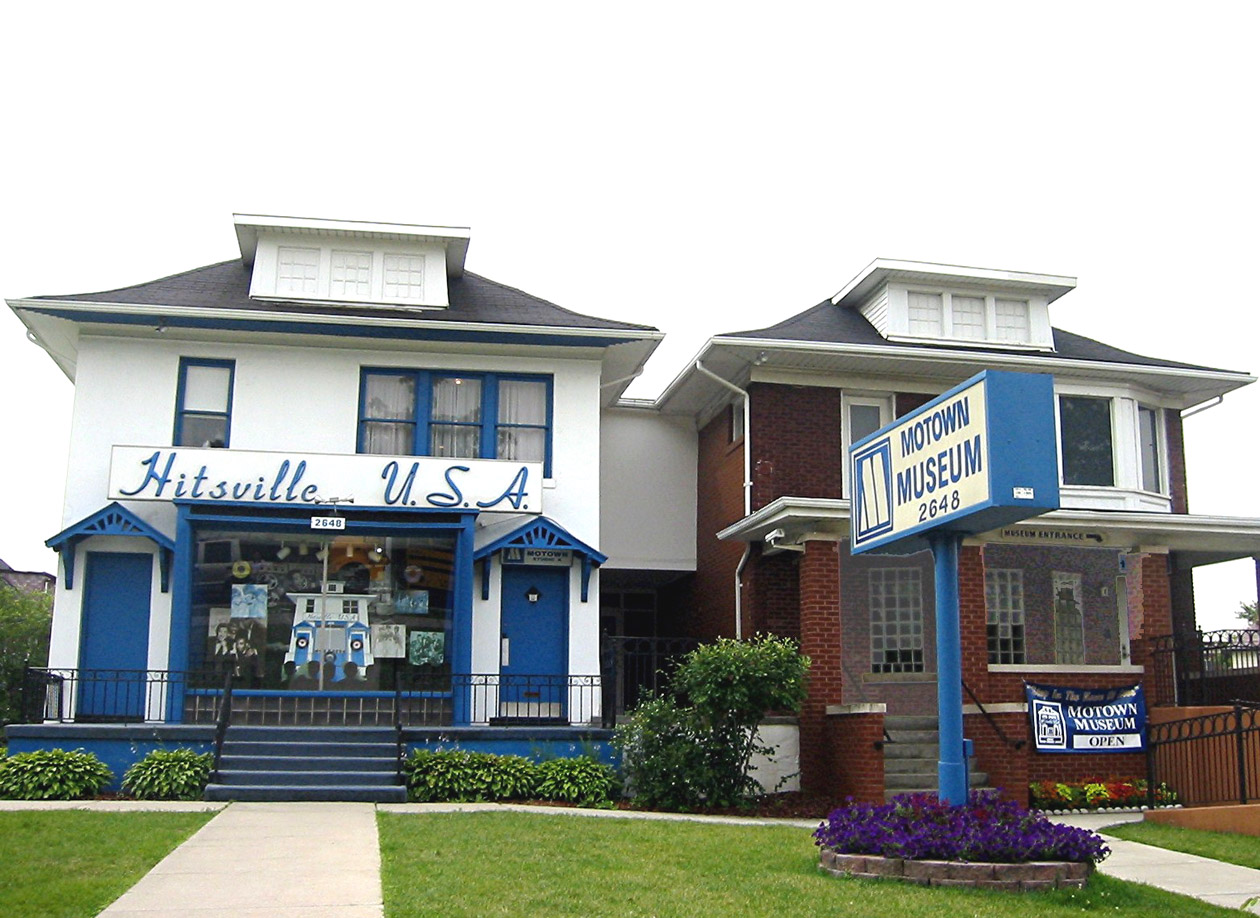 Hitsville, Motown Historical Museum
2648 West Grand Boulevard in Detroit's New Center Area
Many entrepreneurs earned their fortunes in or around Detroit by capitalizing upon innovative ideas such as developing new products, promoting new sales strategies or by brilliant land speculation. They include Palms and Palmer in real estate in the Nineteenth Century and Joy who built the Michigan Central Railroad. Toward the end of that century, Whitney and Freer became fabulously wealthy by producing railroad cars from Michigan's white pine. No story of American capitalism would be comprehensive without praising the accomplishments of Henry Ford, Walter Chrysler, Alfred Sloan, the Dodge Brothers, the Fisher Brothers or Billy Durant whose initial still is engraved in the Cadillac Square building just a few blocks east on West Grand from Hitsville. More recently, the creativity of the nation's two leading pizza barons—Tom Monaghan and Michael Illich—added their names to the roster of Detroit area entrepreneurs.
Berry Gordy ranks among the Detroit residents who capitalized upon a local product, marketed it successfully to national and international audiences,and then created a firm that dominated its field. He was the first African American to accomplish this.
Berry Gordy's grandfather was born into slavery in rural Oconee County, Georgia. By the 1890s, he was a successful planter and farmer with surplus income. He purchased real estate at foreclosure sales and promptly became very prosperous. He died suddenly in 1913 and Berry Gordy's father took over the family enterprise. He also succeeded in business, and by the early 1920s, the Gordy family was apparently the largest land owner and richest family in Oconee County. With the rise of the Klu Klux Klan after World War I and the persistence of lynching throughout the rural South, Gordy knew that an African American family in such circumstances was at great risk. In 1922, he moved to booming Detroit. Most rural blacks came to Motown because there were few opportunities in the rural South, but the Gordys came because they were so successful.
Berry Gordy's father rejected an assembly line job in Detroit and decided to use his entrepreneurial skills. He open his Booker T. Washington Grocery Store at Farnsworth and St. Antoine in the mid-1920s, one of an increasing number of black-owned businesses that served the needs of the growing African-American community along or near Hastings Street on the East Side. Berry Gordy's father developed a number of other firms in Detroit in the following years and became a highly successfully businessman.
Many different schools of African-American political and religious thought emerged in Detroit or became quite popular in Motown. W.A. Fard founded the Nation of Islam in 1929 at his temple on Linwood, the same street where the separatist and militant Republic of New Africa was founded in the 1960s. In the late 1920s, a Detroit Chapter of the Negro Busine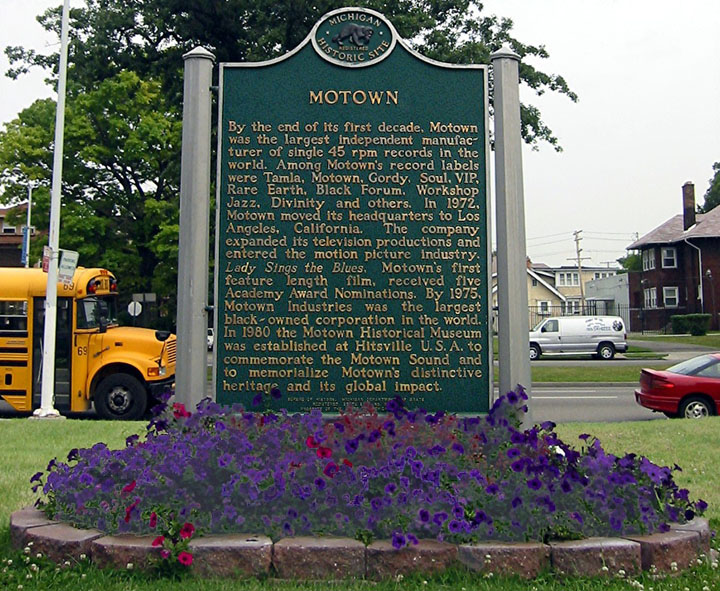 ss League was founded. Berry Gordy's father helped to organize an affiliate organization called the Booker T. Washington Trade Association. These groups and a parallel women's organization called the Housewives League of Detroit promoted solidarity among the city's black business community. They were followers of Booker T. Washington who had argued that being able to earn a dollar in the market place was worth much more to blacks than being able to sit next to whites at the opera. Washington's many followers believed the path to black advancement was through capitalism, not through the litigation strategy of the NAACP.
Berry Gordy, Sr. and his wife Bertha, raised eight children in Detroit, Berry, Jr., being the seventh. The senior Gordy's involved all of their offspring in their many businesses. Berry Jr. completed high school in Detroit, served in the military for two years in Korea and then returned to Detroit, expecting to find a job in the family firm. His father apparently doubted his work ethic, refused to give him a job and told him to take one on the assembly line so that he could learn how hard it was to earn a living. Berry Gordy, Jr. did so and his first few months building Fords had exactly the effect his father intended.
Berry Gordy kept his Ford job for some time, but got interested in music, particularly making records and then promoting them. It is not so much that he composed music; rather, he had a marvelous talent for knowing what would be popular and then, as a newcomer to the industry, had innovative ideas about marketing and promotion.
In 1959, his parents loaned Berry Gordy $800 to start a recording company. The first disk; " Money (That's What I Want)", was recorded in August, 1959 in a studio located in the Hitsville Museum that you see on West Grand Boulevard. The next year Gordy and his family founded Motown Records. He also released what became his first gold record, "Shop Around." For much of the 1960s and into the 1970s, Berry Gordy's Motown sound dominated popular music. Quite a number of Detroit teenagers—and a few older musicians—became national stars whose fame lives on, including Aretha Franklin, the Funk Brothers, Marvin Gaye, Gladys Knight and the Pips, Martha Reeves and the Vandellas, Smokey Robinson, Diana Ross, the Supremes, Mary Wilson and Stevie Wonder.
Berry Gordy's accomplishment was to take a sound that had its origin on the street of black Detroit, modify it for an inclusive audience and then effectively promote it the Baby Boomers who were at the age when they purchased many records. Until the 1960s, the popular music industry in the US was pretty much segregated by race. Billboards had separate listings for white-oriented and black-oriented music until Motown came along. In many cities, the soul music stations catered to the black audience, while the major network stations catered to whites. Gordy recognized the great popularity of the Motown sound with young whites, so he aggressively sought their business. There were several other black music firms whose leaders knew about their growing crossover sales. However, they were reluctant to target their marketing efforts on whites for fear of losing their traditional black customer base. Having no such base, Gordy quickly realized that his music would sell to customers of both races.
To many black Detroit residents, Berry Gordy was a hero since he used local talent to become one of the first African Americans to succeed very well at the white man's game of capitalism. Many of his artists and employees were more critical since he was viewed as frugal, even stingy. Indeed, he signed quite a few Detroit youngsters to long-term contracts when they were unknown. Once they became stars, they realized that almost all of the revenue they generated went to Gordy's corporation, not to them. I believe that Gordy eventually provided jobs for all of his family in his booming firm.
Gordy began with one home for his studio on West Grand Boulevard, but bought others as he became more successful. Apparently, Motown Industries eventually owned 12 such homes along West Grand where they established a production line process for turning out new stars and new music. In 1968, Gordy moved the firm to the Donovan Building at 2457 Woodward at I-75. Three years later, under cover of darkness, Gordy suddenly moved the entire firm to Los Angeles, presumably to be closer to the center of the international entertainment industry. He told only a few of his employees of the pending move, so many in Detroit's black community were shocked by the overnight disappearance from their city of the world's largest black-owned corporation. Once in California, Gordy attempted to diversify into film and television production with the 1975 movie, The Lady Sings the Blues becoming their most well known product. Music tastes had changed and relatively few new Motown records or stars were developed. In 1988, Gordy sold much of the firm to an investment company for $61 million. Successor firms have passed through a variety of corporate owners since then. In 1997, Gordy sold almost all of his remaining holdings in the music industry, and in 2002, he sold the impressive home that he owned on West Boston at Third—a home he had not occupied for several decades. At present, Berry Gordy and Motown Industries have no presence in Detroit. The Donovan Building on Woodward has been idle for decades, but the current owners of the successor firm announced, in 2002, they would invest in the structure creating offices and a museum. That construction had not started by 2004.
City of Detroit Local Historic District: Not Listed
State of Michigan Registry of Historic Sites: P25185, Listed August 21, 1987
State of Michigan Historic Marker: Erected November 11, 1987. This is visible in front of the Hitsville Museum on West Grand Boulevard.
National Register of Historic Sites: Not Listed
Use in 2004: Historical Museum
Book: There are very many popular books about Motown Music and many of the key figures have published autobiographers or have had biographies written about them.
The very best book about the social, racial and economic issues involved in Berry Gordy's entrepreneurial activities is: Dancing in the Street: Motown and the Cultural Politics of Detroit by Suzanne E. Smith (Harvard University Press: Cambridge, MA: 1999)
Photo: Ren Farley; February, 2003
Return to Commerical Buildings
Return to Entertainment & Culture
Return to Racial History in Detroit
Return to Commemorative Designations in Wayne County