Statue of Willie Horton

Located in the walkway above left field in Comerica Park in
Downtown Detroit and visible from Adams between Witherell and Brush
William Wattison Horton was born October 18, 1942 in Arno, Virginia to a family that eventually included 14 children. He was the last-born child and the eighth son of his parents. His father moved his family to Detroit in 1947, presumably for economic reasons since this was a time when jobs were readily available in the Detroit area. He lived for a time in public housing in the city.

Willie Horton attended Northwestern High School where he was recognized as an unusually talented baseball player. He was a right-handed hitting outfielder with tremendous power. Even before graduating from high school, he had participated in national tournaments so he was well known to major league scouts. He signed with the Detroit Tigers in the summer of his high school graduation—1961—and received a bonus of $50,000. In 2011 money, that is about $380,000.

He had an excellent first year in the minor leagues in 1962 playing in Duluth and made such excellent progress that he was called up to play for the Tigers late in the 1963 season. However, he did not become a regular outfielder until the 1965 season. His rookie season was one of his best since he hit .273 with 29 home runs and 104runs batted in. That is a tremendous first season in the Major Leagues. In that season he was selected for the American League All-Star team.

Horton was an outstanding player for the Tigers throughout the 1960s and well into the 1970s. He was their most consistent power hitter in 1968 when they won the World Series for the first time since 1945. For most of his career in Detroit, he was the team's leading power hitter and he finished his career with 325 home runs and 1993 base hits. Four times he represented the Tigers on the American League All Star team: 1965, 1968, 1970 and 1973. Toward the end of his playing d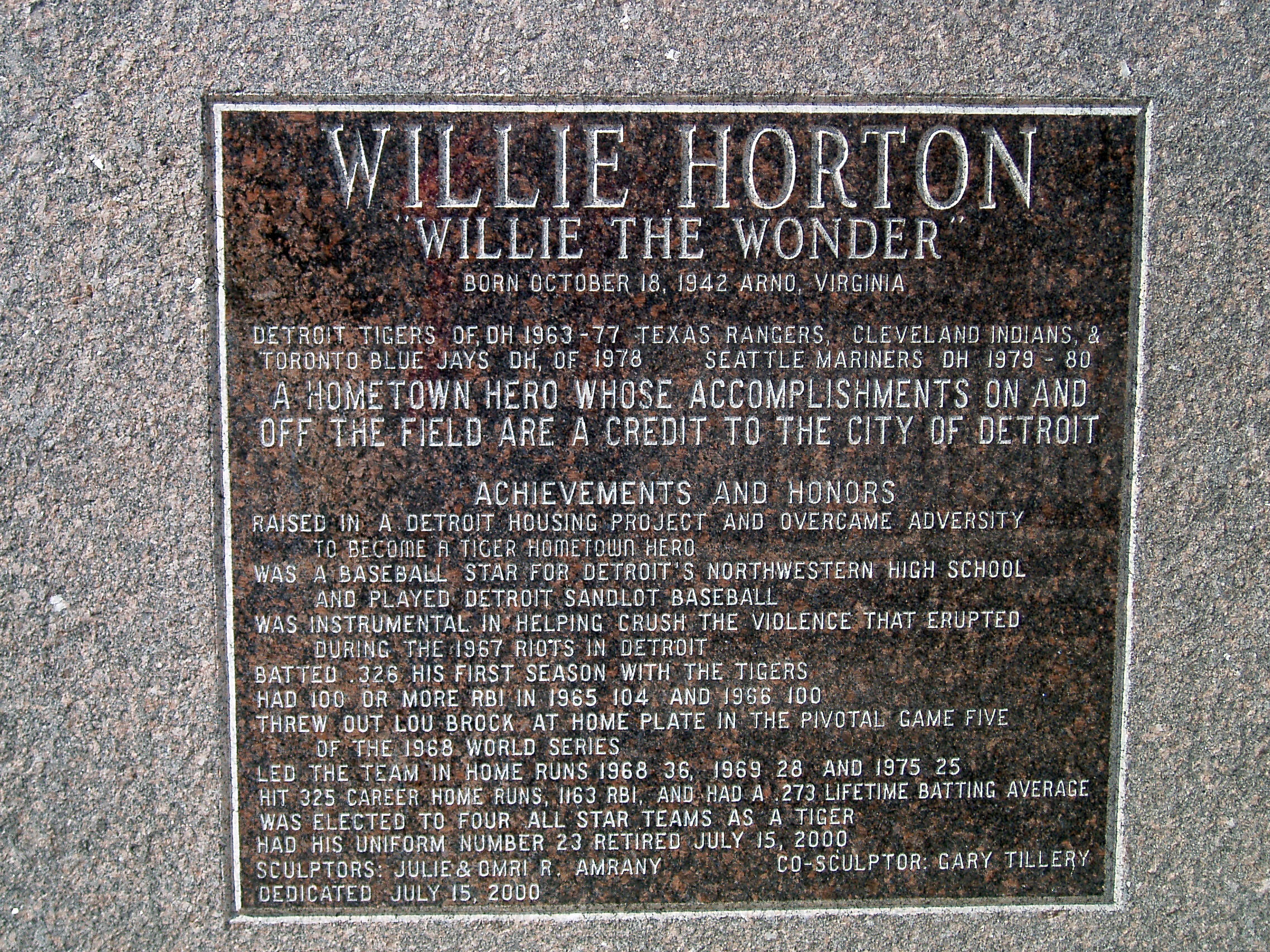 ays, he was traded away by the Tigers and played subsequently for Cleveland, Texas and Seattle. Surprisingly, the only year that he played all 162 games on the schedule was in 1979 when he had an outstanding year with the Seattle team hitting .279 with 29 home runs and 106 runs batted in. Horton was among the first players to greatly benefit from the American League's adoption of the designated hitter rule. That is, beginning in 1973, a team could have a player who only batted and did not have to play in the field. Almost always, the designated hitter batted in place of the pitcher. Horton was not an above-average outfielder but consistently hit well so he was perfect for the role of designated hitter.

Willie Horton was a very popular player in Detroit and continues to be an excellent spokesperson for the Tigers and for baseball in Detroit. When Mr. Briggs owned the Detroit Tigers, he was very reluctant to hire African American players. Perhaps that is a mild statement. After many protests and demands from civil rights organization, the Tigers in 1958, hired a dark skinned Dominican, Ozzie Virgil, to play their infield. Only one team—the Boston Red Sox—maintained their Jim Crow policy longer than the Tigers. In the summer of 1967 decades of vibrant racial conflict in Detroit reached a climax with the bloody July riot that left 43 residents dead. The success of the Tigers the next year probably had something of a calming influence upon the tense city since many feared that another riot might erupt. Willie Horton was the first black player to be widely accepted by the baseball fans of Detroit. The fact that he had grown up in city and learned his skills in Detroit may have helped to dampen the very real racial hostility that divided Detroit. Willie Horton, from time to time, struck out often and he had seasons where his production was below par but he always appeared to be playing very diligently. The fans appreciated his consistent efforts so his popularity in this city has never diminished.
Horton's last major league season was with the Seattle Mariners in 1980. He played one year of minor league baseball and one year in the Mexican League in hopes of returning to the majors so that he could get seven more hits to reach 2,000. He never got that opportunity. He coached in the major leagues for some time and has been affiliated with the Detroit Tigers for several decades. I regularly attend Tigers games and go to baseball aficionado events in Detroit. It is common to see a very friendly Willie Horton and is fascinating to hear him talk about the sport he loves.

Baseball is a sport where its history links to the present. The accomplishments of today's players are constantly being contrasted to the records of those who played two, three, four or five generations ago. When the Detroit Tigers opened their new Comerica Park in 2000, they commission sculptures of six of their greatest players: Ty Cobb, Charlie Garrenger, Hank Greenberg, Willie Horton, Al Kaline, and Hal Newhouser. The sculptures were done by Lou Cella who was affiliated with the Amrany sculpture firm from Chicago. Lou Cella, educated in the fine arts at Illinois State University, is a Chicago based sculptor who has specialized in the portrayal of figures -especially athletes. In addition to the seven sculptors that he designed for Comerica Park, his sculptures depict Ernie Banks and Harry Carey at Wrigley Field in Chicago and Carleton Fisk and Frank Thomas at the baseball park of the Chicago White Sox.

Sculptors: Julie Amrany, Omni Amrany and Lou Cella
Date of Dedication: 2000
Use in 2011: Public Art honoring the baseball tradition in Detroit
City of Detroit Local Historic District: Not Listed
State of Michigan Registry of Historic Sites: Not Listed
National Register of Historic Places: Not Listed
Photograph of the Plaque: Ren Farley; September 14, 2005
Description prepared: December, 2011
Return to Public Art and Sculpture