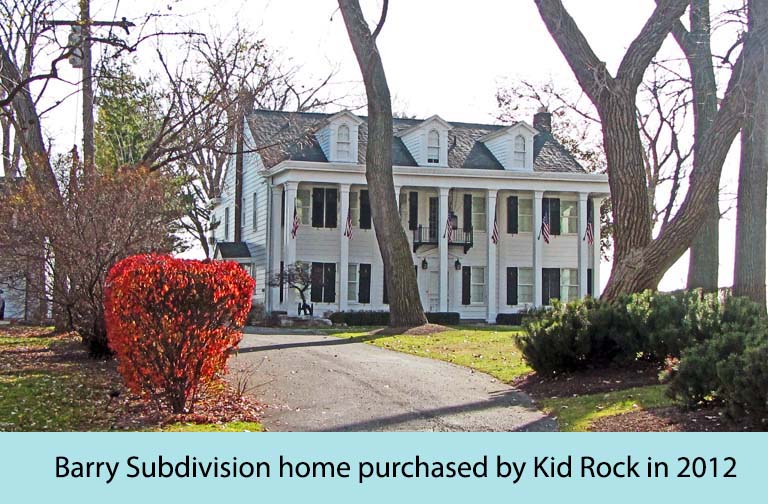 Residence of Kid Rock
9090 Dwight Street in the Berry Subdivision
There are numerous extensive comments on Detroit blog sites when a famous and prosperous person buys a home within the city.  People believe the stereotype about Detroit being made up of abandoned homes and factories and wonder why anyone would want to purchase an expensive home within the city's limits.  They fail to realize that Detroit has two dozen or so extremely attractive neighborhoods that rank with those you might find in Dallas, Washington or Seattle.  One of these is the Berry Subdivision.
Robert James Ritchie was born in Romeo, Michigan in 1971.  By the 1990s, he was known as Kid Rock.  He had become famous due to the great success of his first commercial album, Devil without a Cause, released in 1998.   He purchased the home that you see pictured in the spring of 2012.  It is located on the Detroit River and is on the same block as the Moonogian Mansion which is the official residence of the mayor of the city. Only five residences separate Kid Rock's home from the mayor's mansion. This is a 6,000-square-foot home dating, I believe, from the 1920s.  I do not know the name of the architect.  The home was listed for sale in late 2011 or early 2012 for $460,000.  I believe that it was a short sale meaning the funds paid by Mr. Ritchie were insufficient to discharge the mortgage debts of the previous owner.  Short sales are ordinarily used as an alternative to foreclosure.  Comments on the Detroit news groups suggest the actual sales price may have been as low as $380,000.
Kid Rock either greatly appreciates large homes or wishes to diversify his portfolio by purchasing property.  In 2009, he had a huge mansion erected in Lake Fenton, Michigan.  My guess would be that it is three times the size of his Berry Subdivision residence.  The Lake Fenton home has been described as having 270 windows.   Shortly before buying this home on the Detroit River, Kid Rock purchased a home at 11 Ocean Drive in Jupiter Inlet Colony Florida for $3.2 million.  That one is a five-bedroom, three-bath residence of 6,700 square feet.  In 2005, he purchased a three-story condominium building in Malibu, California for $824,000.  I do not know if he has other real estate holdings.
Kid Rock was, perhaps, the most prominent Michigan resident to endorse and support the presidential campaign of Mitt Romney in 2012.  Mr. Ritchie gave Mr. Romney permission to use the song "Born Free."  Mr. Romney decided to open many or almost all of his campaign ralleys with this stirring Kid Rock's composition.  In the 2004 presidential campaign, Kid Rock supported candidate George Bush.
The Detroit Historical Museum in the city's Cultural Center reopened in November, 2012.  During the renovation, Kid Rock donated one quarter million dollars to that museum to promote exhibits of the city's musical history.
Date of Construction:  Presumably the 1920s
Architectural style:  Colonial elements
Architect: Unknown to me
Use in 2012:  Personal residence
City of Detroit Designated Historic District:  This residence is within the Barry Subdivision which is a City of Detroit registered historic district. State of Michigan Registry of Historic Sites: Not listed
National Register of Historic Places: Not listed
Photograph:  Ren Farley; November 17, 2012
Description prepared: December, 2012

Return to Historic Residences

Return to Homepage