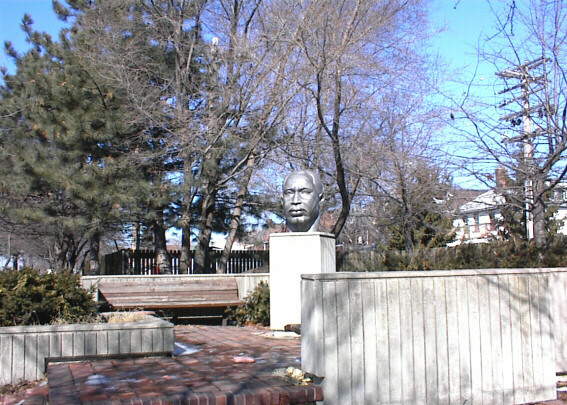 Bust of Dr. Martin Luther King, Jr.
Located in a small park at the corner of West Grand Boulevard and
Rose Parks Boulevard, aka 12th Street
If Rosa Parks had gotten out of the white-only section of that Montgomery, Alabama bus on December 5, 1955; if E. D. Nixon had failed to realize the importance and appropriateness of a civil rights protest, would Dr, Martin Luther King, Jr. have risen to his important role as a national leader and a Nobel Peace Prize winner? Long after her role in the Montgomery protest—and after the Supreme Court ruled in favor of racial integration on local public transit, Rosa Parks moved to Detroit where she still resides. The devastating riot of July, 1967 began at the corner of 12th and Clairemont, which is just ten blocks north of this small park that commemorates Dr. Martin Luther King, Jr.
It may take you some time to fully appreciate this three-foot-high bust of Dr. King. At first glance, it looks like a less than complimentary rendering of Dr. King. It was cast by Oscar Graves who, after studying at Wayne State and the Cranbrook Academy for the Arts, apprenticed with Michigan's most famous sculptor, Marshall Fredericks. Graves was inspired by sculpture produced in classical Rome. He wished to portray Dr. King as a deeply thoughtful and passionate leader. There is a striking contrast between the color of the dark bust of Dr. King and the white supporting column. Do you find Graves rendition of Dr. King's eyes provocative or disturbing?
I never met Dr. King, but I attended rallies where he spoke, indeed, a large one in Chicago on June 21, 1964—the very day that James Chaney, Andrew Goodman and Michael Schwerner were abducted and killed in Philadelphia, Mississippi. I recall the impressive oratory of Dr. King and his unyielding dedication to justice and American principals of equal racial opportunity.
Graves' interpretation of King is thought-provoking, and even disturbing. He emphasizes Dr. King as the dedicated intellectual strategist of the Civil Rights Movement who gave his life for this noble cause. It is also worth wrestling with the observation that this park is located on Rose Parks Boulevard, not far from the starting point of the 1967 violence and not far from Reverend Albert Clague's Shrine of the Black Madonna and Reverend Franklin's New Bethel Baptist Church. Perhaps there is a message for us.
Sculptor: Oscar Graves (1922-1990)
Date of Installation: 1981
Material: Aluminum for the bust of Dr. King
Return to Public Art and Sculpture