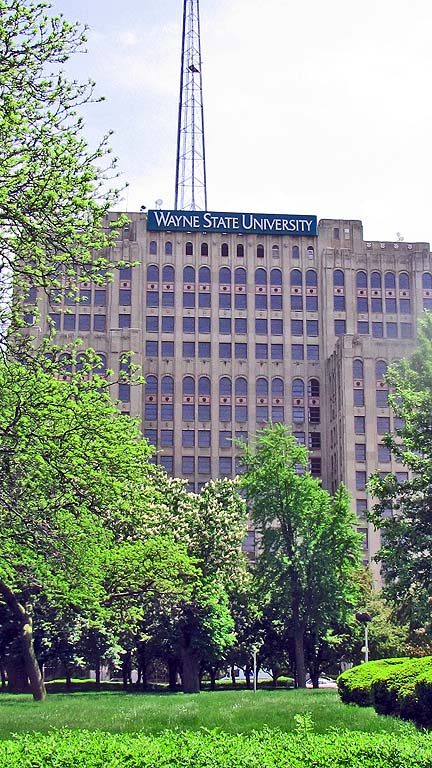 Maccabees Building
Detroit Public School Center Building
5057 Woodward Avenue at Putnam in Detroit's Cultural Center
The Order of Modern Maccabees was founded in London, Ontario in 1878 as a social welfare and insurance organization. By 1883, they had moved their headquarters to Detroit and changed their name to the Supreme Tent of the Maccabees of the World. In 1886 an affiliate society, The Ladies of the Maccabees, was founded, but apparently did not merge with the male Maccabees until 1926.
In the mid-1920s, the increasingly prosperous Maccabees selected Albert Kahn to design an impressive modern office tower for them in Detroit's expanding Cultural Center. Kahn, by this time, had designed a number of office building but, although attractive because of their design and exterior detail, were rather rectangular and squat, such as the Detroit Free Press and Detroit News building located on West Fort in downtown Detroit, or reflected Daniel Burnham Chicago style of design as in Kahn's 1922 National Bank Building on Cadillac Square. By the time Kahn, designed the Maccabees Building, he sought an alternative for the very tall and rectangular skyscrapers erected in New York in this era. I believe that he succeeded in designing a more attractive building.
For the Maccabees, he designed a 14-story tower, but with subordinate flanks. Thus, there are four six-story wings at the corners of the major tower producing an H pattern. The Art Deco influences from the 1920s are also obvious. It is easy to appreciate the change over time in Kahn's approach to designing large office buildings when you contrast the National Bank Building—designed a few years before the Maccabees Building—to the Maccabees Building itself and than contrast this building to the quite different and, perhaps, more attractive, Fisher Tower that he designed just a couple of years later. A walk along Woodward illustrates these changes in the design of buildings serving similar purposes.
In 1960, the Maccabees organization moved to Southfield and sold the building to the Detroit Public School system to be used as their headquarters. About 32 years later, they moved to a different building and transferred the Maccabees Building to Wayne State University.
Architect: Albert Kahn
Architectural Style: 1920s office skyscraper with Art Deco aspects
Michigan Register of Historic Sites: P25125
National Register of Historic Sites: Listed July 7, 1983
Photo: Ren Farley; November, 2002
Use in 2002: The Maccabees Building is in the process of change from serving as headquarters for the Detroit Public School system to an office building for Wayne State University.
Return to Commercial Buildings