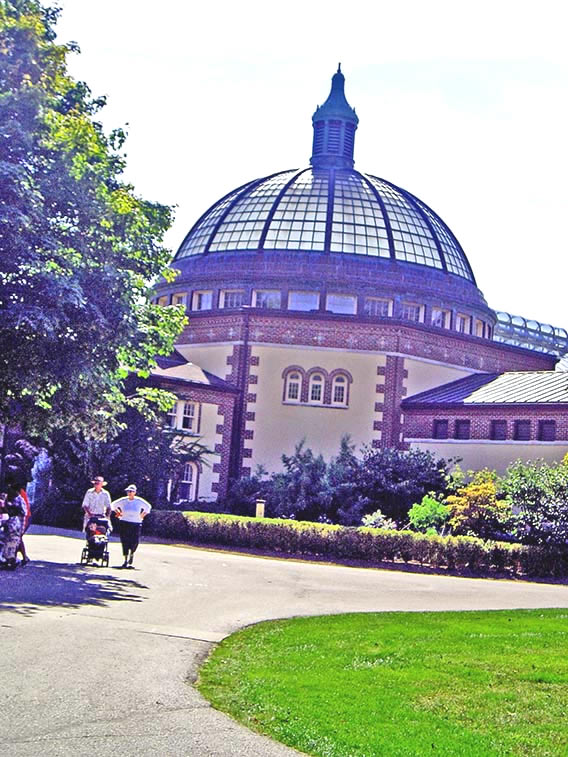 Matilda R. Wilson Free Flight Aviary
On the campus of the Detroit Zoo which is located at
8459 West Ten Mile Road in Royal Oak

Matilda Rausch had the great misfortune of being widowed twice. But each time she inherited a tremendous fortune. For much of the Twentieth Century she was among the richest women in the country. A daughter of German immigrants, she was born in Walkerville (now Windsor) Ontario in 1883. She was educated in Detroit and graduated from a business school. In 1902, she began working for the Dodge Brothers Company in Detroit. John Francis Dodge and his brother, Horace Elgin Dodge, from Niles, were machinists who knew about the bicycle craze that swept the nation in the late 1890s. They moved to Windsor and set about making bicycles. Shortly after 1900, however, they realized that there would be more profit making parts for motor vehicles, so they set up their machine shop in Detroit. Henry Ford, in the early nineteen hundred lacked capital so he had to buy most of the components for the cars he assembled. The Dodge Brothers quickly became a leading supplied.

In 1905, Matilda Rausch married one of the founders, John Dodge. The Dodge brothers prospered as parts makers, but as was typical for many who worked with Henry Ford, there was a falling out. By 1913 or 1914, they broke with Henry Ford and decided to go out on their own. By 1915, they were assembling Dodge automobiles. When World War I, came along the military needed trucks and, for the first time during that war, trucks began to carry a noticeable fraction of the nation's freight. The Dodge Brothers became a major producer of trucks. Their firm prospered. John Dodge, however, died at the young age of 55 in 1920. Brother Horace Dodge died later in the same year. The large and prosperous Dodge firm was sold in 1925 to the Wall Street investment house of Dillion Reed for 146 million or about 1.84 billion in 2013 dollars. The Dodge widows were very financially secure and they turned out to be very generous to the Detroit area.

Matilda Rausch met Alfred G. Wilson, a Michigan lumber broker with considerable wealth. They married in 1925. In 1929, they began to build their massive home, Meadowbrook Hall, on a 1,400-acre property they owned in Oakland County. Designed by William Kapp with stone carving by Corrado Parducci, this is one of the larger and most elegant homes built in the country in that decade. She had previously funded the Music Hall Center for the Performing Arts on Madison in downtown Detroit. About 1954, the Wilsons gave their huge estate to Michigan State University so that Oakland University could be established. That university opened in 1959 as a component of Michigan State, but became an independent school four years later. Of all the public universities in Michigan, I believe that Oakland continues to have the largest campus, thanks to the contribution of the Wilsons.

I do not know when Matilda Wilson funded construction of this large aviary at the Detroit Zoo. Horace Rackham owned much land in Royal Oak; land located about two and one half miles north of the city's northern limit. He donated that property to the city so that they could establish a major golf course and a zoo. The city had been—and continued—to maintain a more modest zoo on Belle Isle. The city was able to commission excellent architects to build a modern zoo—one in which the animals were separated from visitors but not by bars. The zoo opened in 1928. I suspect that Ms. Wilson's donation was made at about that time. Inside this impressive and large aviary, 30 species of birds are free to fly, swim or walk as they wish. They are not contained in cages. You walk among them and observe them as you wish. It is a great place for serious and amateur ornithologists.

Architect: Unknown to me Date of Construction: About 1928
Use in 2014: Aviary
State of Michigan Registry of Historic Sites: The aviary is a component of the listing for the Detroit Zoo. P206, Listed October 16, 1997
National Registry of Historic Places: The aviary is a component of the listing for the Detroit Zoo. Listed 8-24-1990
Photograph: Ren Farley, September, 2004
Description Prepared: January, 2014
Return to Entertainment & Culture