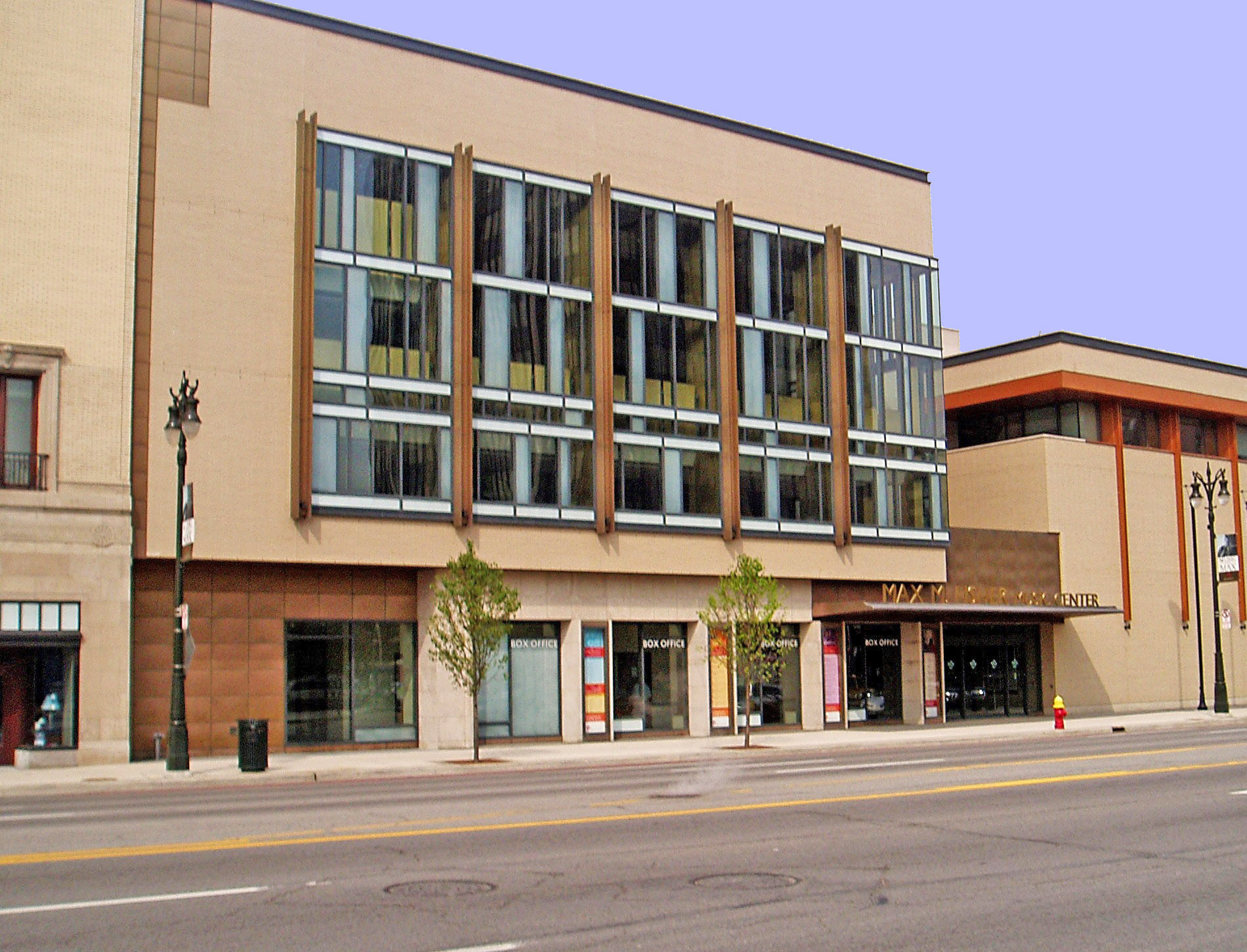 Max Fisher Hall of the Detroit Symphony Orchestra
Woodward Avenue at Seldon just northwest of Orchestra Hall which is located at the corner of Woodward and Martin Luther King at 3711 Woodward in Detroit
Max M. Fisher earned his wealth in Marathon Oil and is not related to the Fisher brothers whose firms made bodies for GM vehicles and created the magnificent Fisher Tower. Max Fisher contributed in many important ways to the development of modern Detroit, especially in his funding and promotion of the Renaissance Center.
Between 1970 and 1989, C. Howard Crane's magnificent Orchestra Hall was saved from the wrecking ball and slowly refurbished to the glory that shown in its 1919 opening. It is very impressive to think that such a marvelous and acoustically appropriate hall could have been designed and built by architect Crane in just four months and 23 days. Refurbishing Orchestra Hall was the catalyst that led to much new construction in this area of the Woodward corridor. Just across the streets are the newly built Ellington Lofts. Max M. Fisher donated the requisite funds for a $60 million addition to Orchestra Hall, one that included a 500-seat performance hall, a 200-seat rehearsal hall and a variety of other educational and practice facilities for musicians. It is used primarily by the musicians of the Detroit Sympathy Orchestra, but will also be a resource for the many students enrolled in the city's new school for the performing arts—located on the same campus—when it opens in 2006.
This building features a four-story atrium, box offices for all Detroit Symphony Orchestra events, a reception area and dining room for donors and dressing rooms for the musicians.
Max Fisher was born to Russian immigrants in Salem, Ohio early in the Twentieth Century. He attended Ohio State University on a football scholarship, and then joined his father's oil reclamation firm. Subsequently Max Fisher developed a prosperous oil company in western Ohio and then became a real estate entrepreneur. By the 1980s, he became widely known for his key role in raising funds for Republicans among Jewish-Americans. During the Gerald Ford and the first George Bush administration, he was asked by Donald Rumsfield several times to visit Israel when United States and Israeli interests were diverging, so he developed experience as an "unofficial" diplomatic negotiator. Mr. Fisher strongly supported vouchers for public education and, in the 2000 presidential campaign, he devoted considerable resources to a campaign that suggested that not all Jewish-Americans supported a ticket that include Senator Lieberman. It is no surprise that two former Republican presidents—Gerald Ford and George Bush—attended the festivities in Dearborn that marked Max Fisher's ninetieth birthday. Mr. Fisher provided such substantial support to the Business School at Ohio State that they renamed their institution in his honor. In 2004, Max M. Fisher—now in his very late nineties—continued to live in the Detroit Area. And the music hall bearing his name on Woodward shows his continued interest in supporting the redevelopment of the Motor City.
Architects: A. J. Diamond, Donald Schmitt and Company; Gunn Levine Associates
Date of Completion: 2003
Use in 2004: Rehearsal facility and office building for the Detroit Symphony Orchestra.
Website: Detroitsympothy.com
City of Detroit Local Historic District: See Detroit Orchestra Hall
State of Michigan Registry of Historic Places; See Detroit Orchestra Hall
National Register of Historic Sites: See Detroit Orchestra Hall
Photograph: Ren Farley; August, 2004
Return to Entertainment & Culture
Architect:
Date of completion: 2003
Use in 2004: A facility of the training of musicians
City of Detroit Local Historic District: Not listed
State of Michigan Registry of Historic Sites: Not listed
National Register of Historic Places: Not listed
Photo: Andrew Chandler; July, 2004
Return to Auditoriums and Theaters