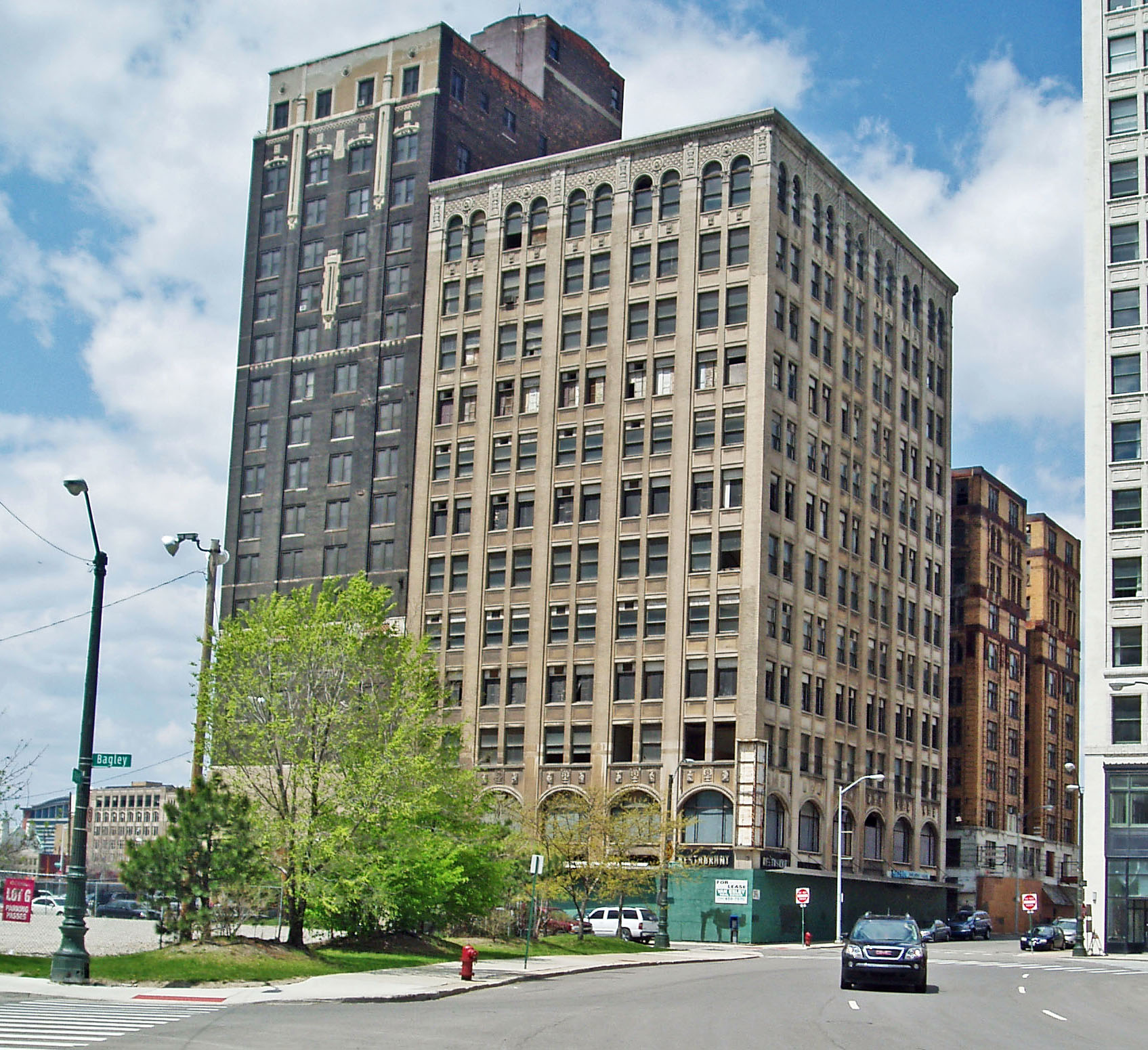 Park Avenue Building
Park Avenue at Adams Avenue West at Grand Circus Park
There were two recent decades of rapid population and economic growth in Detroit: the 1920s and the 1940s.  World War II, however, dampened almost all new construction in the first half of the 1940s; thus, the 1920s were the years when many of the impressive structures you now see in downtown Detroit were built.  The office building pictured above was designed by Detroit's most accomplished architect, Albert Kahn, and opened in 1922 or 1923. Note the attractive arched windows he designed for the ground flour and for the most elevated floor.
At the end of World War I, there were numerous two- or three-story small buildings in downtown Detroit reflecting the construction style of the late nineteenth century.  You can still find a few of these buildings, such as those on Woodward between Albert Kahn's Vinton Building and his First National Bank Building, including the Grand Truck Railroad Ticket Office Building.  There also are similar buildings on the west side of Michigan just north of Trumbull, including Nemo's Bar.  Small structures were razed in the 1920s so that larger and more modern building might capitalize upon the valuable land they occupied.  Many of the Nineteenth Century buildings that survived World War II were torn down to create parking lots in an apparently misguided effort to popularize downtown Detroit the late 1940s and early 1950s.
There were three major development efforts in downtown Detroit in the 1920s.  The Book Brothers sought to turn Washington Boulevard into an elegant shopping and commercial area by commissioning Louis Kamper to design the Book Tower, the Book-Cadillac Hotel, the Washington Boulevard Apartment Building and the Industrial Bank Building.  John Barlum sought to modernize Cadillac Square, so he commissioned Harrie Bonah to design the Lawyers Building, the Cadillac Square Apartments and the structure now known as the Cadillac Tower.
The Park Avenue Association came into existence about the time Albert Kahn was completing the building you see.  They sought to modernize Park Avenue, intending it to ambiance similar to that of Park Avenue in Manhattan.  Their accomplishments are evident, including the Iodent Building, the Detroit Life Building, the Blenheim Apartments, the Women's City Club Building and the Royal Palms Hotel.  For a few years prior to the Depression, Park Avenue was developing into an upscale commercial area. In 1977 the Ilitch family completed their modernization of the nearby Fox Theater, a National Historic Landmark building that also serves as the headquarters for the Little Caesar's Pizza enterprise.  Subsequently, their development firm sought to redevelop the area that is now the Park Avenue Historic District.  It had fallen into decline in the latter decades of the Twentieth Century.  The Iodent Building has been renovated, and in 2008, plans were announced to similarly modernization the Detroit Life Building.  I do not know if there are any plans to renovate the Park Avenue Building.
Architect: Albert Kahn
Date of Construction: 1922
Use in 2009:  Empty building awaiting renovation
City of Detroit Designated Historic District: Not listed
State of Michigan Registry of Historic.  The Park Avenue Building is within the Park Avenue Historic District.
National Registry of Historic Places.  The Park Avenue Building is within the Park Avenue Historic District, listed May 13, 1997.
Photograph:  Ren Farley; May 2, 2009
Description updated: September, 2009
Return to Commercial Buildings