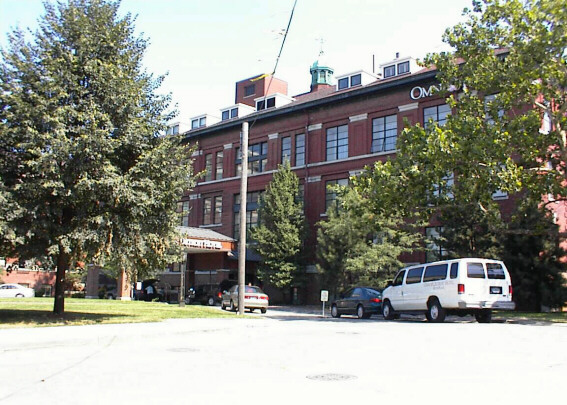 Parke-Davis Historic District
On the Detroit River at the foot of Joseph Campus. The National Register of Historic Sites defines this district as bounded by Joseph Campau, Wight Street, Cougar Avenue and the Detroit River
This is the best example of the preservation and reuse of former industrial buildings in Detroit and one of the most impressive in the United States. Indeed, it may eventually rival the Soho neighborhood of Manhattan. This area is the birthplace of the American pharmaceutical industry. It is one of the most impressive historical districts you will find in America.
In the mid-1860s, Detroit physician and pharmacist Samuel P. Duffield became interested in manufacturing pharmaceuticals. In 1866, he joined with Hervey Coke Parke to form a partnership. The next year, George S. Davis became the third partner. When the partnership was incorporated as a firm, they selected the name Parke, Davis and Company. Their business expanded and, by 1890, Detroit was the nation's leading center for the design and production of pharmaceutical drugs. Parke-Davis was, I believe, the largest firm. Stearns, the drug company that built the large complex along East Jefferson, was one of the other leading firms.
In the late Nineteenth Century, Parke-Davis selected this site along the Detroit River because of its locational advantages on the river and on major rail lines. I believe that the Detroit Boat Club had occupied this space but moved to Belle Isle when Parke Davis began constructing buildings here. Between 1891 and 1948, 26 buildings were erected and they now constitute this historic district. There are interesting differences reflecting the evolution of American architecture—some buildings in the style of 19th century mills, others capitalize upon reinforced concrete. Most of them contain much more external decoration than you find in today's minimalist structures.

This historic district includes one of the seven National Historic Landmarks now found in the city of Detroit. The Detroit Research Building built in 1902 and designed by John Donaldson and Henry Meier. This was the nation's first building designed to be an industrial research laboratory. Please compare this structure with its dormers, cupola, hipped roof and classical details with the much more functional buildings often constructed today in suburban research parks. This building merits its credential because it was the first building ever designed by an American manufacturer for the specific purpose of conducting research. The General Motors Argonaut Building is another structure designed for conducting research only but was built almost three decades later. One National Historic Landmark in Detroit has been delisted—the Lincoln Production plant on West Warren that was torn down by Detroit Edison in the early years of the last decade. The Parke Davis Research Building is still a National Historic Landmark, but there are concerns about its retaining that rank since recent renovations may not be consistent with its original design.
Among the impressive buildings you will find as you walk around this historic district:

The Administration Building constructed in 1927 and designed by Fred Smith, Theodore Hinchman and Maxwell Grylls. This includes three arcades with much decorative brickwork.
Building #42 was designed by Albert Kahn and completed in 1942. It is another research building, this one facing the river. Having worked in university buildings all my life, it difficult to imagine having an appealing riverfront office in a Kahn structure. This building was converted into an Omni Hotel but that firm ceased its operation in 2011. Shortly thereafter, the hotel was reopened as the Roberts Riverwalk Hotel.
The Drug Production Building at 300 River Place is an attractive production factory designed by Albert Kahn and completed in 1926.

Laboratories, warehouses and production facilities dating from 1908 are at 400 and 500 River Place.
In 1970, Warner-Lambert purchased Parke Davis and began moving their operations away from Detroit, many of them to Ann Arbor. The Stroh's Brewery, once located Gratiot near Russell, closed but Peter Stroh and his firm, Stroh's Real Estate, saw a great opportunity and purchased the Parke Davis complex in 1982. The buildings were gradually remodeled to serve as restarurants, a hotel, apartments, condominiums, a health club and parking decks. The efforts were quite successful so this is an outstanding example of the reuse of old industrial buildings,
Architects Represented: John Donaldson, Maxwell Grylls, Theodore Hinchman, Albert Kahn, Henry Meier and Fred Smith,
Dates of Construction: 1891 to 1948
Website for the Roberts Riverwalk Hotel: http://www.detroitriverwalkhotel.com/
State of Michigan Historic Register: P25,198
National Register of Historic Places: September 16, 1985
National Historic Landmark Listing for Research Building: May 11, 1976
Photo: R. Farley, August 2002
Description updated: March, 2012