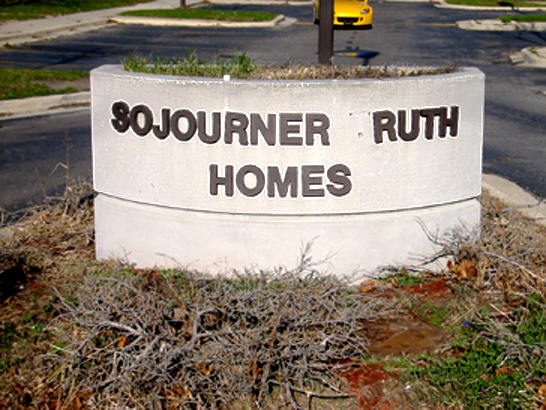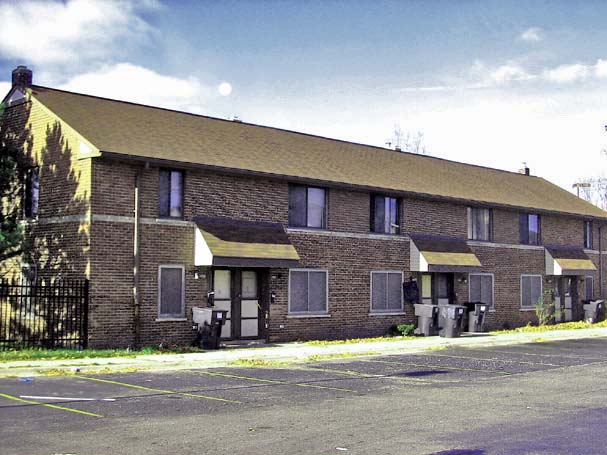 Sojourner Truth Housing Project
4801 Nevada at Fenelon in northern Detroit

This was the site of the nation's first World War II racial violence. As Detroit became the Arsenal of Democracy, thousands of southerners migrated here during 1940, 1941 and 1942 to take defense industry jobs. City and federal officials knew that tens of thousands of migrants had to find places to live. However, the demands of World War II meant that private developers could build no new homes. Indeed, very few new homes were constructed in metropolitan Detroit between 1929 and 1946. By 1940, the federal government was actively building large public housing projects to stimulate the economy and eliminate slums. The Brewster Project, for example, had been built near downtown Detroit for blacks. It was only a modest switch for the government to construct residences for defense workers. The housing crisis was particularly severe for blacks who moved to the Motor City at the start of World War II. Longstanding practices of segregation and federal policies pretty much confined blacks to a few neighborhoods: the near East Side along Hastings Street and known as Black Bottom, a pocket on the West Side, and a very few outlying black islands in the city, including Conant Gardens, an area near Eight Mile and Wyoming where a wall was built to separate the races. There were also suburban black islands including Royal Oak Township and Inkster. The housing problems of Detroit's blacks actually grew more severe at the start of World War II. Landlords knew that blacks could only live in black neighborhoods, so they could raise rents knowing that African Americans could live nowhere else.

President Roosevelt's Lend-Lease program to support Great Britain in their fight against the National Socialists led to a boom in Detroit in 1940. By the fall of that year, it seemed likely that it was only a question of when the United States would join the war in Europe. Detroit's Housing Commission understood the housing crisis and wanted to use federal dollars to build homes for blacks and whites. But there was a huge problem with the construction of public housing for African Americans. The black neighborhoods of Detroit were already densely populated, so it made little sense to tear down homes there and replace them with new housing. But whites would protest violently should there be an attempt to build federal housing for blacks in their neighborhoods.
On June 4, 1941, city housing officials approved two sites for federally sponsored public housing, one in a white neighborhood for whites, and then a block near Dequindre and Modern just south of McNichols for black housing. They presumed that blacks were already living somewhat clos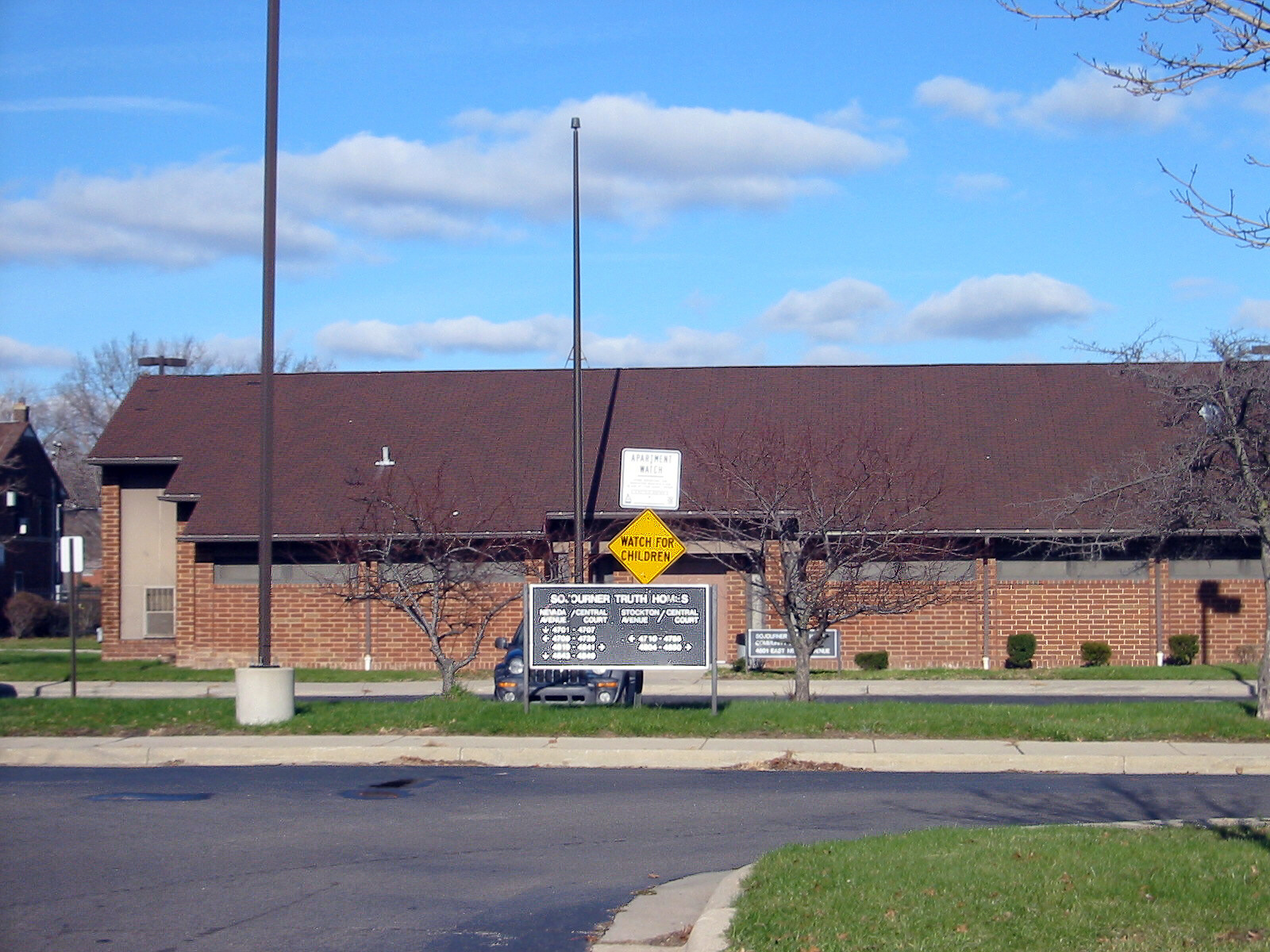 e to that area, so protests from whites might be minimal. Federal housing officials in Washington, however, deliberated about the issue and decided that housing for African American defense workers should be constructed near the intersection of Nevada and Fenelon. They knew that this sparsely-settled area bordered an industrial site and that is was quite close to the small, middle-class black enclave, Conant Gardens. In their view, the likelihood of violent white protest was minimal in this remote area of Detroit. To make certain that both black and white residents of the Arsenal of Democracy knew this federal housing was intended for African-Americans, on September 29, 1941, Washington officials named it after the nation's preeminent African-American abolitionist, women's rights advocate and hero of the Underground Railroad movement, Sojourner Truth, who lived in or near Battle Creek from 1857 to her death in 1883. The Soujourner Truth Homes were built rapidly and completed by December 15, 1941. The black residents had to begin their rent payment on January 1, 1942.

Whites living in this area protested, led by Congressman Rudolph Tenerowicz—a Polish physician who had served as mayor of Hamtramck before being elected to Congress; by the Reverend Constantine Dziuk, pastor of St. Louis the King, whose beautiful church still serves parishioners from its nearby location on Seven Mile Road, and by local activist, Joseph Bulla. To make matters more troubling, this was the era of strict redlining. The Federal Housing Administration announced that there were be no federal backing of mortgages in the surrounding neighborhoods if blacks occupied the Sojourner Truth Homes. This federal decision may have prompted more white protests.
Submitting to pressure from these protesters and fearing racial violence, federal housing officials in Washington announced, on January 20, 1942, that the Sojourner Truth Homes would be designated for whites, not for blacks. Mayor Edward Jefferies, Detroit Housing officials, some union leaders and Detroit civil rights activities protested. They presumed that Washington bureaucrats were not familiar with the terrible housing conditions of Detroit blacks, and the pervasive segregation that confined the city's African Americans to a few neighborhoods. Once again, federal officials changed their minds and decided that the Sojourner Truth Homes would have black, not white, residents. They specified February 28, 1942 as the date when blacks would be able to occupy the homes they had been renting since January 1.
Local residents continued their protests. On February 27, they began marching around the Sojourner Truth Homes to intimidate the blacks who hoped to enter the next day. Crowds of militantly protesting whites grew, so it is not surprising that only a few black families tried to move in on February 28. They were pelted with rocks and otherwise harassed. Apparently, shotgun fire was heard throughout the day, but no one was shot. One gets the impression that many young whites in the city were quite willing to go into this neighborhood to protect its "racial purity", and that large numbers of blacks quickly appeared to help defend the prospective occupants. Although 200 police officers were on duty, there was a great deal of racial fighting that day with 40 injuries, but no deaths. Police called off the entry of blacks to their homes and, by the end of the day, arrested 220 – 217 blacks and 3 whites. The nation's newspapers gave considerable coverage to this rioting. The New York Times, in particularly, stressed the racial disparity in the arrests for violence.
The Sojourner Truth Homes remained vacant for some time after the violence, but the local white residents maintained their protest. President Roosevelt's Attorney General Biddle sent lawyers to Detroit to see if leaders of the protest could be indicted for conspiracy. They were not indicted. Fearing that a major riot that would require sending federal troops to Detroit and might lead to racial riots in numerous other cities, the federal government sent agents to infiltrate the organizations of protesting whites. Apparently, they concluded that these white protestors could be intimidated by a major police or military presence, and that few of them would actually sacrifice their lives to keep blacks out. Finally, at the end of April, 1942, 1,100 city and state police officers and 1,600 members of Michigan National Guard were mobilized and sent to the area around Nevada and Fenelon to guard six African-American families who moved into the Sojourner Truth Homes. That show of military force broke the back of white resistance and, thanks to a continued police presence, there were no further racial problems for the blacks who moved into this federal housing project. Eventually, 168 black families moved into these homes.
The homes that you see today at Nevada and Fenelon were rebuilt in 1970. That is, they are structurally the same public housing units that the Roosevelt Administration constructed as part of its war effort to defeat the Germans and Japanese, but they were modernized and updated about forty years ago.

Architect: Unknown to me
Architectural Style: Low rise public housing of the late Depression and
World War II era
Date of Completion: 1941
Use in 2007: Housing
City of Detroit Designated Historic District: Not listed
State of Michigan Registry of Historic Places: Not Listed
National Registry of Historic Sites: Not listed
Photographs: Andrew Chandler and Ren Farley; December, 2004
Description updated: January 16, 2009
Return to Racial History in Detroit