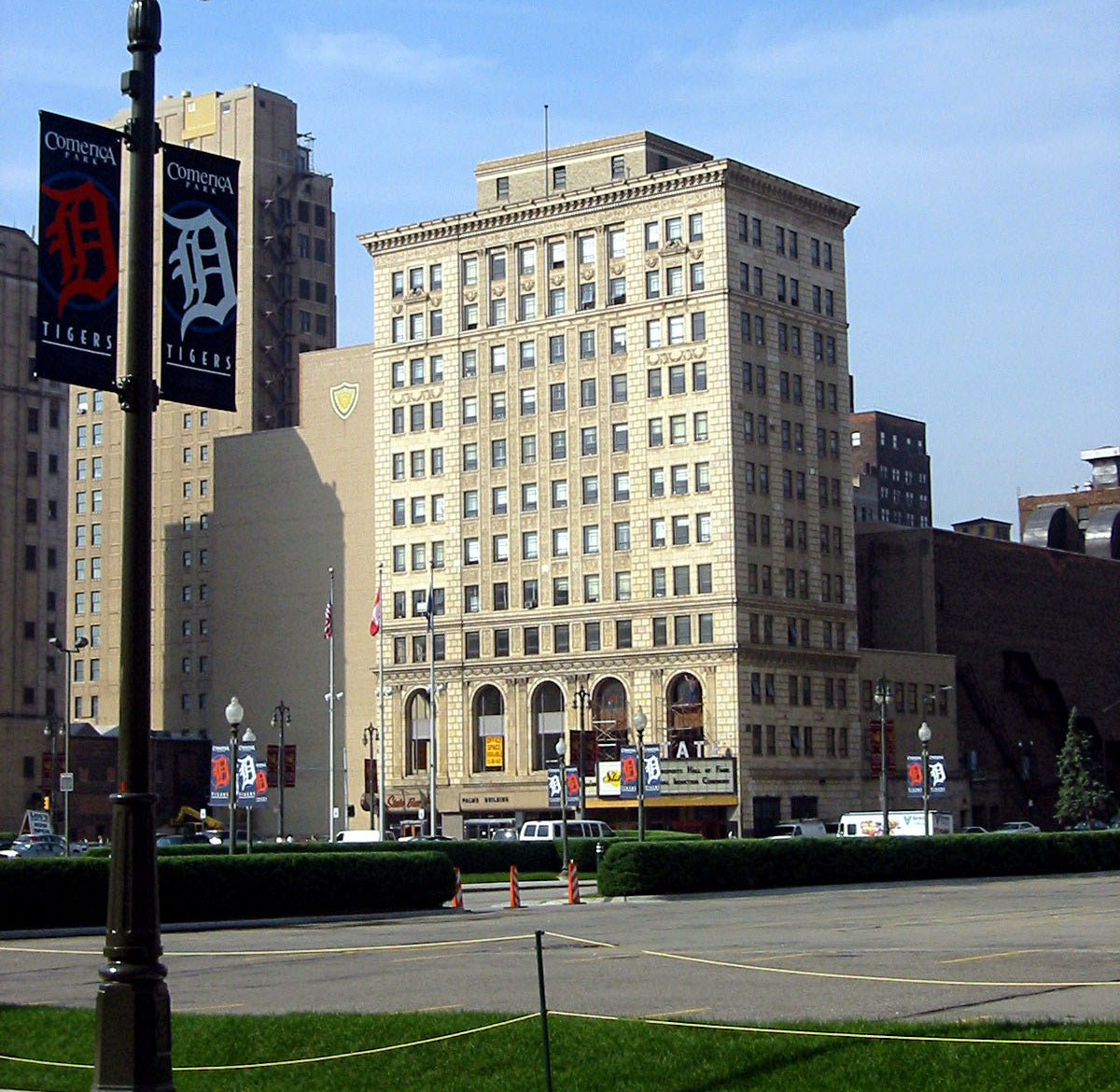 State Theater/Francis Palms Building
2111 Woodward in downtown Detroit
Francis Palms migrated to Detroit from Antwerp in 1832 and quickly amassed a great fortune as a banker, businessman and real estate developer. Shortly after arrival, he realized that not all growth would be along the Woodward corridor, so he shrewdly purchased land along East Jefferson where he built his own home in 1846.
Palms' descendents continued in the real estate business and constructed this impressive 12-story theater and office building on Woodward in the midst of the 1920s—a decade when the city surged forward to fourth rank in the nation in terms of population. In the post-World War I era, a rapidly increasing urban working and middle class found themselves with some discretionary money to spend on entertainment. Many of them did not have cars so they were limited to urban diversions. The American movie industry prospered as they targeted this clientele. However, the films were silent and in black and white only. To entice customers, the film moguls not only created stars; they also built fabulous movie theaters to suggest fantasies and elegance. They had elaborately decorated lobbies with many statues, much decoration in gold trim, and inside the theater, they had impressive organs. An organist would entertain moviegoers before the film and then, during the silent film, an organist would play appropriate music.
C. Howard Crane moved to Detroit from Connecticut in 1904. For five years he apprenticed with the city leading architects: Albert Kahn, Fred Smith, Theodore Hinchman and Maxwell Gyllis. Then he began specializing in movie theaters and, eventually, he designed about 250 of them. Crane designed the Palms Building with its impressive State Theater. This is one of his major works but can best be appreciated by touring the lobby and theater itself.
Architect and builder: C. Howard Crane
Style: Beaux Arts
Date of Completion: 1925
Use in 2002: It is the same as in 1925: a theater and an office building.
State Historical Register: P25196
National Historical Register: Listed October 25, 1984
Photo: Andrew Chandler, July, 2004
Return to Entertainment & Culture