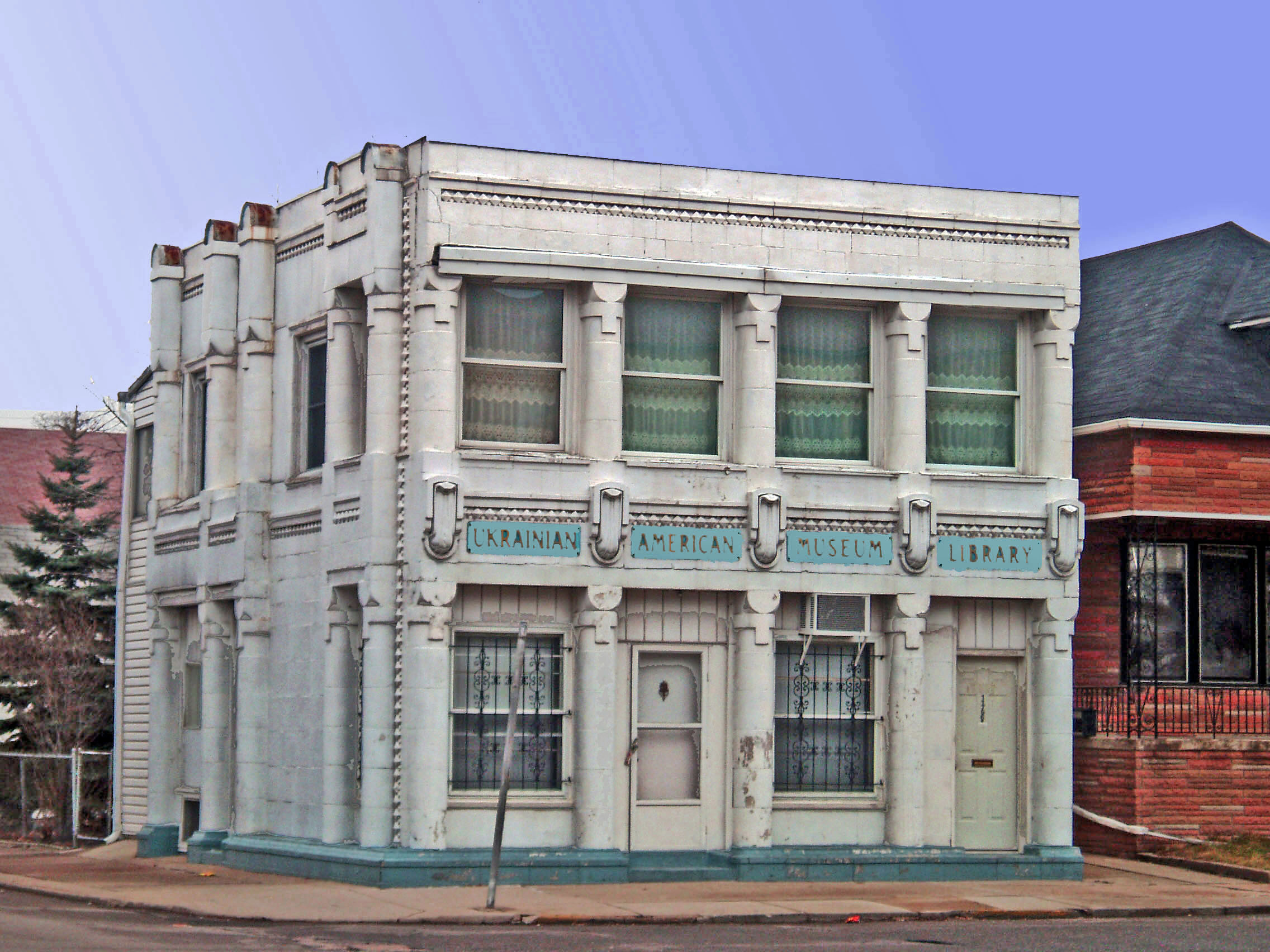 Ukrainian American Archives and Museum of Detroit
11756 Charest at Connor in Hamtramck
This museum is located directly across Connor from the magnificent Immaculate Conception Ukrainian Catholic Church. The structure you see on this page had been used as a bank and was located on Woodward. It was moved to its present site but I do not know when or who designed the rather interesting but modest sized bank building. Presumably after its use as a commercial building came to an end, it was purchased by Roman and Ivanka Dacko who migrated to the United States after World War II. He collected books, documents, photographs and other memorabilia pertinent to the Ukrainian experience in this county. I believe the Dackos used this building to house some or all of their collection.

By 1978 there was another Ukrainian Museum located in Warren at the Ukrainian Cultural Center. Two volunteers at that museum, Irene and Ostap Zacharkiw, decided to merge the two Ukrainian museums at the site in Hamtramck that you see pictured on this page.

The museum includes oral histories, examples of Ukrainian folk arts such as embroidery and a library of 20,000 books. Courses are offered in the Ukrainian language and in English as a second language. There are also classes in icon painting.

The Census Bureau's 2012 American Community Survey reported that there were 5,700 Ukrainian-born persons living in metropolitan Detroit. Another 13,400 born outside the Ukraine reported Ukrainian as their first ancestry and another 5,300 reported Ukrainian as their second, not their first, ancestry.

I do not know how many Ukrainian churches there are in metropolitan Detroit. In addition to Immaculate Conception, I believe there is Saint John the Baptist Ukrainian on Clippert in Detroit. The Ukrainian Orthodox churches, I think, include Holy Trinity Orthodox in Dearborn, Saint Mary Protectress Orthodox Cathedral in Southfield and Holy Trinity Orthodox in Troy.
Architect: Unknown to me
Date of Construction: Unknown
Note: The building occupied by the Ukrainian American Museum was originally a bank building located on Woodward. This attractive and interesting bank building was moved to this location at a date I do not know.
Use in 2014: Museum
Website: http://www.ukrainianmuseumdetroit.org/home.html
State of Michigan Registry of Historic Sites: Not listed
National Registry of Historic Places: Not listed
Photograph: Ren Farley; February 3, 2006
Description prepared: January, 2014
Return to Entertainment & Culture