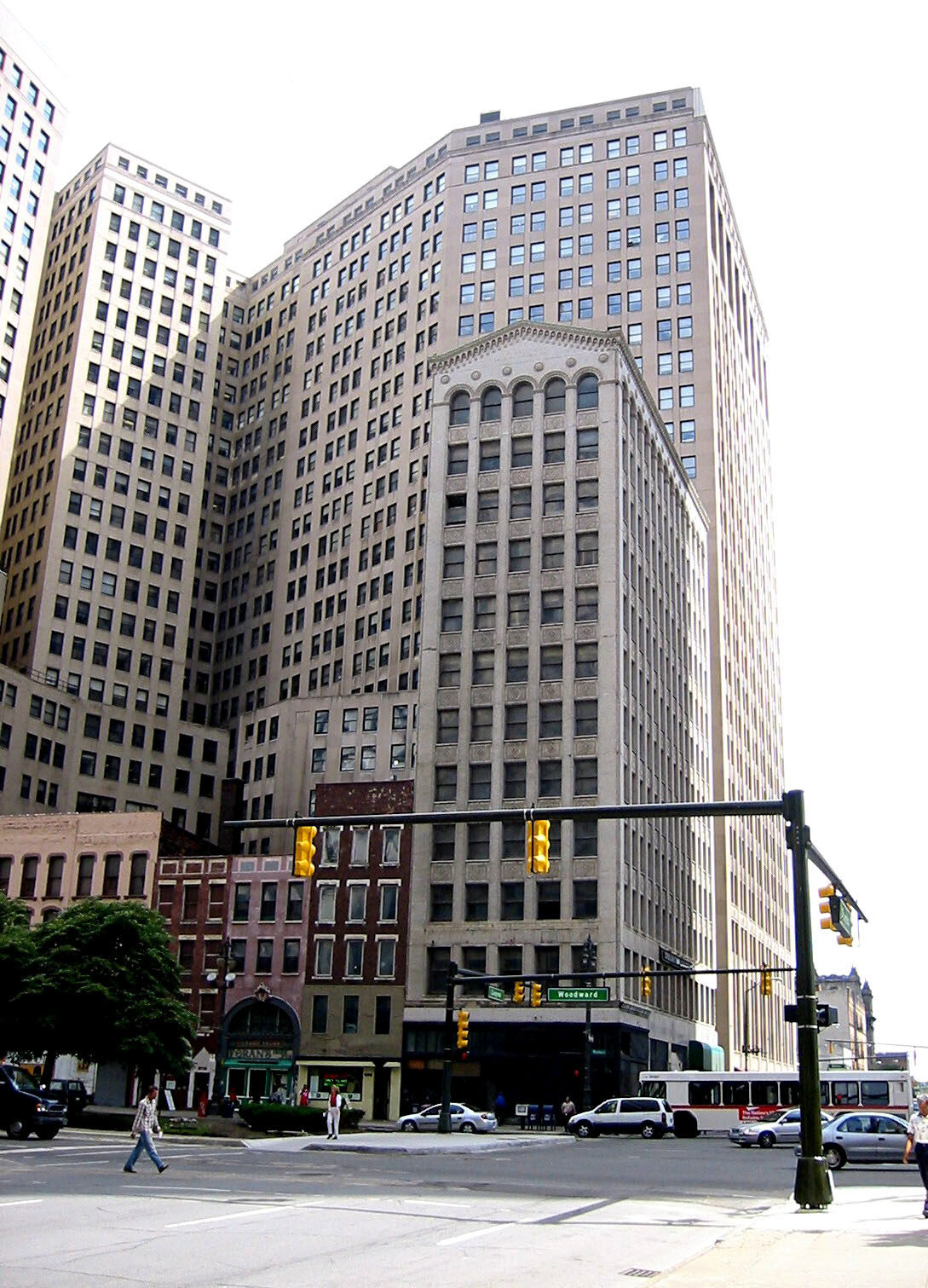 Vinton Building
600 Woodward at the northwest corner of Woodward and East Congress in
dowtown Detroit between Campus Martius and Hart Plaza

I believe this was the first skyscraper designed by Detroit's most famous and productive architect, Albert Kahn. Now this structure is overshadowed by the very much larger First National Bank Building that he designed about five years later. The Vinton is an interesting building with many classical elements and strong vertical piers. At the twelfth floor, there is an eye-catching parapet similar to what you might find adorning a Greek Temple. It is appealing and instructive to walk the perimeter of this oddly shaped block. When the Vinton Building was designed—about 1915—it was one of the larger downtown office edifices. It was financed by a Vinton Construction Company, with the ground level space designated for a bank. I assume that the construction company used some of the upper floors and rented out other floors for office space. If you stride around the block, you will appreciate the huge First National Bank. In the short five-year interval spanning World War I, Detroit's economy boomed so much that investors were willing to commission Albert Kahn to design the huge First National Bank Building that continues to offer space to tenants. Along the east side of Woodward between Albert Kahn's Vinton Building and his First National Bank building, you find a series of four-story buildings erected in the 1870s when Detroit was developing into a manufacturing center. When the Vinton Building and then the First National Bank went up, I suspect that many Detroit observers presumed the low-rise, wood frame buildings along Woodward would be razed and replaced by high-rise office buildings. That never happened, and almost a century after Kahn drew sketches for the Vinton Building, those Nineteenth Century structures welcome customers into bars and restaurants. Those buildings serve retail customers as they did in the Grant administration. Plus ca change, plus ca meme chose.

In 2005, plans were announced to remodel the vacant and unused Vinton Building. There would be commercial space on the Woodward level and condominiums above. Perhaps there was also an intention to provide office space. Apparently, those plans are on hold. Most likely, the developers faced a great challenge in locating financing. Let's hope that there will soon be financial incentives to renovate this grand Albert Kahn Building with its many classical elements.

This structure was listed on the National Register of Historic Sites in 1983. The contiguous buildings on Woodward are included in the Detroit Financial District site on the National Register but I am not sure that the Vinton Building is since it was previously listed.

Architect: Albert Kahn
Date of Construction: 1917
Architectural Style: Early skyscraper designed in the Italian Romanesque Tradition
Use in 2011: Vacant office building but plans were announced some years ago to refurbish this magnificent building for
use as condominiums.
City of Detroit Local Historic District: Not listed
State of Michigan Registry of Historic Sites: P25, 273; Listed November 16, 1982
National Register of Historic Places: Listed February 17, 1983
Photograph: Andrew Chandler; July, 2004
Description prepared: January, 2011

Return to Commercial Buildings