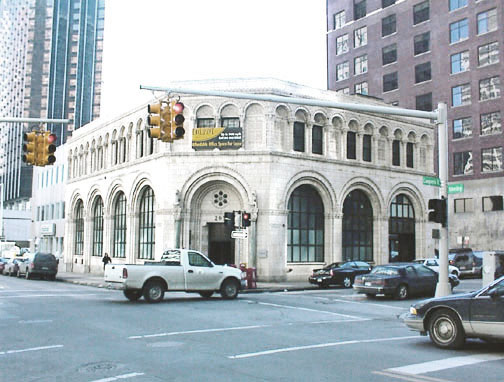 Bankers Trust Company Building
Congress at Shelby in downtown Detroit's Financial District
In Detroit's downtown financial district you will find at least five financial buildings that merit several walks around the block to appreciate their features. First on the list of many would be Writ Rowland's Guardian Building (1929). Also, on the list would be the State Savings Bank designed by McKim, Mead and White in 1900, and the Detroit Trust Company Building designed by Albert Kahn in 1915. You might also include the much more recent Comerica Bank Building.
Writ Rowland studied architecture at Harvard and was, primarily, a classicist. His magnificent Guardian Building is quite a fantastic break from his classical preferences. For this Bankers Trust Building, Writ Rowland selected an Italian Romanesque theme. Note the emphasis upon the use of arches. These many arches on the ground floor were designed, presumably, to provide light for the great banking room where people came to transact their business with this firm. The theme of arches was carried to the second floor in a very attractive and appealing manner. Impressive decorations are easy to appreciate in this beautiful bank building. Marble columns support seated lions border the arched corner entrance at the intersection of Congress and Shelby. Note that it is not just Comerica Park that displayed carved lions. The exterior is done in terra cotta, that is, Writ Rowland used terra cotta to imitate stone carving.
There is another interesting aspect to this building. At the time it was completed, many other office and bank buildings in Detroit's burgeoning financial district were skyscrapers of 20 or more stories. Bankers Trust opted to erect a two-story building that retains its architectural appeal eight decades after it was first warmed by sun.

Architect: Writ Rowland for Smith, Hinchman and Grylls
Date of Completion: 1925
Historical Registers: So far as I know, this exceptionally attractive building is not listed on either the State of Michigan or the federal
registry of historical sites. I think it should be registered.
Return to Commercial Buildings