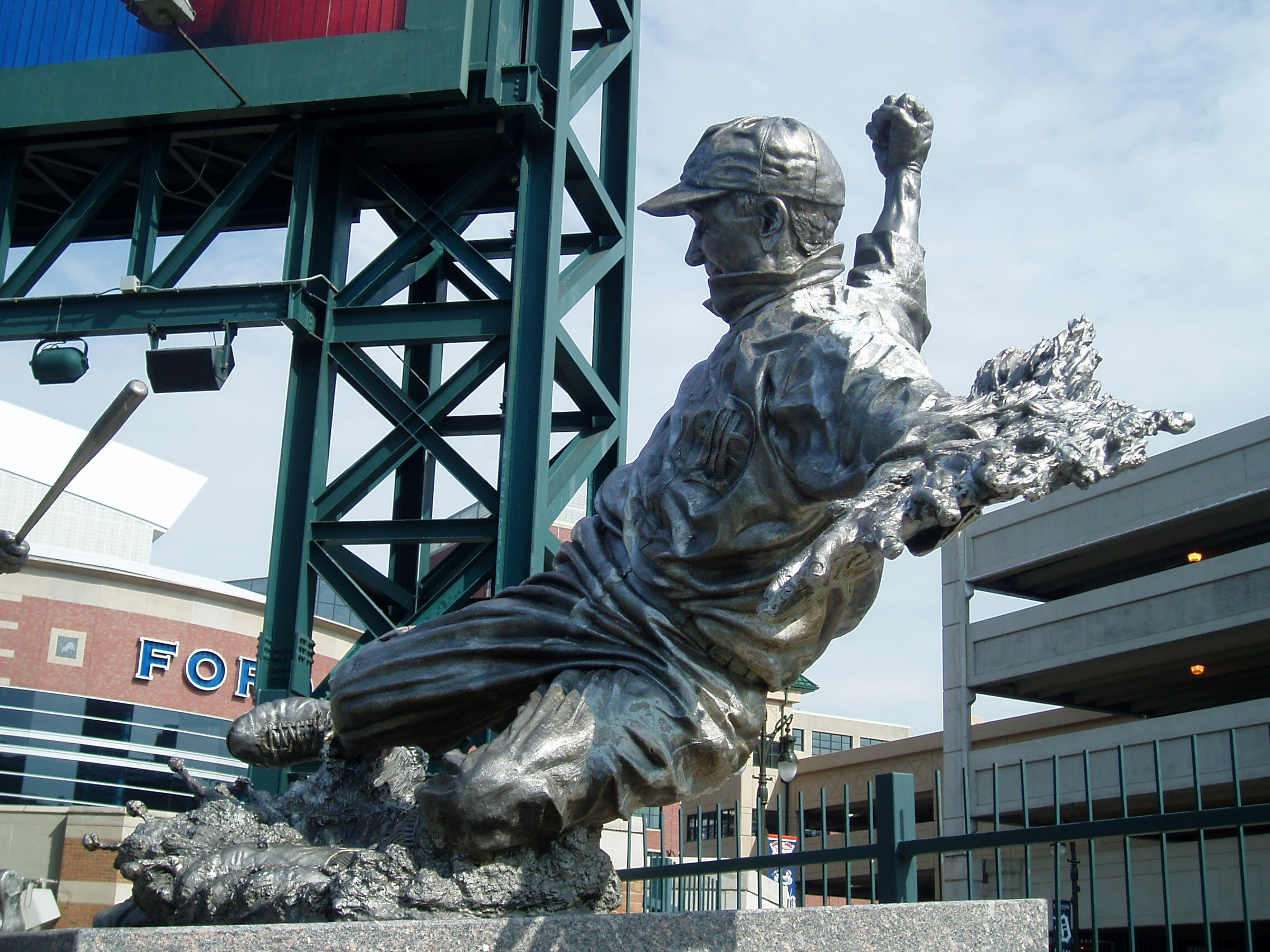 Statue of Ty Cobb
Located in the walkway above left field in Comerica Park in Downtown Detroit and
visible from Adams between Witherell and Brush
Ty Cobb was, arguably, the most accomplished player in baseball's Deadball era. The season when a major baseball league played a season was in 1876—a 70-game schedule with team representing Boston, Chicago, Cincinnati, Hartford, Louisville, New York, Philadelphia and St. Louis. Just a dozen years later, the Detroit Wolverines—playing at Recreation Park—won that league's 1889 championship—the equal of a World Series victory today. From those early Nineteenth Century days of professional baseball until the early 1920s, the emphasis was upon scoring a few runs while having the pitching and defense to prevent the opposing team from scoring. Thus the emphasis was upon players who could hit singles frequently, who could steal bases, who could advance runners from one base to the next and could also use deception and trickery to make the opposing team careless.

This changed in the early 1920s but there is disagreement about how and why the Deadball era disappeared. For one thing, baseball began to use many, rather than just one baseball for a specific game. For another, the rules were changed to prevent pitchers from throwing spit balls or from defacing the ball such as using emery paper—tricks that causes pitches to move around and, generally, gave pitchers the advantage over hitters. However, the biggest change was the emphasis upon power hitting and home runs. Rather than playing for one run, baseball managers hoped that a very strong hitter would knock the ball out of the park. Scoring many runs became the strategy of the game. Babe Ruth, who pitched for a number of years of the Boston Red Sox in the Deadball era, was converted into an outfielder and became the quintessential symbol of the new style of baseball that replaced the style that Ty Cobb played so well. In truth, Cobb spanned both eras but his best years were in the Deadball era. I think that it is fair to say that, as a player, he never endorsed the change in baseball philosophy associated with the elimination of the Deadball era.

Tyrus Raymond Cobb was born in the small town of Narrows, Georgia on December 18, 1886. His father was a school teacher who also farmed and served, at one time, in the Georgia state senate and as superintendent of local schools. His mother was from a locally prominent family. Cobb excelled at playing baseball and, at age 17, convinced the minor league professional team in Augusta to give him a try out. He played very briefly early in the 1904 season for the Augusta Tourists of the South Atlantic League but they released him and he moved on to play semi-pro baseball in Anniston, Alabama. His performance improved and he was back playing with the Augusta Tourists late in the 1904 season.

The Detroit Tigers conducted their 1905 spring training in Augusta so they became familiar with the Augusta player Ty Cobb. The Augusta manager, George Leidy, recognized his abilities and provided the training that Cobb needed to become the team's leading hitter. In August, 1905; the Detroit Tigers purchased Cobb's contract for $700 and he made his Major League debut on August 30 of that year, not much more than one year after his start in professional baseball.

In the last month of the 1905 season and in 1906, Cobb was learning to play professional baseball and his performance for the Tigers was not outstanding. 1907 was different since Cobb demonstrated the talents that made him into a superstar. That year, he led the American League in hits, in batting average and in runs batted in. He led the Detroit Tigers to their first American League pennant that year, and then led the team to pennants aging in 1908 and 1909. Those were the only pennants that the team won until 1935.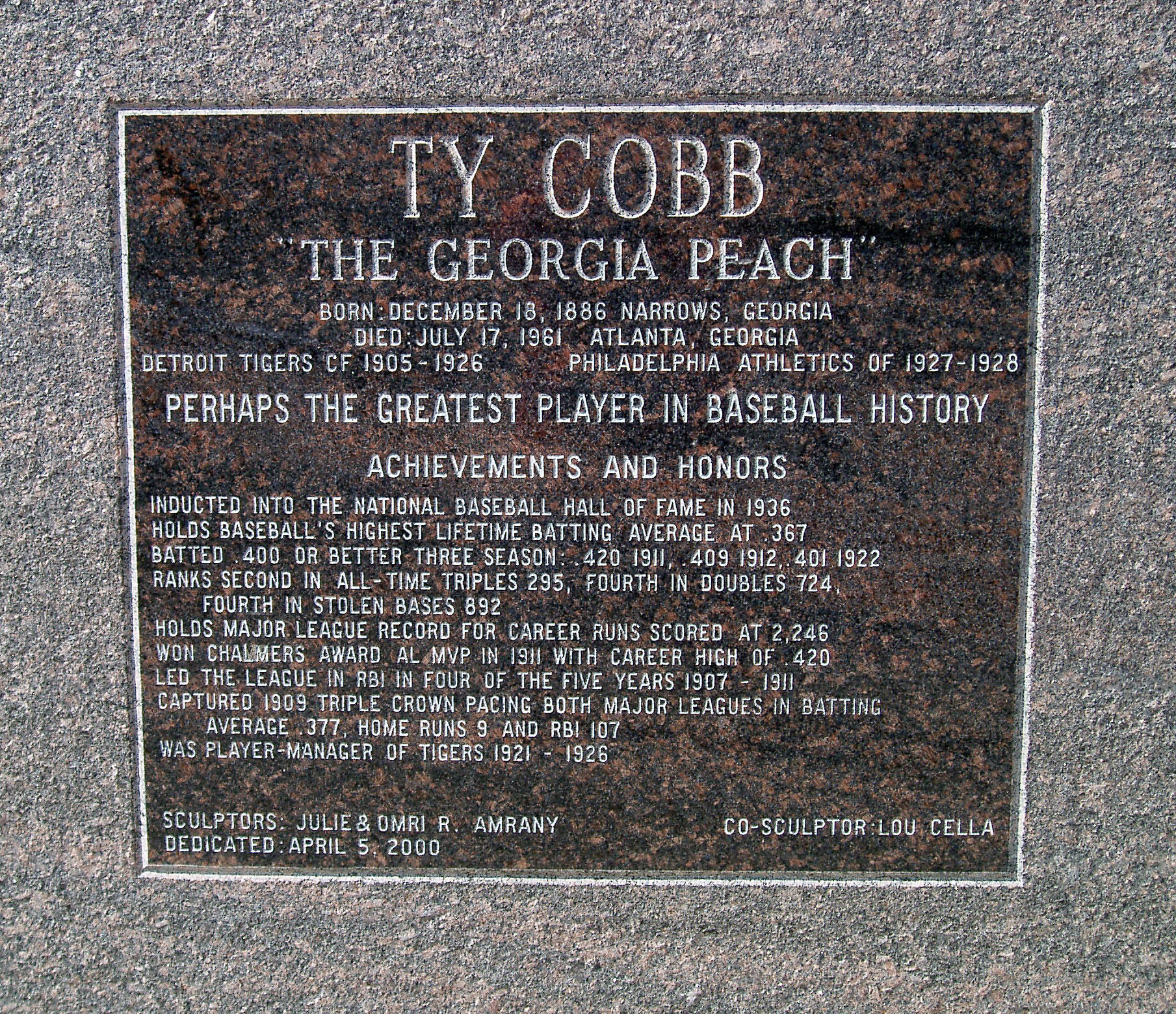 Cobb played baseball in Detroit through the 1926 season. Eleven times he led the league in hitting. He hit a remarkable .420 in 1911 and a then achieved a record of 96 stolen bases in 1915. In addition, he hit .409 in 1912 and .401 in 1922. Eleven times Cobb had the highest batting average in the American League. Eight times he led in numbers of hits, six times in stolen bases and four times in runs-batted-in. After 22 years with the Tigers, he played for the Philadelphia Athletics in 1927 and 1928. At the end of his career, he had 4,189 base hits, and a career batting average of .366. That is the highest lifetime batting average for any long-term player in baseball. Ty Cobb was he player-manager of the Detroit Tigers from 1921 through 1926.

Cobb deserves a great deal of credit for helping to make baseball a successful spectator sport in Detroit. Prior to his arrival, the Tigers were a mediocre team that played before modest crowds in Bennett Park located a Michigan and Trumbull. With Cobb leading the team to three league championships, attendance flourished and baseball became important in the city. The success of the Tigers, and the role Cobb played in that success, allowed their management to build, between the 1911 and 1912 seasons, the massive park that was known as Navin Field, Briggs Stadium and Tiger Stadium, a park that welcomed large crowds until it was replaced by Comerica Park at the start of the 2000 season.

To say that Ty Cobb was a controversial baseball player would be a great understatement. He had a reputation for being extremely intense, an intensity that was apparently linked to his extremely propensity to get into fights with other players, umpires, fans and a large number of other people who came into contact with him. Apparently many, but not all, of his fellow players disliked him and questioned his judgment. There are many stories of how very nasty he could be both on the field and off but there are many other stories of how he treated people kindly and, supposedly, provided financial help to some impoverished former players after he completed his career. It may be that he took pride in developing a reputation as the most nasty and hostile player in the game.

Mr. Cobb lived into his seventy-sixth year and was a highly visible figure. He was willing to offer his views about many, many baseball matters. Thus he maintained a large presence in the baseball world long after he left the field. Cobb, also, was presumed to be a very prosperous man who had no need for employment after playing baseball. Apparently, he invested some of his early—and modest—salary dollars into the stock of General Motors well before Alfred Sloan built it into the economic giant it became. He is also said to have invested in Coca-Cola. Mr. Cobb never lived in Detroit after his playing days but made regular appearances at baseball events. Quite likely he visited Detroit, several times a year since he maintained connections with many in the baseball world. For instance, he came to Hamtramck to throw out the first ball at the first home game of the Detroit Stars Negro League team in May, 1930 when they opened their new ball park, Roesink Stadium.

When Mr. Cobb played for the Tigers, he rented homes in Detroit and in Grosse Pointe. Two of his Detroit homes are mentioned on this website, one at 4117 Commonwealth in the Woodbridge Neighborhood Historic District and the other in the Atkinson Historic District.

There is a large literature devoted to Ty Cobb and his many achievements and controversies. You could spend an entire summer reading biographies about Ty Cobb and his achievements. He was seldom at a loss for words and contributed to several biographies. Needless to say there is a great deal of conflicting information about Mr. Cobb, particularly about his personality and his numerous bitter run-ins with people throughout his long life. Fortunately, what he did on American League baseball diamonds was carefully and thoroughly recorded for later generations. In many ways, we can be certain that no player better achieved at the game as it was played from his first year of stardom—1907—through the early 1920s when his philosophy of the game was supplanted by a new era of baseball that emphasized power hitting.

When the Detroit Tigers opened their new Comerica Park in 2000, they commission sculptures of six of their greatest players: Ty Cobb, Charlie Gerhinger, Hank Greenberg, Willie Horton, Al Kaline, and Hal Newhouser. The sculptures were done by Lou Cella who was affiliated with the Amrany sculpture firm from Chicago. Lou Cella, educated in the fine arts at Illinois State University, is a Chicago based sculptor who has specialized in the portrayal of figures—especially athletes. In addition to the seven sculptors that he designed for Comerica Park, his sculptures depict Ernie Banks and Harry Carey at Wrigley Field in Chicago and Carleton Fisk and Frank Thomas at the baseball park of the Chicago White Sox.
Sculptors: Julie Amrany, Omni Amrany and Lou Cella
Date of Dedication: 2000
Use in 2011: Public Art honoring the baseball tradition in Detroit
Baseball data and biography of Ty Cobb: http://www.baseball-reference.com/players/c/cobbty01.shtml
City of Detroit Local Historic District: Not Listed
State of Michigan Registry of Historic Sites: Not Listed
National Register of Historic Places: Not Listed
Photograph: Ren Farley; September 14, 2005
Description prepared: December, 2011
Return to Public Art and Sculpture