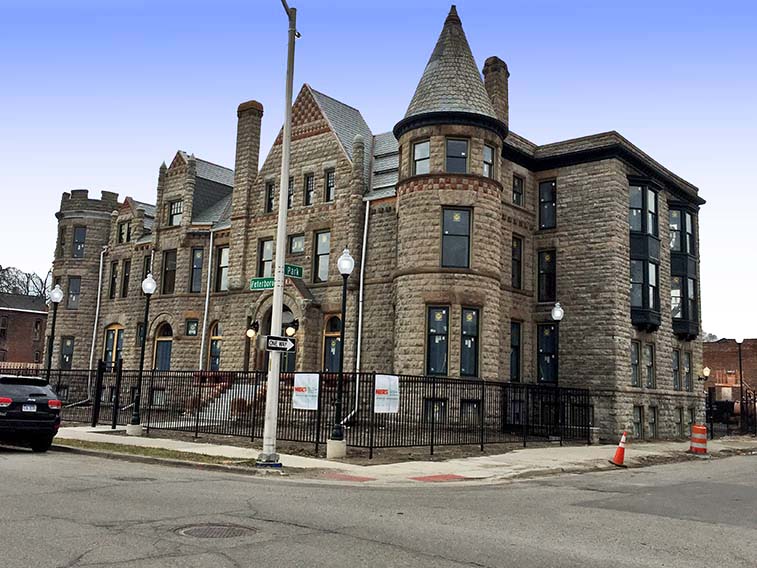 The James Scott Residence
Peterboro at Park

James Scott is an important individual in the history of Detroit because his wealth funded the design and building of the Scott Fountain on Belle Isle, perhaps the greatest fountain in the city and among the top two dozen most beautiful fountains in the United States. James Scott's father was a real estate developer in the early years of Detroit's industrial age—the decades after the Civil War. I believe that he purchased and developed some or much of the land in the area of Campus Martius along Woodward. When he died—I think in the 1870s—he left property and substantial funds to his son, also named James Scott.

James Scott the younger may have also dabbled in real estate and development. Apparent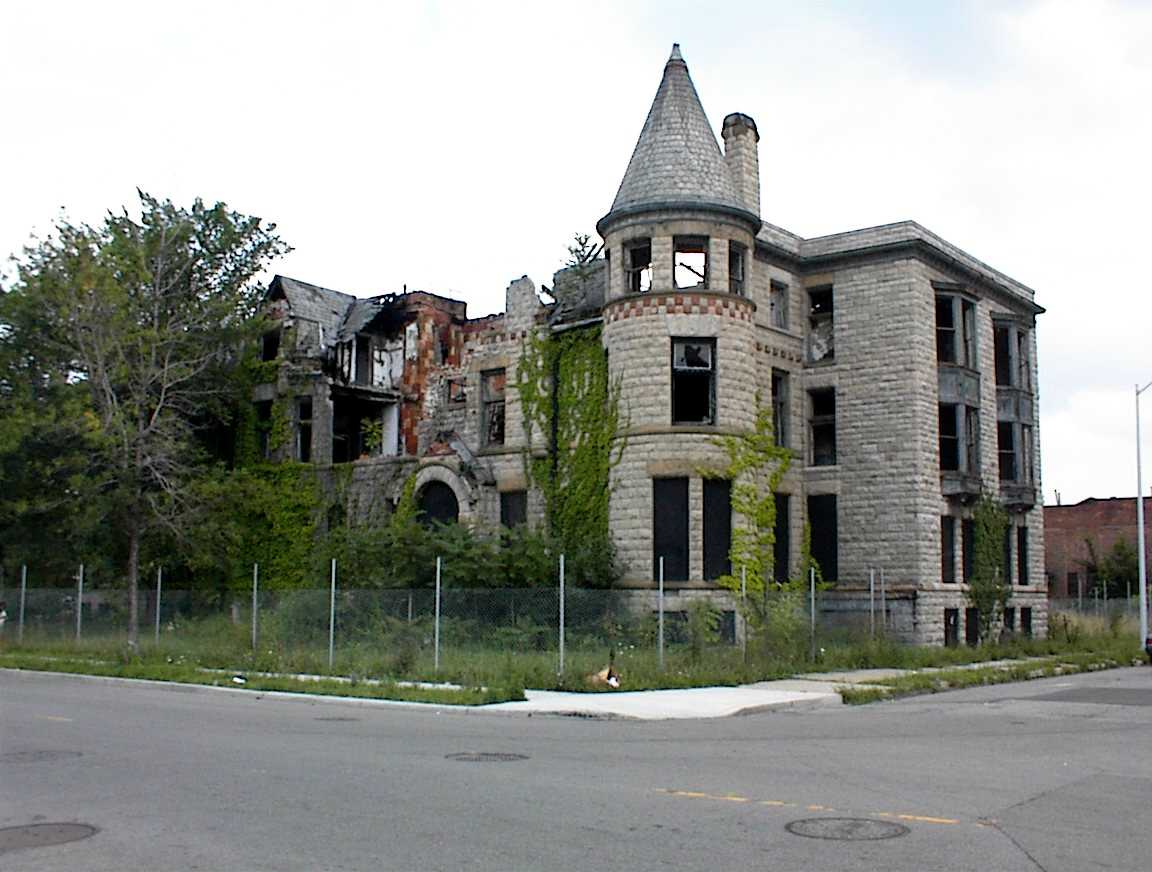 ly, he was never short of funds. In 1887, he had the magnificent home you see pictured above built for himself. I have seen it described as both Richardson Romanesque and Victorian. Unfortunately, from its current dilapidated status, it is difficult to imagine what it looked like in its original glory as designed by Detroit architect Mortimer Smith. This mansion is sometimes called "The Peterboro Castle."

Mr. Scott died in 1910 and left $200,000 to the city for the construction of a fountain on Belle Isle. He stipulated, however, that along with the fountain, there must be statue of him. This is where spirited controversy began. Apparently, many Detroiters had a very dim opinion of James Scott and thought that there should be nothing at all built to honor him. Some pointed out that he apparently never worked a day in his life and was best known for the time he spent in downtown bars. Others mentioned the extremely many law suits he filed against anyone who disagreed with him. He also had the habit of playing practical jokes on many others, practical jokes that he thought were funny but others found extremely offensive. Apparently, when he was building the residence you see, he sought to buy the property immediately south of his home on Park. The owner refused to sell it. I have read that James Scott quickly spent $20,000 to erect a tall wall at the rear of his property to block the sun from ever shining onto his neighbor's home. If you will notice, there are no windows on the back side of this house so, after the wall was gone, his neighbor saw the least attractive side of the Scott mansion.

Many people thought that the city of Detroit should turn down the Scott bequest, especially because of the requirement for a statue. Apparently several ministers weighed in on the matter and speculated about the appropriateness of accepting funds from Mr. Scott. Dr. F. D. Leete, pastor of Central Methodist Church argued that if there were to be a statue of James Scott, it should not be more than 2½ inches tall. Other pundits insisted that the fountain prominently display roulette wheels and poker chips since they were so familiar to James Scott.

Other people in Detroit realized that Scott's funds could make an important addition to Belle Isle. Time passed. Eventually Alderman David Heineman and Mayor—or former mayor—Philip Breitmeyer convinced the city council to accept Scott's money. Scott had no heirs who might contest his will or try to withdraw the contribution to the unappreciative city. Furthermore, his bequest was favorably invested and grew rapidly in the years between his death and the city's acceptance. Eventually, a decision was made to use Scott's contribution to add a substantial number of acres to the southern tip of Belle Isle, using fill from downtown excavations. Then a competition was held for the design of the fountain and statue. Fortunately, one of American's most accomplished architects, Cass Gilbert, won the contest and designed the magnificent fountain that we see today. Cass Gilbert also won the competition to design the Detroit Public Library, but his most memorable work is the Supreme Court Building in Washington. The marvelous Minnesota State Capitol in St. Paul is also a Cass Gilbert design.
This mansion was occupied until about 1976 but has been vacant since that year. Sometime before 2008, Detroit real estate developer Joel Landy obtained the building. The deep recession that began in 2008 apparently forced him to delay his plans for the structure. In 2016, Mr. Landry announced that he would invest $25 million in a restoration of the castle, one which would preserve its historic features. His plans, apparently, call for the creation of 25 apartments and some limited retail space. When announced, the rental prices were estimated to be $650 to $800 per month. This is a low price for a residence near downtown Detroit but there are only 20,000 square feet of space in the mansion so the units will not be immense.
Architect: Mortimer L. Smith & Sons
Date of construction: 1887
Architectural style: Richardson Romanesque
Use in 2016: Abandoned home awaiting reconstruction
Detroit News story about James Scott: http://apps.detnews.com/apps/history/index.php?id=193
City of Detroit Designated Historic District: This home is within the Peterboro-Charlotte Historic District which was listed August 10, 1984.
State of Michigan Registry of Historic Sites: I do not think that Peterboro-Charlotte is an historic district registered with the State of Michigan.
National Registry of Historic Places: I do not think that Peterboro-Charlotte is an historic district registerd with the Department of Interior.
Photograph: Ren Farley; March 11, 2010
Description updated: December, 2016

Return to Historic Residences

Return to Home Page
Architect: Mortimer L. Smith & Sons
Date of construction: 1887
Architectural style: Richardson Romanesque
Use in 2010: Abandoned home awaiting reconstruction
City of Detroit Designated Historic District:
State of Michigan Registry of Historic Sites:
National Registry of Historic Places:
Photograph: Ren Farley; March 11, 2010
Return to Historic Residences

Return to Home Page