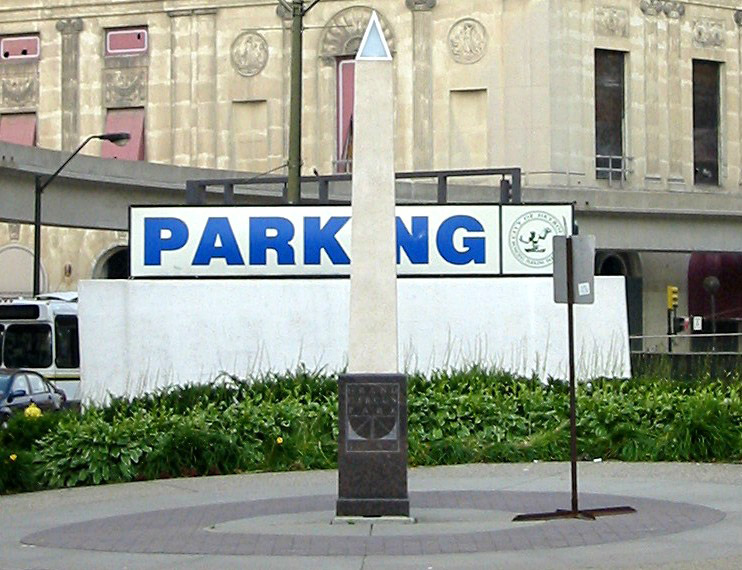 Obelisk Commemorating Judge Augustus Woodward's
Plan for the City of Detroit
Grand Circus Park near the corner of Woodward and Park

Detroit is one of the few cities in which a great deal of thought and effort went into planning. The layout of streets in most cities was strongly influenced by the local topography and, if the city were on a plain, some variant of a grid pattern was used. Not so in Detroit.

August Woodward, who was born in Virginia in 1774, was educated at the University of Virginia. He became friends with Virginia's political leaders. Thanks to Jay's Treaty signed in London in 1794, the British relinquished their claim to the Northwest Territories that included Michigan. After the United States military defeated the Indians who were allied with the British at the Battle of Fallen Timbers on August 20, 1794, the US forces concluded a Treaty of Greenville with Indians on August 3, 1795 in which the Indians relinquished their claim to much of the land in Ohio, Indiana and Michigan. Colonel Jean François Hamtramck led US troops to Detroit on July 11, 1797 and the British forces left peacefully. For some years, the government in Washington did little with regard to remote Michigan. It was almost impossible to reach by land from the East since a great swamp surrounded the area now known as Toledo. Because of the Great Lakes, it was much easier to get from Montréal to Detroit than from Washington. Some early reports reaching Washington described Michigan was worthless since nothing of valuable could grow there—a report that must have been influenced by the many swamps in Michigan that precluded land transport. President Jefferson, however, believed in the development of the nation's Northwest Territories, including Michigan. After Congress separated Michigan from Indiana and chartered it as a territory, President Jefferson, on March 2, 1805 appointed Woodward to serve as chief federal judge of the territory and John Griffin and Frederick Bates as associate federal judges. According to the laws of that era, these men represented federal power in Michigan. Detroit, the only settlement of Europeans in the territory, was to serve as capitol.

Judge Woodward took his job very seriously. He traveled to Ohio and then sailed to Monroe, Michigan where he held the first federal court sessions in the territory. He arrived in Detroit on June 30, 1805. Unfortunately for him, the small village had just burned to the ground on June 11, 1805 due to the unattended fire of baker, John Harvey. Father Gabriel Richard was the de facto leader of the Detroit settlement. Woodward set about with Father Richard to seek shelter and food for the homeless residents. Quite a few French settlers operated farms along both sides of the Detroit River and the navigable streams that fed that river. They provided help.

Detroit rebuilt from the ashes. Woodward promoted the idea that Detroit should be the major trading metropolis of the northwest, an aim that would be accomplished because of the city's location on the river. He dreamed of a large and prosperous city.
By 1791, an area along the Potomac River had been designated for the national capitol. Very little existed on that property. President Washington commission Pierre L'Enfant to lay out the capitol. Thomas Jefferson may have influenced Washington with regard to city planning. Jefferson had lived in France for a number of years and had great respect for many of the scientific and intellectual innovations occurring there. One such development was the idea of city planning. Rather than just let cities grow, an urban planning movement emerged in France. With government planning, cities could become orderly, attractive and uncongested places with major boulevards radiating from a central location. Furthermore, parks could be located throughout the city and street patterns might be organized to facilitate land use and the flow of traffic. When Jefferson was in France, city planners were having some success in laying out Bordeaux.

Woodward saw an opportunity in Detroit. The fire that coincided with his arrival had leveled the area. Why not rebuild a planned community using the wisdom of the innovative French planners? Residents who owned land in Detroit wanted to rebuild their homes, stores, and stables. I don't think they cared much about theories of city planning or about what Pierre L'Enfant was doing to create a beautiful Washington. So the citizenry apparently did not support Woodward's efforts, but he was able to designate two large areas to serve as civic meeting places: Campus Martius and Grand Circus Park. Perhaps the most evident components of his plan are the five radial streets that came from a central downtown point that he selected. We know these now as Fort Street going to the southwest, Michigan Avenue to the west, Woodward to the northwest, Jefferson to the northeast and Gratiot between Woodward and Jefferson. Woodward borrowed from L'Enfant to create a series of hexagonal blocks still found in downtown Detroit, along with two small parks: Harmonie Park on the east side and recently refurbished Capitol Park on the west side. I believe that almost all of the implementation of Woodward's plan that would ever be accomplished was done before the British take-over in August, 1812.

Apparently, Judge Woodward wanted to extend his city planning to areas beyond the neighborhoods close to Grand Circus Park and Campus Martius, but land owners thwarted his efforts. City planners have faced that challenge for a long time. When Pierre L'Enfant was planning Washington, he confronted a farmer who apparently owned a property that blocked much of the endeavor. L'Enfant tried to purchase the property but the adamant owner refused to sell. Sometime thereafter the property burned to the ground. L'Enfant was found to be responsible for the arson. President Jefferson terminated his appointment but much of his plan for the nation's capital was put into place.

It is great to walk around downtown Detroit to appreciate the elements of Woodward's plan, but you realize that it probably does not fit so well in an era where almost all adults drive their own cars. So far as I know, no other cities in the United States copied from the plans of L'Enfant and Woodward when they laid out streets.

Designer: Unknown to me
Use in 2011: Public Art
Map of Judge Woodward's 1807 plan for Detroit: http://upload.wikimedia.org/wikipedia/commons/4/47/Old_map_1807_plan.jpg
State of Michigan Registry of Historic Sites: This is within the Grand Circus Park Historic District.
National Register of Historic Places: This is with the Grand Circus Park Historic District.
Picture: Andrew Chandler; July, 2004
Description prepared: November, 2011

Return to Public Art and Sculpture