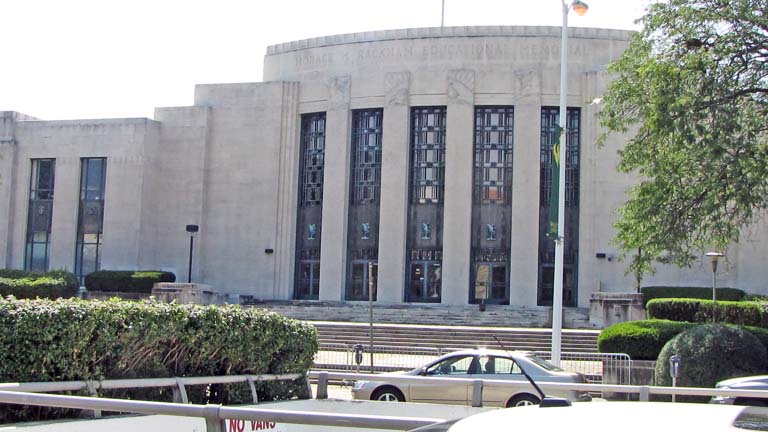 Horace H. Rackham Education Memorial Building
100 Farnsworth at Woodward in Detroit's Cultural Center
One of the most attractive buildings owned by the University of Michigan is one that many employees and graduates have never seen—the Rackham Education Memorial Building in Detroit. The idea of a Cultural Center flowed from plans that were provoked, in part, by the city beautiful movement linked to the 1893 Columbian Exhibition in Chicago. In the late 19th century, cities were crowded, dirty places. Factories, rail lines and housing shared the same space. Soft coal was used by the rail lines and to heat buildings, and horses provided local transportation. The architects and planners who promoted the Chicago Exhibition dreamed of planning and zoning that would produce appealing urban landscapes. In 1910, Mayor Philip Breitmeyer of Detroit encouraged the city's planning commission to recruit the well-known urban planner, Edward Bennett, to prepare a design for Detroit. His 1915 plan called for a Cultural Center near the intersection of Woodward and Warren with a new library and art galley to serve as anchors. The Italian Renaissance library was designed by Cass Gilbert and constructed from 1915 to 1921. And then Philippe Cret's Beaux Arts Detroit Institute of Arts was built from 1921 to 1927.
Horace Rackham was among the original dozen stockholders of the Ford Motor Company. After he became wealthy, he generously supported the University of Michigan. Their graduate school carries his name. Horace Rackham died in 1933, but his widow—in the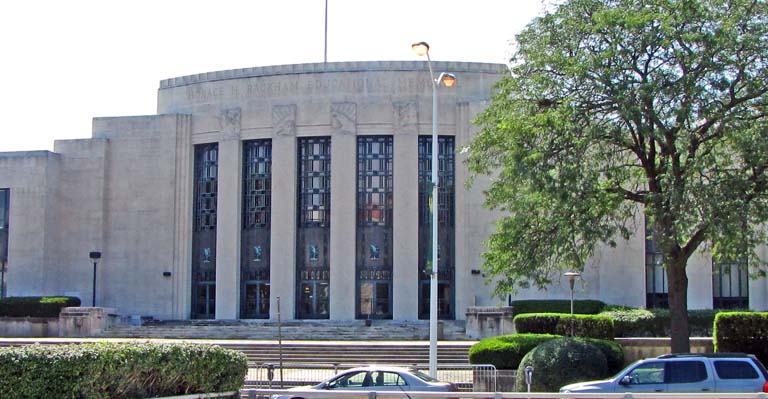 midst of the devastating Depression—provided funds for the third magnificent building in Detroit's Cultural Center—a building designed for the Extension Service of the University of Michigan and for the Engineering Society of Detroit.
The Harley, Ellington and Day firm of Detroit designed a classical building with an emphasis simultaneously upon simplicity and beauty. The façade is Georgia marble. Contrasting dark granite was used to stress the windows that are done in bronze with cast bronze ornamentation. The center section of the Rackham Building with the five bronze doors is among the most attractive features. Michigan's most famous sculptor, Marshall Fredericks, sculpted groups of figures representing educators, engineers, scientists, and structural steel workers. These are near the impressive entrance doors that you see on Farnsworth just opposite one of the entryways to the Detroit Institute of Arts. The building contains an auditorium, a banquet hall, classrooms, meeting rooms and lounges—all of them fittingly decorated. Note also the attention that was devoted to landscaping this building, and that it's setback from the street is similar to that of the library and art gallery.
In 1895, 13 University of Michigan students founded the Detroit Association of Graduate Engineers. This evolved into the Engineering Society of Detroit. This is now the nation's largest society of its kind. Trustees of the Rackham Fund supported this society during the bleak days of the Depression and provided a home for the Society that they occupied from 1942 until 1992 when the Society moved to Southfield.
Architects: Harley, Ellington and Day
Architectural Style: Neo classical revival
Date of Completion: 1941
Michigan Registry of Historic Sites: P25056. This designation is for the original Detroit Cultural Center Historic District consisting of the Public Library, the Detroit Institute of Arts and the University of Michigan's Rackham Building. Early plans called for the inclusion of Orchestra Hall in this Cultural Center district, but it was built on Woodward closer to Grand Circus Park.
National Registry of Historic Sites: Listed November 21, 1983. This designation also applies to the entire Cultural Center Historic District.
Use in 2002. I believe that this building is not currently in use. Possession of the building may be in the process of being transferred from the University of Michigan to Wayne State University.
Photo: Ren Farley, November, 2002